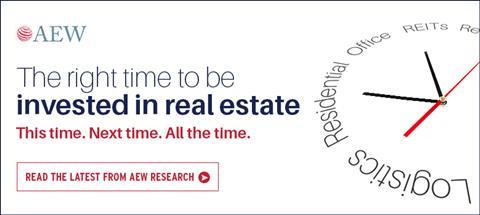 Corporate overview
AEW is one of the world's largest real estate asset managers with $90.6/€84.9bn of assets under management as at 31 December 2022. AEW has over 850 employees, with its main offices located in Boston, London, Paris and Singapore and offers a wide range of real estate investment products including comingled funds, separate accounts and securities mandates across the full spectrum of investment strategies. AEW represents the real estate asset management platform of Natixis Investment Managers, one of the largest asset managers in the world.
For more information on AEW, visit our website at www.aew.com.
COMPLIANCE STATEMENT
Total AUM includes the assets and businesses managed by AEW SA and its subsidiaries and AEW Capital Management and its subsidiaries and $186mn in sub-advisory securities wrap accounts for which AEW Capital Management provides only a model portfolio. Information relates to AEW as at 31 December 2022. The address provided is that of AEW SA and is authorized and regulated by the Financial Conduct Authority / AMF (French securities regulator). The content offered is for information purposes only. It does not constitute investment advice or a recommendation nor is it an invitation or inducement to engage in investment activity. The information and opinions presented have been prepared internally and/ or obtained from sources which AEW believes to be reliable, however AEW does not guarantee the accuracy, adequacy, or completeness of such information. Opinions expressed reflect prevailing market conditions at the time this material was completed and are subject to change. Investors should consider the investment objectives, risks and expenses of any strategy or product carefully before investing.