The first Europe-wide lockdown in spring 2020 sent retail markets from Scandinavia to the Iberian peninsula into an unprecedented state of collective shock. This was reflected in the European retail industry barometer, the Global Retail Attractiveness Index (GRAI), which plummeted to a historic low of 89 points in the second quarter.
A deeper crash appears to have been avoided, though. That is the conclusion reached by GfK and Union Investment, who have been compiling the GRAI for 20 countries worldwide since 2017. Despite retailer and consumer sentiment remaining stuck in the coronavirus trough, the rapid return of the GRAI (EU-15 Index) to 100 points in the fourth quarter of 2020 suggests that the steep decline has come to an end.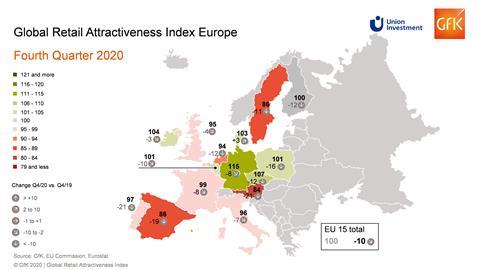 The negative trend was offset for the time being by the labour market, which held up well in many parts of Europe in the fourth quarter and was the strongest performer of the four GRAI indicators, at 123 points. France, Italy, the Netherlands and Belgium in particular did well on this front.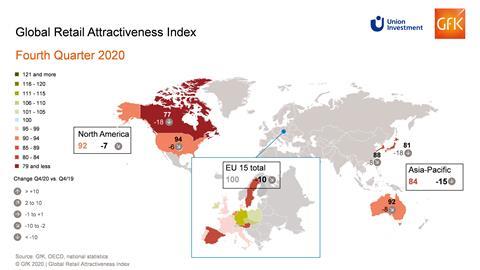 The retail sales trend (105 points) was likewise supportive. In 10 of the 15 countries surveyed, sales showed an upward trend. Overall, however, the GRAI in Europe remains ten points below the prior-year level. "Sentiment in the retail sector and also among consumers is currently holding the retail index back," said Henrike Waldburg, head of Investment Management Retail at Union Investment. Having posted significant losses over the year of minus 26 and minus 16 points respectively, the two GRAI sentiment readings were well below average at 89 and 85 points. It's also important to note that the labour market is a lagging indicator. "An ongoing recession with rising unemployment figures is likely to impact the index going forward," commented Henrike Waldburg.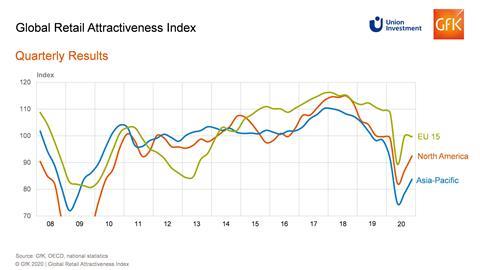 You can now read the full press release at the link below