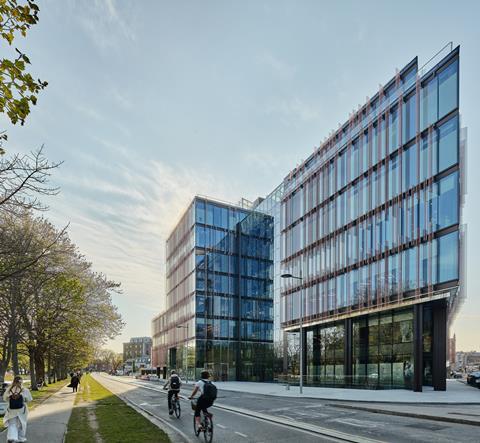 Corporate overview
We are one of the largest owners of offices and logistics assets in Dublin and are a long-term investor with a 55-year track record in real estate. We own and manage a portfolio comprising over 5.1m sqft, with a value of €3bn.
Our principal objective is to drive long-term shareholder returns by investing in prime properties in Dublin that have core income or have an opportunity to add value. We have paid over €900m in dividends over the past decade and now distribute in excess of €100m a year to shareholders.
By certifying our buildings against industry-leading environmental efficiency, digital connectivity, and sustainability benchmarks, we set the standard in Irish real estate. Our 'IPUT Building' brand, where we own and manage our assets, marks us out as the real estate provider of choice and attracts high-quality occupiers to our portfolio.
As a generational investor, responsible investing is in our nature. Our long-term outlook guides us as stewards of our neighbourhoods and means we are committed to creating places that endure economically and socially. Located in Dublin, our team of 35 extends across the core business lines of fund management, asset management, investment, strategy and property management, professional reporting, development, finance, and marketing.
Sector forecasts
INDUSTRIAL: Logistics are a key growth area for the fund. We are the largest holder of logistics assets in the Dublin market with 3.2m sqft, accounting for 18% of the fund. In addition, we now have 179 acres of zoned land which provides potential to develop a further 2.5m sqft, subject to planning permission and funding being in place.
OFFICE: IPUT is the largest owner of prime CBD Dublin offices with 2.2m sqft that accounts for 67% of the fund. The majority of the current on-site development pipeline of 670,000 sqft is pre-let, which will incorporate sustainability-leading design to meet occupiers' future needs. Our portfolio is concentrated in modern CBD offices, and we have a rolling upgrade programme in place, aligned with our responsible investment strategy.
RETAIL: IPUT's retail holding accounts for 11% of the fund. The portfolio contains three prime retail parks and high-street retail shops on Dublin's premier shopping street.
Investment principles & strategy
Our investment strategy aligns with our philosophy to create exceptional buildings that deliver long-term shareholder value, enhance the occupier experience, and contribute positively to the future shape of our city.
We consistently provide investors with stable returns and aim to outperform the institutional property benchmark.
We maintain and promote the competitive cost advantage of IPUT as an internally managed property fund.
We focus on maximising returns from the core income portfolio and add value through active management and managed development.
Continue to grow our investment in prime Dublin office buildings and logistics.
As a responsible investor, we have made a commitment to only owning assets operating at net-zero carbon within our direct control by 2030 and developing assets that reduce the amount of embodied carbon in construction and operate at net-zero carbon by 2030. We participate in GRESB and achieved a five-star rating in 2022 and we are a signatory to the UN Principles for Responsible Investment.
While IPUT is a core income fund, we carry out development and repositioning of assets to grow our income and prime the portfolio, aligned with our net-zero carbon commitments.
Strategic corporate development
Our shareholder base includes several leading global institutional investors. These investors are long-term income-focused and complement our established Irish institutional shareholder base.
Performance verification
IPUT plc and the IPUT Property Fund are authorised and regulated by the Central Bank of Ireland. Northern Trust provides fund administration and depositary services. Quarterly independent valuations are provided by JLL and CBRE and KPMG are the auditors to the company.