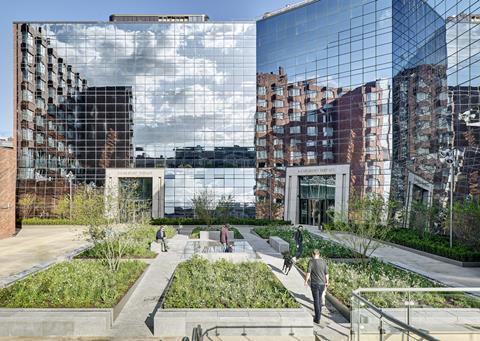 Corporate overview
We are Ireland's leading commercial property investment company and the largest owner of offices and logistic assets in Dublin. We are a long-term investor with a 50-year track record in real estate. We own and manage a portfolio comprising over 5m sq ft, with a net asset value of over €2.7bn.
We have an international reputation for delivering the highest quality in everything we do. Our goal is to own exceptional buildings that set new standards in design and sustainability in order to attract best in class occupiers, drive long-term shareholder value and contribute positively to the communities in which we work. By sustainably investing in the public realm, we make a positive contribution to the social and cultural fabric of our city.
Our philosophy is to make long-term investment decisions for the benefit of our stakeholders, with an emphasis on excellence in design, sustainability and the occupier experience.
Located in Dublin our team of 35 extend across the core business lines of asset management, investment, strategy and performance reporting, development, finance and marketing.
Sector forecasts
OFFICE: We are one of the largest owners of offices in Dublin with 1.7m sq ft in 41 assets. At present we are developing a new 600,000 sq ft campus for LinkedIn at Wilton Park which will complete on a phased basis from 2021–24. In addition, we are developing a former warehouse on the south docklands into new offices extending to 80,000 sq ft and this will complete in 2022.
INDUSTRIAL: Logistics are a key growth area for the fund. We are the largest holder of logistics assets in the Dublin market with 2.4m sq ft, accounting for 11% of the fund. In addition we own over 100 acres for logistics land and have a medium-term target to grow to 4m sq ft (16% of the fund)
RETAIL: We hold three prime retail parks and a number of high street retail units in Dublin city centre. In total 15% of the fund is allocated to retail and this is likely to reduce over time.
Investment principles & strategy
The fund's overall objective is to seek to optimise investment returns for shareholders by investing in Irish commercial properties and by actively managing the portfolio.
We consistently provide investors with stable returns and aim to outperform the institutional property benchmark.
We maintain and promote the competitive cost advantage of IPUT as an internally managed property fund.
We focus on maximising returns from the core income portfolio and add value through active management and managed development.
Continue to grow our investment in prime Dublin office buildings and logistics.
As a responsible investor, all new office developments are built to LEED credentials. We are a signatory to the UN Principles for Responsible Investment, we participate in GRESB and have made a commitment to achieve net zero carbon (operationally) by 2030.
We adopt a prudent approach to balance sheet management, we have a self-imposed cap of 20% loan to value (June 2021: 9%).
Strategic corporate development
IPUT converted to become a regulated fund in 2013 and has grown GAV from €400m in 2012 to €2.9bn in 2021.
Our shareholder base has evolved since then to include several leading global institutional investors. These investors are long-term income-focused and complement our established Irish institutional shareholder base.
Performance verification
IPUT plc and the IPUT Property Fund are authorised and regulated by the Central Bank of Ireland. Northern Trust provides fund administration and depositary services. Quarterly independent valuations are provided by JLL and CBRE and KPMG are the auditors to the company.