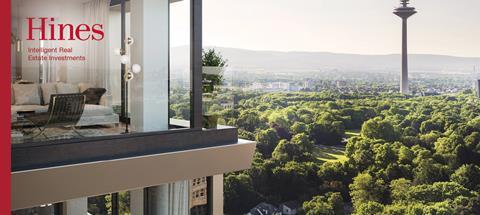 Hines is a global investment manager and passionate steward of real estate portfolios serving communities all over the world. Founded in 1957, the firm has approximately 4,700 employees in 28 countries and oversees investment assets under management totalling approximately $92.3bn.1 In addition, Hines provides third-party services for over 102.1m sqft.
Hines has extensive experience across the risk spectrum and focuses on acquiring, developing and adding value to properties in all real estate sectors: mixed-use, residential, retail, industrial, office and niche properties. And with a pioneering and acclaimed commitment to sustainability and innovation, Hines is one of the largest and most respected real estate firms in the world.
As a family-led company, Hines has exceptionally strong values and integrity and carefully guards its clients' reputation as much as its own. This ownership structure allows Hines to take a long-term view and pursue strategies that help the company weather real estate cycles.
Please visit www.hines.com for more information.
1 Represents the investment management AUM, including that of the RIA as at 30 June 2022.
Sector forecasts
INDUSTRIAL: The industrial sector continues to see high pricing following record high price growth starting during the pandemic. Although most price growth in recent years has been driven by extended cap rate compression, NOI growth has been strong. The trailing four-quarter same store NOI growth from the NCREIF NPI index was 13.2% in Q2 2022. This is the highest level in over 40 years. However, as interest rates rise, cap rates expansion will likely return. If NOI growth continues at this historic pace, the impact of cap rate expansion on pricing may be moderate. If the fundamentals environment deteriorates, and NOI growth slows, industrial pricing could see a correction. These ele- vated levels of risk in the sector highlight the importance of individual location and asset characteristics. Properties in infill locations, with supply barriers, and access to labour are most likely to sustain revenue growth and institutional investor demand. Long-term rent growth will favour core locations.
OFFICE: Work-from-home rates continue to decline in most markets. Rates now average 15% to 25% of workers working from home on a typical day in most markets. If rates stabilise somewhere between current levels and pre-pandemic levels, there could be a moderate impact on office demand. Building quality has historically been a determinant of office demand in challenging conditions, and Hines anticipates that this will hold true over the near term, with high-quality trophy properties commanding rent and occupancy premiums. While some commodity suburban campuses may fall victim to obsolescence, the lifestyle and productivity draw of cities will eventually reenergise office demand in CBD and prime suburban submarkets.
RESIDENTIAL: Apartment fundamentals have begun deteriorating in Q4 2022. Many markets have seen rents falling. This follows three years of accel- erated rent growth across many markets. The cap rate pressure from rising interest rates, combined with low or negative NOI growth, present some major risks for price corrections over the next few years. Over the longer term, the country's demographic profile implies more suburban demand and a higher propensity to homeownership where economically feasible. Residential communities purpose-built to provide space and amenities for households entering their peak child-raising years should outperform legacy properties, and new subtypes like institutionally managed single family for rent may thrive.
RETAIL: Retail NOIs have mostly recovered from the pandemic impact. In the NCREIF NPI, neighbourhood, community and power centres NOI levels are now above their levels in Q4 2019. Regional and subregional malls have recov- ered significantly, but NOI levels are still below pre-pandemic levels. This NOI growth may slow as a potential slowdown in consumer spending emerges. In the next few years, Hines expects that the winners will amount to a subset of the overall shopping centre universe, primarily those that offer mixed-use elements to create a fresh experience for the shopper and an added amenity for residential, office, and hospitality components. In the second half of this dec- ade, we believe the cannibalisation of brick-and-mortar sales by e-commerce will end and traditional retail sales will be less impacted by e-commerce.
Investment principles & strategy
Hines' investment philosophy is to focus on high-quality properties and maximise value creation through local teams in 314 cities in 28 countries. Hines believes that intrinsically excellent properties, both in terms of physical characteristics and location, are generally able to outperform their respective markets. And this approach translates into more consistent investment performance for investors over the long term, while mitigating short-term downside risks. Hines applies this philosophy to properties in all real estate sectors globally – mixed-use, residential, retail, industrial, office and niche properties – and across the risk spectrum – core, core-plus and value-add. Hines has developed, redeveloped or acquired approximately 1,765 properties since inception, giving it a wealth of knowledge in the sector as of 30 June 2022.
Investment activity at Hines is identified at the local level and approved by the Investment Committee, which provides pattern recognition across geographies and product types, market intelligence, strategic foresight, and risk assessment. This differentiated approach – including a decentralised structure that promotes deep local knowledge, proven investment management capabilities, and extensive subject matter expertise – is key to delivering returns for investors.
Hines believes that the integration of these critical real estate investment functions within one organisation provides a competitive advantage that will directly benefit the investment.
Strategic corporate development
Hines' corporate development strategy is to grow organically and has done so since its inception in 1957 — and now has $92.3bn1 in AUM and 4,700 employ- ees globally.
Hines' focus is not only on investing, developing and managing real estate but also on how sustainability and innovation intersect the built environment. Hines was the first to implement LEED and Energy STAR certification at the turn of the 21st century and has been a pioneer ever since, reducing carbon emissions through innovative technologies, such as T3, which stands for 'Timber, Technology, Transit', a strong, low-carbon alternative to concrete and steel. Hines' 2022 commitment to a zero-carbon portfolio by 2040 is an organic progression of the firm's founding principles of value creation, integrity, service, and quality for all clients.
1 Represents the investment management AUM, including that of the RIA as at 30 June 2022.
COMPLIANCE STATEMENT
This marketing communication is for informational purposes only and is intended solely for the use of professional and other qualified investors and is not for general public distribution. The information contained herein was up to date at the time of producing and is subject to change. This information does not constitute an offer to subscribe for securities, units or other participation rights. It is not intended to be a recommendation or investment advice. This document is not directed at or intended for any person (or entity) who is citizen or resident of (or located or established in) any jurisdiction where its use would be contrary to applicable law or regulation or would subject the issuing companies or products to any registration or licensing requirements.