Generali Investments (Video)
Live Webinar | Performance with purpose
WEBINAR REPLAY | Performance with purpose
During this webinar, our boutiques' experts showcased a range of traditional and alternative equity strategies proving our commitment to drive greater global equality and sustainable economic growth, while adding value for stakeholders.
CHAPTER I - Sustainability 2.0 and the role of AM in financing the recovery
Build back better: worldwide there is a strong political commitment betting on the levers of post Covid recovery which is pushing ESG laggards to take action. Our experts provided their view on the Asset Managers' active role in financing the recovery, whether Sustainability will evolve further or not and how it will be integrated into the strategies they manage.
CHAPTER II - Innovation and Sustainability
Innovation and Sustainability are extremely connected, sustainability needs innovation to maximize its value for the community. Under this lens, our experts discussed on the evolution of the European landscape and how they plan to leverage on it. Furthermore, Marshall Wace explained how they integrate an ESG approach in the liquid alternative strategies they manage – an innovative point of differentiation per se.
CHAPTER III - From ESG to eSg, tackling inequality
Inequality has been increasing in Advanced Economies and Covid-19 has further deepened this trend which is now a major topic also in investments. Concerning this theme, we asked our speakers how and if this is reflected in their strategies. During the discussion, we brought to life the theme of Education and its growing path, as one of the main levers to tackle inequality.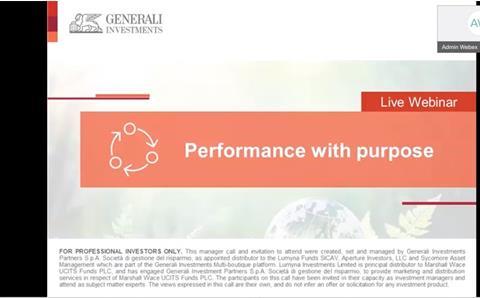 Generali Global Infrastructure at IPE Conference and Award 2020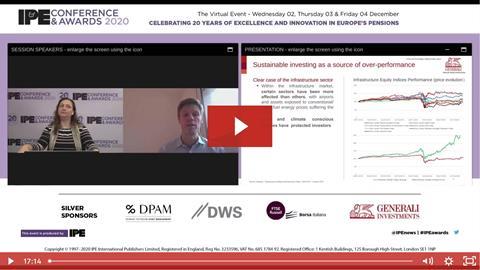 Almost there…what to expect from US Elections
Market Perspectives | Covid paralysis recedes as political risk rises
Macro Outlook Video 2020: Repression, Introspection, Election
2019-06 Market View (Wet blankets)
2019-05 Market View (Now the hard part)
2019-04 Market View (Facing market challenges)
2019-03 Market View (Spring Fever)
Market View Video: China, Brexit, Europe: 3 Investment Themes Into Spring
2019 Macro Outlook Video – When The Tide Goes Out
3-Year Anniversary Of Gis Sri Ageing Population