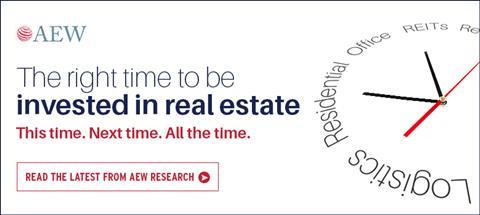 Corporate overview
AEW is one of the world's largest real estate asset managers with €87.7bn of assets under management as at 30 June 2022. AEW has over 800 employees, with its main offices located in Boston, London, Paris and Singapore and offers a wide range of real estate investment products including comingled funds, separate accounts and securi¬ties mandates across the full spectrum of investment strategies. AEW represents the real estate asset management platform of Natixis Investment Managers, one of the largest asset managers in the world.
AEW is one of the leading European real estate investment managers with over €39.7bn of real estate assets under management in Europe as at 30 June 2022. With over 400 employees operating from 12 loca¬tions throughout Europe, AEW has a long track record of successfully implementing core, value-add and opportunistic investment strate¬gies on behalf of its clients. In the last five years, AEW has invested and divested a total volume of over €21bn of real estate across Euro¬pean markets.
Sector forecasts
Industrial: E-commerce continues to be the main driver of European logistics demand. The share of online sales across Europe is projected to reach 27% by 2032 year-end, up from 15% in 2022. Other overarching trends, e.g. manufacturing, transportation & storage, and shipping activity, also strengthen the need for industrial assets. This is due to an increase in re- and near-shoring. Urban densification remains the main driver of distribution centres and last mile logistics. However, we are already witnessing a return to traditional spending habits, coupled with reduced consumption, due to the higher cost of living, which could revert logistics demand to more sustainable levels. As the pandemic exposed the vulnerability of global supply chains and triggered longer delivery times, requirements increased for European logistics space. Retailers seek to be closer to consumers, thus reducing transportation times and costs. Whilst stiff competition for land, rising construction costs and record low vacancy levels pose long-term risks to supply, these factors also continue to drive strong rental growth.
Office: A structural shift spurred on by the pandemic has taken place across the European office market. Companies are now implementing hybrid working models, as the benefits of the office are once again being realised following months of remote working. Additionally, with the Eurozone labour market showing signs of tightness as unemployment reaches new lows in 2022, we expect leasing activity to return to more normal levels. As a result, prime rents have remained resilient. The increase of flexible working is also driving a flight to quality combined with ESG commitments. A limited development pipeline, particularly in inner city locations, is putting upwards pressure on prime rents, as vacancy also remains either low or stable, depending on the individual European office markets.
Residential: The multi-family sector has remained resilient during the pandemic, with limited negative impact on prices and a recovery in rents. The supply-demand imbalance remains prevalent across many European markets as a consequence of a lag in permits, increasing construction costs and land prices. As a result of the latter two, many building permits may not even translate into new residential developments. Developers' profitability might be impacted to such an extent, especially if rents cannot increase further as tenants' purchasing power is insufficient. Rental regulation tightening is expected in a high inflation environment but rent freeze is unlikely to incentivise landlords to implement energy-efficiency Capex. Overall, prime yields are expected to remain low as a result of intense competition and low associated risk.
Retail: The challenging macroeconomic environment will exacerbate the fall in real disposable household incomes, damaging the outlook for discretionary consumer spending. The retail sector is highly sensitive to GDP growth, therefore based on our reduced GDP growth outlook, limited rental growth or even declines in some of the European retail markets, is anticipated. Nonetheless, with a return to more 'normalised,' post-lockdown shopping habits, footfall is exceeding its pre-pandemic levels. The volume of annual in-store sales is also projected to reach just 5% below 2019 levels by 2026. Re-pricing and the combination of high yields with narrowing potential, means the current outlook for retail assets is improving. However, with an oversupply, rental growth remains limited. Nonetheless, we expect the trend of repurposing to gain more traction, leading to attractive opportunities and improved demand.
Investment principles & strategy
Since its creation in 1981, AEW has been dedicated to creating and implementing real estate investment and asset management strategies for institutional and retail investors. AEW offers investors a wide range of investment solutions across Europe, including separate accounts and co-mingled funds across core to opportunistic strategies.
Strategic corporate development
Over the next three to five years, AEW is expecting to grow the European business by launching new funds and continuing to invest on behalf of new and existing separate account mandates. In particular, the firm is expecting to raise further capital for the following funds*:
EUROCORE: an open ended, pan-European core fund targeting a diversified portfolio of institutional quality assets in major European markets. The fund has raised €520mn to date and is targeting a €2bn equity commitment over time;
SELF III: a pan-European core real estate debt fund targeting senior loan investments. The fund has raised €365mn as at 31 December 2021 and is the third fund in the senior debt series;
UK Core Plus Property Fund: an open-ended core plus fund investing in a diversified portfolio of assets in the UK. The fund has raised £301mn of equity as at 31 December 2021;
RESIDYS II: a France focused core fund investing in residential assets with a stable and resilient income return. The fund will be closed-ended and we anticipate a first close in H2 2022;
* Retail and non-sophisticated investors are not eligible to invest in these funds.
Performance verification
AEW measures its performance against a number of benchmarks specific to investment strategy and style. The results of each portfolio are periodically audited by independent third parties and audited financial statements provided to clients.
COMPLIANCE STATEMENT
Total AUM includes the assets and businesses managed by AEW SA and its subsidiaries and AEW Capital Management. Information relates to AEW as at 30 June 2022. The address provided is that of AEW SA and is authorized and regulated by the Financial Conduct Authority / AMF (French securities regulator). The content offered is for information purposes only. It does not constitute investment advice or a recommendation nor is it an invitation or inducement to engage in investment activity. The information and opinions presented have been prepared internally and/ or obtained from sources which AEW believes to be reliable, however AEW does not guarantee the accuracy, adequacy, or completeness of such information. Opinions expressed reflect prevailing market conditions at the time this material was completed and are subject to change. Investors should consider the investment objectives, risks and expenses of any strategy or product carefully before investing.