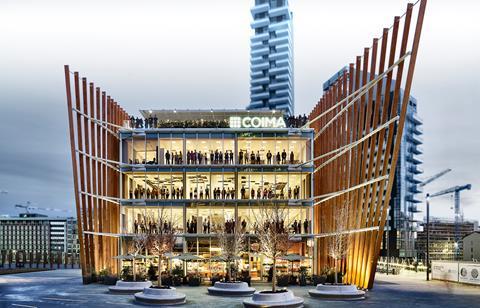 COIMA is a leading platform in the investment, development and management of real estate assets on behalf of international and domestic institutional investors. COIMA SGR is the investment and asset management company of the group and manages 22 real estate investment funds. With over €5bn under management, it counts in its portfolio over 150 properties, including over 40 LEED certified properties. COIMA Srl is the development and property management company and, in over 40 years, has developed and managed properties totalling over 5m sqm. Among its most important projects, the platform has co-invested, co-developed and continues to manage at present the Porta Nuova project in Milan, one of the most prestigious urban regeneration schemes in Europe.
Sector Forecasts
Industrial: Record take-up and low vacancy rates have been the two key elements of the Italian logistics market in 2019. Tenants' demand has been growing over the past decade, impacted by new global trends including technology-driven retail consumption, urbanisation, sustainability and increasing integration of global route network. In particular, the increase of e-commerce and the rising urbanisation are impacting logistics in terms of product type with a new demand coming from operators, who require large-scale facilities and at the same time last mile parcel delivery to shorten delivery routes. COIMA is targeting to upgrade the obsolete stock to meet international standards and to unlock development opportunities at the right land cost basis.
Office
From 2012 Italian office market recorded solid growth in investment volumes and take-up reaching previous market peak of 2007. Investors composition saw an increase in international capital compared to the previous cycle. Investors are focusing on the most liquid markets Milan and Rome while tenants are focusing on Grade A products in permanent locations. COIMA believes that Italy offers opportunities to reposition existing obsolete stock to meet end users' demand in terms of space efficiency, sustainability and technology. In addition, Italian real estate market benefits from a unique pipeline compared to other European countries thanks to ongoing assets disposals by banks, government and state-owned companies.
Residential
The Italian residential sector presents significant investment opportunities thanks to the structural demand-supply mismatch and the changed needs of end users. In many cities, the existing stock, composed of large and inefficient units, is not sufficient to satisfy demand, generating the possibility to create a flexible product with optimised units and shared amenities, matching shifts in demand and demographics. Moreover, major Italian cities are experiencing an increased preference towards rent versus ownership, in contrast with the historical high ownership rate of the country. COIMA believes that the private rented sector represents an attractive investment opportunity for local and foreign investors through the development of smaller and serviced apartments to be rented.
Retail
The retail sector is facing significant challenges originating, among the others, in the consistent growth of e-commerce and changes in customers' behaviour. As a consequence, retailers are adjusting their business models to reflect the current changing environment by providing innovative and engaging shopping experiences to their clients enabling them to differentiate among competing brands. Digitalisation is also allowing retailers to collect and analyse data for advanced customer profiling. COIMA as landlord and developer is changing its approach as well, providing flexible retail spaces in terms of size, connected to a technological layer and enhancing the shopping experience though entertainment offers.
Investment Principles & Strategy
COIMA's investment policy relies on the philosophy of long-term value creation based on fundamentals, together with a constant monitoring and risk management in order to optimise performances on a riskadjusted basis.
The investment strategy is based on an integrated approach, with the analysis of various key elements, including:
Economic and real estate cycle analysis: analysis of the relative value of the real estate, compared to the historic trend both at macro and micro level
Gap analysis: analysis of existing market gaps and future trends to identify potential opportunities (co-working, residential units for rent, etc)
Supply and demand analysis: analysis of the mismatch between demand and supply to estimate the imbalances of the market and ongoing trends, particularly on the leasing market
Product analysis: analysis of tenants' requirements in terms of key product features as they will shape future demand
Micro location trends: analysis of the most recognised locations and of those that will gain importance in the future also in relation to infrastructure changes (high-speed trains, metro lines, tenants' consolidations, new projects, etc).
COIMA constantly works at identifying and monitoring risks both during the underwriting phase and in the management phase following the acquisition. Risk analysis is performed respecting all the aspects of the investment process through a combination of research and detailed asset level analysis. COIMA vertically integrated approach grant the expertise to monitor performance and risk management across the value creation process from development to stabilisation.
Strategic Corporate Development
Taking advantage of opportunities in a market under constant transformation and managing risks for investors and for the companies of the platform: through this approach, in 2018 COIMA carried out a close analysis which has led to the three-year plan 2019–21.
This journey started with an analysis of the main trends in consumer prospects in the real estate sector and which considered the steps required for developing real estate products and services capable of responding to the changing needs of the market.
The Italian context is not an exception when it comes to these global trends. The population is aging more quickly than in other countries and families are becoming smaller, focusing more attention on rental properties, and those featuring more services. Consumer demand is driven by both economic advantages and the dissemination of the 'sharing' models, which entail a shift from ownership of assets toward the enjoyment of services. COIMA intends to take advantage of the new opportunities and has launched a process towards creating new generation real estate products. COIMA's three-year plan focuses on three primary goals: reduction of portfolio risk, reinforcing operational capacities and investing in long-term trends.
Performance Verification
COIMA's investment strategy has integrated sustainability criteria and focused on creating a high-quality real estate portfolio, offering sustainable long-term returns. COIMA Roots is the company holistic approach which aims to generate, measure, monitor and provide sustainable, economic and social performance through key indicators based upon ESG parameters.
The Company has outsourced the Compliance function to Deloitte. The Italian regulatory framework does request a mandatory compliance function within the organizational structure: COIMA SGR has designated a Compliance Officer in full outsourcing, who has specific responsibilities for overall the regulatory matters, giving several approvals for the main decisions to be taken, for example the allocation procedure, the conflict of interest, etc.. The Compliance Officer has also the responsibility of the anti-money laundering activity and is a member of the Conflict of Interest Committee. The Compliance team is composed by four resources.