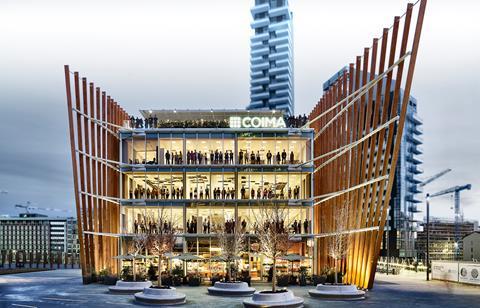 Overview
COIMA is a specialist in the investment, development and management of Italian real estate assets focused on delivering an ESG impact. COIMA Holding controls a range of operating companies including COIMA SGR, an investment & asset management firm which manages more than 30 real estate investment funds with more than €9 billion in investments; COIMA REM, a development and property management company which has dedicated over 40 years developing and managing properties which now spans a total of over 5 million square metres; and COIMA HT which aims to enable the digitalization of physical spaces.
Investment Principles & Strategy
COIMA's investment policy relies on the philosophy of long-term value creation based on fundamentals, together with a constant monitoring and risk management to optimise performances on a risk-adjusted basis.
The investment strategy includes the analysis of various key elements:
Economic and real estate cycle analysis: analysis of the relative value of the real estate, compared to the historic trend both at macro and micro level;
Gap analysis: analysis of the existing market gaps and future trends to identify potential opportunities arising from changed needs;
Supply-and-demand analysis: analysis of the market imbalances between demand and supply and of the ongoing trends;
Product analysis: analysis of tenants' requirements in terms of key product features as they will shape future demand;
Micro location trends: analysis of the most recognised locations and of those that will become strategic in the future in relation to infrastructure changes.
COIMA constantly works at identifying and monitoring risks both during the underwriting phase and in the management phase once the acquisition is completed, through a combination of research and detailed asset level analysis. COIMA's vertically integrated approach allows it to monitor the performances and management of risks across the entire value creation process.
Sector Forecasts
Industrial
The industrial sector in Italy has recorded an excellent performance in the first half of 2022, reaching an historical record in investment volume. Ongoing trends including technology driven retail consumption, urbanisation and sustainability have been accelerated by the pandemic and impacted logistics demand particularly in terms of product type. Last-mile assets have become even more strategic to shorten delivery. COIMA is targeting to upgrade the obsolete stock to meet international grade-A and sustainability standards and to unlock development opportunities. The Italian market offers an attractive entry point as logistics yields trade at a premium compared to other European markets and the rental fundamentals are supported by a demand and supply mismatch.
Office
The rise of remote working as a response to COVID-19 has led to the widespread adoption of hybrid work models, combining office presence and work from home. This structural shift is expected to partially reduce the aggregate space needs of tenants. However, the decrease in space need should be understood vis-a-vis some transformative trends in the office product demand. Office layouts are set to change, with the reduction of individual desks to be in part offset by increasing demand for more collaborative spaces. Tenants are expected to be more focused on quality versus quantity, selecting products with higher standards in terms of sustainability, location and technology. COIMA expects demand for grade-A offices in attractive locations to continue to outpace supply, as the Italian grade-A stock is significantly below other European peers.
Residential
Institutional interest for residential investment has been growing given the resilience demonstrated by the sector during the COVID-19 crisis. While on a growing trend, institutional investments in Italy still represent a marginal fraction of total residential transactions. The Italian housing stock is mostly characterized by old and inefficient buildings, not in line with a changing demand focused on modern spaces. Demand is also increasingly shifting from ownership to leasing, offering opportunities in the residential for rent segment as the stock of institutional products is currently negligible. The market timing is interesting, with growing transactions and attractive pricing more aligned to fundamental valuations than other European markets. COIMA believes that Italy offers compelling investment opportunities, leveraging on exiting gaps, demand changes and market timing.
Retail
COVID-19 has accelerated existing trends such has the growth of e-commerce and changes in customers' behaviour that were already ongoing before the pandemic, forcing retailers to review their business models to adapt to the fast-changing environment. Retail operators are required to shift towards flexible omni-channel retail models and sustainable fulfillment. COIMA as landlord and developer is changing its approach as well, providing flexible retail spaces in term of size, connected to a technological layer and enhancing the shopping experience through entertainment offers.

Strategic Corporate Development
Building and urban regeneration, ESG and digital impact are the key elements that make up COIMA's strategy. In the next few years, the Group will operate according to an integrated model based on industrial and financial skills, enhanced by data automation and digitalisation, with an ESG impact approach across the entire value creation chain and across the integration of investment management processes and operations, attributing a key role to its people, sustainability, technology and innovation.
COIMA SGR, in application of the European regulation 2019/2088 (SFDR), decided to adopt the "comply" approach when considering the negative effects of its investment decisions on ESG sustainability factors. COIMA's ESG objectives for the next few years follow the decarbonisation guidelines of the European Union. 100% of the Group's new developments will be already aligned with the 2050 decarbonisation target of 2°C and will be both LEED® and WELL® certified.
The investment forecast in urban regeneration projects is up to €5 billion over the next five years. 78% of COIMA's portfolio is made up of assets in prime locations. Among the main projects underway, the Group is active in Milan both in the Porta Romana and Valtellina/Farini railway yard, and in the Porta Nuova district.
Performance Verification
COIMA's investment strategy has integrated sustainability criteria and focused on creating a high-quality real estate portfolio, offering sustainable long-term returns. COIMA Roots is the company's holistic approach, which aims to generate, measure, monitor and provide sustainable, economic and social performance through key indicators based upon ESG parameters.
COMPLIANCE STATEMENT
The Company has outsourced the Compliance function to Deloitte. The Italian regulatory framework does request a mandatory compliance function within the organizational structure: COIMA SGR has designated a Compliance Officer in full outsourcing, who has specific responsibilities for overall the regulatory matters, giving several approvals for the main decisions to be taken, for example new funds set up, conflicts of interest, internal procedures etc… The Compliance Officer is also in charge of the anti-money laundering activity and is a member of the Conflict-of-Interest Committee. The Compliance team is composed by four resources.