38 tenants in seven buildings / First transaction for Urban Campus Nr. 1 fund
Union Investment has acquired Uferstadt Fürth, a 54,000 sq m campus property comprising seven different buildings that occupy part of the former headquarters site of Grundig. Located on the banks of the river Pegnitz, the buildings mainly consist of office space and are well served by local amenities and a wide range of restaurants and cafés. Research facilities belonging to the University of Erlangen-Nuremberg and a radio museum also share the site, but are not part of the deal. The typical campus mix enables flexible, pioneering ways of working. The property was financed by DG HYP Real Estate Centre Munich.
Promising start for special fund
The vendor of Uferstadt Fürth is Pegnitz Park Holding GmbH, a subsidiary of Investa Holding GmbH. The property has been successfully updated in recent years by Investa Asset Management (IAM) and is fully let. Union Investment and Investa Capital Management (ICM) announced the launch of their joint special fund Urban Campus Nr. 1 some four weeks ago as part of a strategic collaboration. Uferstadt Fürth is the first investment property to be acquired for the fund, which is targeted at institutional investors. The property will continue to be managed by Investa Asset Management (IAM) via a local presence.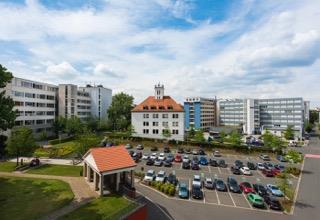 "Uferstadt Fürth meets the diverse requirements of the kind of modern work environment we have defined as the focus of our special fund together with our partner Investa. It marks a promising start to our relationship," said Dr. Christoph Schumacher, a member of the management team at Union Investment Institutional Property GmbH. "A range of factors, such as good public transport links and flexible layouts, provide the basis for a sustainable investment."
"The Nuremberg metropolitan region has experienced strong economic growth over the past few decades. Conditions are thus excellent for property developers and investors," said Volker Dittmeier, IAM managing director. "In the case of Uferstadt Fürth, the many services available are key to enabling flexible working in a real campus atmosphere."
Tenant mix at Uferstadt
Uferstadt Fürth is an established commercial location in the Nuremberg metropolitan region that offers tenants the opportunity to work in a modern environment. At present there are 38 tenants, with the largest companies at the fully let campus including outsourcing service provider Sellbytel Group, IT provider Atos Information Technology and software and hardware developer Lauer Fischer.
Science zone linking Nuremberg and Fürth
The Nuremberg metropolitan region has a population of some 3.5 million and is one of the most dynamic areas in Germany in terms of economic growth. Uferstadt Fürth is located in a science zone that stretches from Nuremberg to Fürth and brings together research, education and business. The Uferstadt complex is directly served by two main roads, the A73 and the B8. Nuremberg's main station is only 10 minutes away and the airport is just a 15-minute drive. For employees who use public transport, the subway station is located on the site.
Download the full press release at the link beneath Related Files
Supporting documents
Click link to download and view these files