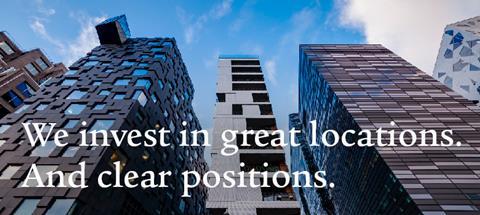 Corporate Overview
Swiss Life Asset Managers1 has more than 165 years of experience in managing the assets of the Swiss Life Group. This insurance background has exerted a key influence on the investment philosophy of Swiss Life Asset Managers, which is governed across our real estate platform by principles such as
value preservation,
the generation of consistent and sustainable performance,
a responsible approach to risks and opportunities, and
incorporation of environmental, social and governance (ESG) aspects across our investment process.
Our objective is to achieve stable, risk-adjusted investment returns to support our clients to achieve their long-term investment objectives. Given the attractive risk- return profile of the asset class, Swiss Life has committed its balance sheet capital to real estate for more than 125 years. Swiss Life Asset Managers co-invests with many of its clients, ensuring a strong alignment of interests.
Swiss Life Asset Managers offers this proven approach to third- party clients in Switzerland, France, Germany, Luxembourg, the UK and the Nordic countries and increasingly also internationally with over 2,200 real estate professionals in 23 locations around Europe.
Alongside insurance assets for Swiss Life Group, assets under management total €249.9bn (as at 30 June 2022), with €99.7bn managed for third-party clients.
Between June 2021 and June 2022 our real estate assets under management and administration increased to €116.5bn (as of 30 June 2022) from €100.9bn the previous year.
This includes:
€88.0bn real estate under management (+ €13.4bn/+18% year on year), as well as
€28.5bn real estate under administration (from €26.4bn the year before).
Swiss Life Asset Managers employs over 2,500 people in Europe.
1 Brand name under which the asset management and real estate asset management companies of Swiss Life (in Switzerland, France, Germany, Luxembourg, UK and Norway) have been operating since 2012; however, Swiss Life Asset Managers itself does not constitute a separate legal entity.
Sector forecasts
INDUSTRIAL: The industrial and logistics sector has turned in a very strong performance over the year. But due to higher interest rates and a rise in infla- tion, this sector will also see a dampening effect. For one thing, companies in the industrial and logistics sector are particularly dependent on energy prices and the economic environment. Moreover, some are operating with relatively small margins that have fallen further due to higher inflation. We therefore expect demand to hold up thanks to the continued growth in e-commerce and re-shoring activity but that it will no longer be as strong as assumed in the past. This is reflected in lower rental growths assumptions and, in combination with higher yields, should lead to lower performance figures than previously assumed.
OFFICE: The polarisation between Grade A and the rest of the real estate mar- ket will be particularly felt in the office sector. Generally speaking, fundamental data for tenant demand have not changed. There is an ongoing discussion in the sector as to how much office space will be needed in the future; the office nevertheless remains a place of encounter and exchange. Many tenants are currently even more concerned about the sustainability aspects of an office building and optimum public transport connections. While the average development of prime rents was positive in 2021, we expect a slight flattening over the next few years.
RESIDENTIAL: The lower dependency on economic developments will be noticeable for real estate in the residential and healthcare sectors. However, here too prices will fall due to interest rate movements, and a polarisation in terms of quality will emerge. When investors rely on this security and demand increases accordingly, the wheat is separated from the chaff. Furthermore, owing to increased inflation the discussion concerning affordability is also set to gain new momentum and regulation is likely to increase further.
RETAIL: The retail sector is continuing to feel a headwind. Although prices were already adjusted at real estate level in the past, above all, the higher inflation will inhibit consumers from buying much more than the bare necessities. On the other hand, the average investor preference (ie, focused on different strategies) has improved somewhat, so that there is more faith again in new retail formats, and the opportunity to reposition retail space is also being considered. However, we continue to expect a relatively flat movement in terms of rents and yields.
OTHERS: In 2022, many Europeans decided to catch up on trips that they missed out on due to the pandemic. The lack of airport staff and higher inflation now appear to be somewhat dampening this anticipation. While we expect trips booked for 2022 to be taken, activity is likely to recede again somewhat thereafter.
Investment principles & strategy
The world and the economy are changing and demanding more from the built environment. This has manifested in a shift in the way occupiers use properties, including the lease terms they are seeking. Against this backdrop, we focus on ensuring that our clients' portfolios reflect this 'new world' shaped by globalisation, digitalisation and societal change. For us, managing assets and risks means protecting wealth and increasing long-term earnings potential. Our investment management is based on understanding our clients' risk and return expectations and accurately reflecting them in our approach to the market. Our main priority is to invest responsibly and act prudently with the assets entrusted to us.
Investment decisions are based on in-house research expertise and a rigorous investment process.
Therefore, we manage risk actively and perform risk controls systematically on an ongoing basis to monitor the individual portfolios. These controls enable our clients to review risks any time and compliance with the predefined investment process. The aim is to identify risks early so as to avoid or mitigate them, and to exploit opportunities for the benefit of our clients.
Strategic corporate development
Over the past years, Swiss Life Asset Managers has constantly grown its busi- ness activities organically and inorganically. We offer comprehensive services across the full real estate value chain with strong European roots and 23 offices in Europe with over 2,200 real estate professionals.
Capabilities: Closed and open-ended real estate funds (listed and non- listed), investment foundations, dedicated mandates and separate accounts, fund of funds, JVs, club deals.
Sectors: Office, retail, residential, healthcare, hotel/hospitality, student housing, logistics, light industrial and corporate real estate, life sciences.
Broad range of investment strategies across the risk/return spectrum with specific focus on well-diversified pan-European core/core-plus or selective value-add capabilities.
Thematic and sector-focused investment strategies such as European industrial and logistics, healthcare, hotel and leisure.
Swiss Life Asset Managers also acts as a partner for co-investments in Europe.
Performance Verification
Swiss Life Asset Managers has a history of more than 125 years managing real estate and a proven track record across all sectors through different market cycles.
Compliance statement:
This publication does not constitute an offer or a recommendation to buy or sell financial instruments, but is provided for information purposes only.