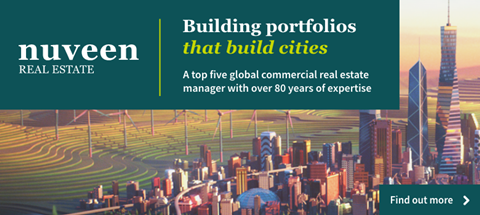 Nuveen Real Estate is one of the largest investment managers in the world with $139 billion of assets under management.
Managing a suite of funds and mandates, across both public and private investments, and spanning both debt and equity across diverse geographies and investment styles, we provide access to every aspect of real estate investing.
With over 85 years of real estate investing experience and more than 640 employees* located across over 25 cities throughout the United States, Europe and Asia Pacific, the platform offers unparalleled geographic reach, which is married with deep sector expertise.
For further information, please visit us at nuveen.com/realestate
*Includes 320+ real estate investment professionals, supported by a further 320+ Nuveen employees.
Source: Nuveen, 30 June 2021.
Sector forecasts
RETAIL: The pandemic has disproportionally affected the retail sector, highlighting the K-shaped nature of the US real estate market's recovery. According to real-time foot traffic and in-store credit card spending data, the consumers' value of physical retail stores throughout COVID -19 has greatly depended on retail segment. Winning segments throughout COVID-19 included home and grocery. For the year ending 30 June 2021, retail properties held in the NCREIF Property Index produced a –1.3% total return, which was comprised of 4.3% income return and –5.4% capital return.
INDUSTRIAL: Warehouses continue to benefit from e-commerce growth and the growth in demand for single-family permits and construction materials. According to the US Census Bureau, e-commerce sales in Q2 2021 accounted for 13.3% of total sales. Industrial continues to be the top-performing property type within the NCREIF Property Index, producing a 23% total return for the year ending 30 June 2021. Industrial net operating income grew 10% in Q2 2021 on a rolling four quarter basis, the strongest growth on record, according to NCREIF.
RESIDENTIAL: The apartment sector's operations have largely stabilised and returned to normal levels, though the expiration of the federal eviction memorandum may hurt rent collection rates in the short term. Long-term demand drivers for apartments are unchanged given the necessity-driven nature and demographic tailwinds such as delays in major life events like marriage and lower than average homeownership rates. U-Haul and United Van Lines moving data indicates Sunbelt states led in-migration in 2020, ultimately driving apartment outperformance across the region.
OFFICE: While traditional office leasing activity remains challenged, properties with office spaces specialised for studio use, life sciences, and medical research have attracted strong demand throughout the pandemic. CoStar data indicates US office vacancy rose to 12.2% in Q2 2021 from 11.9% in Q1 2021. During Q2 2021 there was 12.8m sqft of negative net absorption. Modern and sustainable office properties with resilient demand drivers in healthcare and technology are best positioned for outperformance in a post- COVID environment.
ALTERNATIVES: Alternative property types have proven to be more resilient than traditional property types throughout COVID -19 because their fundamental drivers rely less on economic growth and more on demographics, healthcare, and technology. The continued demographic shift of aging millennials will fuel demand for alternative housing sectors including single-family rentals and self-storage, while a transformation of the US healthcare system should drive outperformance in healthcare-centric real estate including medical offices.
Investment principles & strategy
A client-focused culture is at the core of who we are and what we believe our clients expect from us.
We take a stable, risk-aware investment approach to our business, which places our clients and investment teams at the heart of our process. Our fund management teams work closely with our clients to deliver investment performance that meets their objectives. The teams operate within a defined investment process with established risk controls, accompanied by investment committee oversight.
Our tomorrow's world investment philosophy incorporates strategic insights on megatrends throughout every stage of the investment process, looking beyond market cycles to assess how structural trends can best inform long-term real estate investments. Environmental and social governance is embedded into everything we do for the enduring benefit of clients and society.
Strategic corporate development
We work closely with our clients to develop long-term strategic relationships, to understand their goals and meet their requirements. To ensure we provide each investor with a tailored solution, made up of a range of products and strategies, we have developed our range of solutions to offer the resilient, enhanced and debt series:
Our resilient series is designed for investors who are focused on diversification, income and long-term capital growth. Our strategies focus on investing in high-quality assets in leading cities that are well positioned in terms of long-term structural trends, including demographic change, urbanisationandtechnology.
Our enhanced series applies strategies that work within market cycles, use a more active asset management and repositioning approach, and/or invest in emerging sectors and locations. These strategies are designed for investors that are looking for an enhanced level of capital growth.
Our debt series is designed to provide investors with access to secure, income-focused returns. Our strategies may suit cautious investors seeking attractive levels of income with a measure of downside risk mitigation against short-term capital cycles.
Our impact series is the newest addition to the offerings and is designed with the intention to generate positive social and environmental impact alongside a financial return. Our strategies are focused on developing solutions for people and the planet.
Performance verification
Nuveen Real Estate has its own performance analysis team dedicated to measuring and analysing property portfolio and fund performance.
COMPLIANCE STATEMENT
All information is as at 30 June 2021.
Issued by the offices and branches of Nuveen Alternatives Europe Sarl (reg. no. A00002440) or Nuveen Asset Management Europe Sarl (reg. no. P00000482), incorporated and registered in Luxembourg with registered office at 4A Rue Henri M Schnadt – 2530 Luxembourg; Both of which are authorised by the Commission de Surveillance des Services Financiers to provide investment products and services. Please note that branches of Nuveen Alternatives Europe Sarl or Nuveen Asset Management Europe Sarl are subject to limited regu- latory supervision by the responsible financial regula- tor in the country of the branch. Telephone calls may be recorded and monitored.
These materials are solely for use with professional investors as defined by Annex II of EU Directive 2017/65/EU (the MiFID II directive).