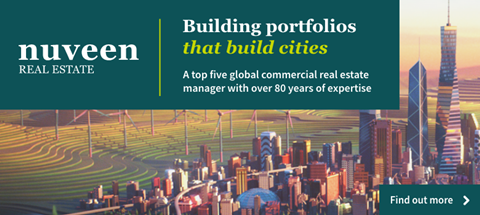 Nuveen Real Estate is one of the largest investment managers in the world with $139 billion of assets under management.
Managing a suite of funds and mandates, across both public and private investments, and spanning both debt and equity across diverse geographies and investment styles, we provide access to every aspect of real estate investing.
With over 85 years of real estate investing experience and more than 640 employees* located across over 25 cities throughout the United States, Europe and Asia Pacific, the platform offers unparalleled geographic reach, which is married with deep sector expertise.
For further information, please visit us at nuveen.com/realestate
*Includes 320+ real estate investment professionals, supported by a further 320+ Nuveen employees.
Source: Nuveen, 30 June 2021.
Sector forecasts
Office: Offices went into the recession in very good shape from the supply side. Vacancy rates are at record lows, in particular in France, Germany, and the Netherlands. At the same time, speculative building has been relatively contained, given the point in the cycle at the end of last year and previous years of accelerating rental growth in many centres. However, the demand side has deteriorated markedly since the beginning of the pandemic and a V-shaped rebound is unlikely, with all markets operating significantly reduced levels of take up until at least 2022. Space returned to the market by occupiers is becoming more and more prevalent and vacancy rates are expected to rise everywhere over the next 12 months. As a result, we expect moderate rental falls at the prime end of the spectrum, giving way to more significant downgrades on average quality stock where vacancy rates are anticipated to suffer disproportionately due to SME exposure. Increased working from home in future is likely to reduce demand for offices, leading to lower rates of take up over the medium term. The impact on occupier metrics across individual cities will vary considerably and will also partly depend on the developer response. However, a resumption of rental growth is expected once equilibrium in the leasing markets has been restored. This will be led by modern relevant stock that, among other qualities will be able to satisfy firms' wellbeing and sustainability agendas.
Retail: The ongoing retail restructuring is accelerated by the pandemic and increased online shopping. Retail formats and countries are not performing uniformly. The UK market is significantly more negatively affected than all other European markets. Retail formats focusing on convenience and fast-moving consumer goods will perform much better than fashion-oriented shopping centres. The market will need more time to bottom out and attract investors interest, which is not expected before the end of 2021.
Residential: The pandemic may trigger subtle shifts in location choices and space configuration demand, eg, towards more outdoor space or suburban living locations. The maturing of the sector in Europe is likely to accelerate, attracting more capital and tightening yields. Despite the tail winds, residential returns are likely to remain moderate due to very high land prices and construction costs. Private households' income growth is going to slow down as a result of the recession limiting residential rental growth potential over the next two years.
Industrial: The industrial sector continues to benefit from the accelerated expansion of e-commerce, both in mature markets like Germany or the United Kingdom and less mature markets such as Italy and Spain. Capital reallocations from retail and offices towards logistics will lead to further yield compression, while rental growth after a pause in 2020 is expected to pick up in 2021 to average up to 3.5% p.a. over the next five years.
Other: Several alternative sectors with structural demographic and technological tailwinds will continue to mature and deliver returns above established sectors. The price of that outperformance is lower liquidity and in many cases operator risks. Mobile phone towers, self-storage, data centres and technology parks are in various stages of market development in different European countries, delivering a range of return profiles.
Investment principles & strategy
A client-focused culture is at the core of who we are and what we believe our clients expect from us.
We take a stable, risk-aware investment approach to our business, which places our clients and investment teams at the heart of our process. Our fund management teams work closely with our clients to deliver investment performance that meets their objectives. The teams operate within a defined investment process with established risk controls, accompanied by investment committee oversight.
Our tomorrow's world investment philosophy incorporates strategic insights on megatrends throughout every stage of the investment process, looking beyond market cycles to assess how structural trends can best inform long-term real estate investments. Environmental and social governance is embedded into everything we do for the enduring benefit of clients and society.
Strategic corporate development
We work closely with our clients to develop long-term strategic relationships, to understand their goals and meet their requirements. To ensure we provide each investor with a tailored solution, made up of a range of products and strategies, we have developed our range of solutions to offer the resilient, enhanced and debt series:
Our resilient series is designed for investors who are focused on diversification, income and long-term capital growth. Our strategies focus on investing in high-quality assets in leading cities that are well positioned in terms of long-term structural trends, including demographic change, urbanisation and technology.
Our enhanced series applies strategies that work within market cycles, use a more active asset management and repositioning approach, and/or invest in emerging sectors and locations. These strategies are designed for investors that are looking for an enhanced level of capital growth.
Our debt series is designed to provide investors with access to secure, income-focused returns. Our strategies may suit cautious investors seeking attractive levels of income with a measure of downside protection against short-term capital cycles.
Performance verification
Nuveen Real Estate has its own performance analysis team dedicated to measuring and analysing property portfolio and fund performance.
COMPLIANCE STATEMENT
All information is as at 30 June 2020 and sourced to Nuveen Real Estate. This profile is intended solely for the use of professionals and is not for general public distribution. The information contained herein was up to date at the time of producing and is subject to change. This information is not intended to be a recommendation or investment advice, does not constitute a solicitation to buy or sell securities, and is not provided in a fiduciary capacity.
This document is not directed at or intended for any person (or entity) who is citizen or resident of (or located or established in) any jurisdiction where its use would be contrary to applicable law or regulation [or would subject the issuing companies or products to any registration or licensing requirements].