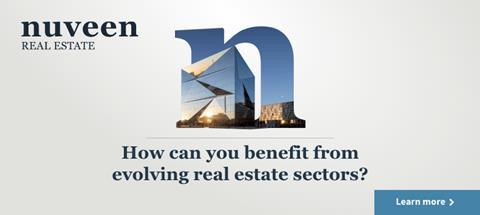 Nuveen Real Estate is one of the largest investment managers in the world with $152bn of assets under management.
Managing a suite of funds and mandates, across both public and private investments, and spanning both debt and equity across diverse geographies and investment styles, we provide access to every aspect of real estate investing.
With over 85 years of real estate investing experience and more than 820 employees* located across 30+ cities throughout the United States, Europe and Asia Pacific, the platform offers geographic reach, which is married with sector expertise.
For further information, please visit us at nuveen.com/realestate
* Includes 385+ real estate investment professionals, supported by a further 430+ Nuveen employees.
Source: Nuveen, 30 June 2023.
Sector forecasts
INDUSTRIAL:
Global supply chain disruption declined sharply in the last year as the economic slowdown reduced demand for international freight, allowing supply chains to recover from the pandemic. Take-up is normalising from record highs, yet remains above 2019 levels in many countries. The high demand for space combined with low supply which has driven rents in Europe over the past two years is still prevalent. Rental growth is slowing though and there are signs that some tenants are subletting space. Nearshoring and companies optimising supply chains to reduce financial and carbon costs of their operations are expected to sustain demand for the time being.
OFFICE:
The opportunity to either acquire or re-position stock and achieve attractive returns is about to emerge, and is arguably the best buying opportunity since the global financial crisis. There are very low levels of transactional activity in capital markets and brokers continue to shift yields higher. An absence of forced sellers suggests the situation will improve only gradually and yields may have a bit further to rise. The need to re-finance maturing debt on assets suggests a pick-up in activity, but volumes overall should remain muted until interest rates have peaked and markets re-price the cost of finance. A focus on buying buildings with strong ESG credentials close to public transport networks has caused bifurcation in performance between prime and secondary assets.
RESIDENTIAL:
Rising interest rates, coupled with tighter credit conditions and macro headwinds continue to impact residential markets, dampening housing demand. House prices have fallen in several/most European markets and investment volumes have slowed considerably. But investor sentiment remains strong in a sector with long-term tailwinds, although near-term positions are being re-appraised given macroeconomic revisions. Residential opportunities will exist through stronger rental growth opportunities, and investments should be considered where rent affordability remains intact and supply/demand fundamentals look positive.
RETAIL:
Consumer confidence in the eurozone in mid-2023 was the least negative for 17 months. However, consumption is still on the decline and the savings ratio remains stable, suggesting households are in no rush to spend any excess savings accumulated during the pandemic. Hence, consumer spending outlook could be better. While retail parks were resilient in the face of online sales and the pandemic, trading conditions are worsening due to higher inflation and mortgage costs, which are affecting house prices and spending on big ticket items. Retail investment transactions in the first six months of 2023 were around half of those recorded a year ago and are expected to remain depressed.
OTHER:
Whilst the wider commercial real estate market saw transaction volumes drop sharply since the start of interest rate hikes last year, alternative sectors exhibited somewhat different dynamics, highlighting the continued shift of investor interests. Despite the capital market turmoil, occupier demand has remained exceptionally resilient across most subsectors, as witnessed by the near/full occupancy of purpose-built student accommodation, record high data centre leasing volumes and robust growth of storage rates. We believe alternatives will lead the recovery in investment activity once monetary policy has stabilised.
Investment principles & strategy
A client-focused culture is at the core of who we are and what we believe our clients expect from us.
We take a stable, risk-aware investment approach to our business, which places our clients and investment teams at the heart of our process. Our fund management teams work closely with our clients to deliver investment performance that meets their objectives. The teams operate within a defined investment process with established risk controls, accompanied by investment committee oversight.
Our tomorrow's world investment philosophy incorporates strategic insights on megatrends throughout every stage of the investment process, looking beyond market cycles to assess how structural trends can best inform long-term real estate investments. Environmental and social governance is embedded into everything we do for the enduring benefit of clients and society.
Strategic corporate development
We work closely with our clients to develop long-term strategic relationships, to understand their goals and meet their requirements. To ensure we provide each investor with a tailored solution, made up of a range of products and strategies, we have developed our range of solutions to offer the resilient, enhanced, debt and impact series:
Our resilient series is designed for investors who are focused on diversification, income and long-term capital growth. Our strategies focus on investing in high-quality assets in leading cities that are well positioned in terms of long-term structural trends, including demographic change, urbanisation and technology.
Our enhanced series applies strategies that work within market cycles, use a more active asset management and repositioning approach, and/or invest in emerging sectors and locations. These strategies are designed for investors that are looking for an enhanced level of capital growth.
Our debt series is designed to provide investors with access to secure, income-focused returns. Our strategies may suit cautious investors seeking attractive levels of income with a measure of downside risk mitigation against short-term capital cycles.
Our impact series is the newest addition to the offerings and is designed with the intention to generate positive social and environmental impact alongside a financial return. Our strategies are focused on developing solutions for people and the planet.
Performance verification
Nuveen Real Estate's Performance Team has over 50 years' of applied real estate performance and risk management experience. Applying strong auditable control risks, and adopting applicable real estate industry standards, the team operates independently of fund and account teams.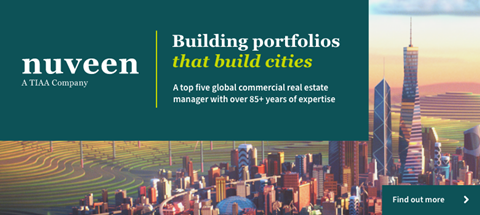 COMPLIANCE STATEMENT
All information is as at 30 June 2023.
These materials are only for use by the intended party and may only be circulated only to persons whom they may lawfully be distributed. Any entity responsible for forwarding this material to other parties takes responsibility for ensuring compliance with local laws, and in particular any applicable financial promotion rules. The information presented in these materials is believed to be materially correct as at the date hereof, but no representation or warranty (express or implied) is made as to the accuracy or completeness of any of this information. Data was taken from sources deemed reliable, but cannot guarantee its accuracy. The statements contained herein reflect opinions as of the date written and are subject to change without further notice. Nothing set out in these materials is or shall be relied upon as a promise or representation as to the past or future. This information does not constitute investment research as defined under MiFID. Nuveen, LLC provides investment solutions through its investment specialists.