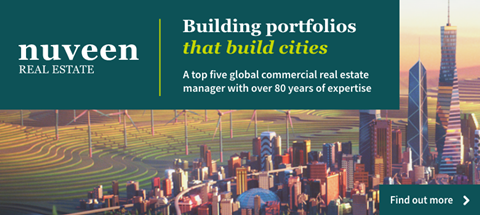 Nuveen Real Estate is one of the largest investment managers in the world with $139 billion of assets under management.
Managing a suite of funds and mandates, across both public and private investments, and spanning both debt and equity across diverse geographies and investment styles, we provide access to every aspect of real estate investing.
With over 85 years of real estate investing experience and more than 640 employees* located across over 25 cities throughout the United States, Europe and Asia Pacific, the platform offers unparalleled geographic reach, which is married with deep sector expertise.
For further information, please visit us at nuveen.com/realestate
*Includes 320+ real estate investment professionals, supported by a further 320+ Nuveen employees.
Source: Nuveen, 30 June 2021.
Sector forecasts
Industrial: Structural demographic tailwinds, namely robust domestic demand driven by rising urbanisation, consumption and the rise of the middle class, underpin the long-term value of the logistics sector. Despite the near-term uncertainties, the weight of capital pouring into the logistics sector will continue to drive pricing alongside expectations of lower-for-longer interest rates. Rising technology adaption, increasing e-commerce penetration and the urgency for a robust domestic supply chain post-pandemic support occupier demand. In the near term, the pandemic-driven weakness in global economic and trade will lead to a dislocation in performance. Sizable domestic demand-driven economies are likely to outperform those with a higher dependence on global trade. In that regard, traditional warehouse, built-to-suit for manufacturing and flatted factories in Hong Kong and Singapore hold less appeal.
Office: Prospects for the regional office market are uncertain in the short to medium term. The economic downturn driven by the pandemic is likely to over- shadow business sentiment, profitability and employment prospects. Amid this uncertainty, corporates are unlikely to invest in expensive real estate. This weak occupier demand is likely to drive rents broadly lower across key regional mar- kets in 2021. COVID -19 is also accelerating many of the emerging trends already impacting occupier demand, with current work-from-home practices reinforcing demands for work-life balance and flexible work arrangements. Disruption from COVID-19 and the long-term out look for office demand will differ across the regional markets. Within Asia Pacific, highly dense cities such as Hong Kong and Singapore or culturally more hierarchical markets such as Tokyo and Seoul may gravitate less towards a work-from home-arrangement, resulting in more support towards traditional office demand.
Residential: Across key regional cities, the sector is well-positioned to benefit from a robust secular economic outlook, rising population, and urban growth over the long term. While the pandemic has reignited the debate between urban and suburban living, the attraction of city-living across the different age groups remains. For millennials, close access to social network and amenities is key, for mid-career professionals, it is the structural employment opportunities, while for the elderly, convenience to healthcare and daily needs is important. Urbanisation may have slowed but will not stall. Across many key regional cities pricing remains highly elevated, especially in Hong Kong, Singapore, Tokyo, Sydney and Seoul, but job and income losses have curtailed more active purchases. Rental declines have increased the attractiveness of the leasing market, driving demand and investment proposition for multifamily and co-living. The structural rotation away from ownership among millennials will continue to drive liquidity into the built-to-rent sectors over the long term.
Retail: COVID -19 has further accelerated retail space obsolescence. Aside from weaker near-term economic, employment and income prospects, head- winds are visible in key tourist markets such as Hong Kong and Singapore with a smaller domestic clientele pool. Falling rents, limited tenant demand and rising vacancy suggest that despite the current depressed pricing levels, institutional investors are well-advised to remain cautious in view of the downside risks. The discounted luxury outlet mall sector in China, however, presents a more attractive and unique secular proposition. The rapidly rising middle class with higher purchasing power and disposable income looking for experiential shopping will complement limited quality supply to underpin strong turnover, income and weaker prospects for traditional retail.
Debt: The appeal of private commercial real estate (CRE) debt should continue to increase as investors pivot to investments with cashflow and downside risk protection. However, ample debt capital liquidity by banks, supportive government policy-led initiatives and the general market perception of lower-for-longer interest rate pose short-term challenges through fewer transactions and lack of market depth. In turn, returns have tightened even as bank margins have stayed roughly stable. Over the medium term, the appeal of private CRE debt remains attractive as debt markets are primed to shift away from banks with higher capital ratio requirement and borrowers are longing for alternative lenders. Against the backdrop of regional economies enjoying favourable longer-term economic outlook, a rotation back to higher transaction volumes will drive the continued growth of the burgeoning private CRE debt sector especially in the developed economies.
Investment principles & strategy
A client-focused culture is at the core of who we are and what we believe our clients expect from us.
We take a stable, risk-aware investment approach to our business, which places our clients and investment teams at the heart of our process. Our fund management teams work closely with our clients to deliver investment performance that meets their objectives. The teams operate within a defined investment process with established risk controls, accompanied by investment committee oversight.
Our tomorrow's world investment philosophy incorporates strategic insights on megatrends throughout every stage of the investment process, looking beyond market cycles to assess how structural trends can best inform long-term real estate investments. Environ- mental and social governance is embedded into everything we do for the enduring benefit of clients and society.
Strategic corporate development
We work closely with our clients to develop long-term strategic relationships, to understand their goals and meet their requirements. To ensure we provide each investor with a tailored solution, made up of a range of products and strategies, we have developed our range of solutions to offer the resilient, enhanced and debt series:
Our resilient series is designed for investors who are focused on diversification, income and long-term capital growth. Our strategies focus on investing in high-quality assets in leading cities that are well positioned in terms of long-term structural trends, including demographic change, urbanisation and technology.
Our enhanced series applies strategies that work within market cycles, use a more active asset management and repositioning approach, and/or invest in emerging sectors and locations. These strategies are designed for investors that are looking for an enhanced level of capital growth.
Our debt series is designed to provide investors with access to secure, income-focused returns. Our strategies may suit cautious investors seeking attractive levels of income with a measure of downside protection against short-term capital cycles.
Performance verification
Nuveen Real Estate has its own performance analysis team dedicated to measuring and analysing property portfolio and fund performance.
COMPLIANCE STATEMENT
All information is as at 30 June 2020 and sourced to Nuveen Real Estate. This profile is intended solely for the use of professionals and is not for general public distribution. The information contained herein was up to date at the time of producing and is subject to change.
This information is not intended to be a recommendation or investment advice, does not constitute a solicitation to buy or sell securities, and is not provided in a fiduciary capacity. This document is not directed at or intended for any person (or entity) who is citizen or resident of (or located or established in) any jurisdiction where its use would be contrary to applicable law or regulation [or would subject the issuing companies or products to any registration or licensing requirements].