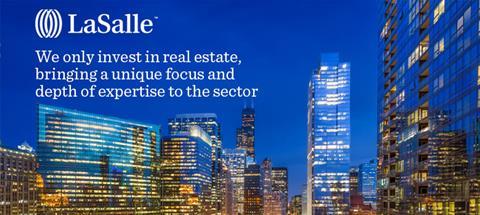 Corporate overview
LaSalle is one of the world's leading real estate investment managers. With over 40 years of experience and US$65 billion (as of 30 June 2020) of assets under management, LaSalle is invested in both private real estate equity and debt, and publicly listed real estate securities. Our sole focus is real estate, offering our clients a unique focus and depth of experience in the asset class.
The divisions of our business are as follows:
Private Equity
LaSalle is a global investment manager which only invests in real estate, bringing a unique focus and depth of expertise to the sector, where we pursue specific investment strategies across the risk-return spectrum (core, core+, value-add, opportunistic). LaSalle operates in 15 countries and 22 offices worldwide. As an independent subsidiary of Jones Lang LaSalle Incorporated (NYSE: JLL), one of the world's largest real estate companies, we have a presence in every region of the world in which we invest.
LaSalle's Debt Platform
The European Debt & Special Situations division provides its borrowers with a wide range of financing solutions by actively investing through its four strategies: LaSalle Real Estate Debt Strategies, LaSalle Residential Finance, LaSalle Whole Loan Strategies and Special Situations. Our debt products include whole loans, mezzanine, development financing, stretched senior loans, preferred/joint venture equity in the UK and Western Europe. LaSalle's US debt platform is a commercial real estate bridge lender providing short term, floating rate loans to middle-market commercial real estate sponsors. The group's primary focus is on originating new bridge loans for value-add and transitional properties in sustainable growth markets throughout the US. Each transaction is underwritten with a bottom-up method through an equity owners' lens making sure that all interests are aligned and there is a clear exit strategy
Global Partner Solutions
LaSalle acquired the real estate Multi-Manager business of Aviva Investors in 2018. The existing London-based Global Indirect Business has been incorporated into a new global platform 'LaSalle Global Partner Solutions' with on the ground presence in London, New York, Chicago and Singapore, investing in funds, joint ventures, co-investments and secondaries.
Securities
LaSalle's Real Estate Securities programme gives institutional and individual investors a simple way to access the world's major commercial real estate markets and is one of the most experienced real estate securities investment managers.
Sector forecasts
INDUSTRIAL: Logistics tenant demand has been growing over the past decade, with a structural component largely driven by the rise of e-commerce, and a cyclical component driven by the economic and industrial recovery in the region. Demographic shifts and a growing propensity to shop online are expected to result in a prolonged demand growth. In high density, urban locations this will likely be satisfied by logistics-led mixed-use development. Rental levels have significantly increased and even popped over the last couple of years in markets such as London and Munich. Although pricing is not an immediate concern, it could become one over the medium term if asset prices continue to outpace rents and supply finally ignites. We nevertheless continue to expect above-inflation rental growth in locations with limited land supply.
OFFICE: European office vacancy has moderated to 5.5%, the lowest level since 2002, while vacancy rates in central submarkets of cities are even lower. To date, the supply response has remained modest and while the office development cycle is gradually accelerating, it remains low by historical standards. Our continental European rental growth forecast has two phases: a strong positive phase over the next 18 to 24 months followed by a slowdown, however limited speculative development provides downside protection to rental growth. In contrast, rental growth in the London office market is expected to be muted over the next couple of years due to weaker net absorption in the context of Brexit uncertainty, but with occupier markets holding up well to date, pent up demand is expected to be released towards the back end of the forecast period as a Brexit resolution is achieved.
RESIDENTIAL: In the current ongoing low-yielding environment residential for lease is viewed as an attractive defensive asset class that is becoming institutional in a growing number of countries. Various structural trends including continued urbanisation, changing household structures and population growth are stimulating demand for to-own and even more so to-rent housing in Europe's most successful cities. This will create opportunities for property types such as residential rental units, micro apartments and student housing notably in the UK, Germany, France and the Netherlands. Our expectation is that given the significant supply-demand imbalance, residential will exhibit robust riskadjusted returns in the medium term.
RETAIL: The retail environment remains challenging as retailers continue to see their physical store operational profitability squeezed through fierce competition. In the UK, despite a resilient consumer economy, the widespread use of Company Voluntary Arrangements (CVAs), coupled with mounting e-commerce pressures, Brexit, and business rates have all combined to create a 'perfect storm' that is impacting sentiment for retail assets. Overall, rental growth is expected to be negative to marginally positive over the next few years.
Investment principles & strategy
Clients come first in our business and we use our fiduciary experience to deliver competitive performance. Our many long-standing clients trust LaSalle and often invest in multiple mandates with us around the globe. A global investment perspective, fostered by the insights of our global research team and the experience of our fund managers, coupled with our ability to execute deals and manage real estate, allows us to seek out robust returns for our clients.
LaSalle's in-house proprietary research gives our clients unique insight into global property markets. We invest heavily in market analysis and investment strategy, believing that a deeper understanding of market dynamics directly influences our ability to deliver competitive investment performance. The strength of the integrated relationship between research and investment teams is vital in generating ideas and investment opportunities for clients.
Our Research & Strategy team identifies opportunities in the market, as well as develops client-specific strategies, providing direction to the investment teams, whose knowledge and network of contacts ensure LaSalle access to both on-market and off-market opportunities.
In Europe, the firm has a deep, established platform with 270-plus employees located in eight offices and managing approximately €19bn of AUM across all property types, with on-the-ground acquisitions, asset management, research and strategy, tax, financing, product development and client servicing professionals. Moreover, in Europe, LaSalle's Real Estate Debt Investment platform provides tailor-made lending solutions across the capital stack. To date, the platform has allocated/invested more than £2.5bn since 2010.
Performance verification
The performance of the majority of LaSalle's portfolios in Europe is measured by MSCI and many are typically compared to an appropriate IPD benchmark. However, increasingly portfolios are adopting a target relative to inflation or bonds particularly in the UK. The independently-calculated performance is thoroughly checked in-house by LaSalle as part of a multi-stage process. Where relevant, LaSalle's continental European Funds and Debt & Special Situations funds provide data to INREV. For a small number of private clients, LaSalle provided money-weighted returns calculated from independently audited financial data.
COMPLIANCE STATEMENT
The information contained herein is for the sole purpose of providing general information to institutional investors about LaSalle Investment Management and its affiliates. Certain information herein sets out general views of LaSalle Investment Management regarding certain property markets and types of property therein. No representation is made concerning the accuracy of the information compiled herein, and no guarantee or assurance is given that any forecast or opinion in these materials will be realised. For the avoidance of doubt, the information contained herein is not investment advice and may not be construed as the promotion or marketing of any services or financial product sponsored or provided by LaSalle Investment Management or any of its affiliates. LaSalle Investment Management is authorised and regulated by the Financial Conduct Authority in the United Kingdom.