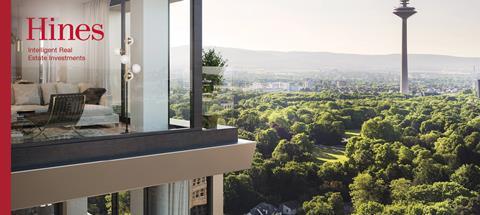 Hines is a global investment manager and passionate steward of real estate portfolios serving communities all over the world. Founded in 1957, the firm has approximately 4,700 employees in 28 countries and oversees investment assets under management totalling approximately $92.3bn.1 In addition, Hines provides third-party services for over 102.1m sqft.
Hines has extensive experience across the risk spectrum and focuses on acquiring, developing and adding value to properties in all real estate sectors: mixed-use, residential, retail, industrial, office and niche properties. And with a pioneering and acclaimed commitment to sustainability and innovation, Hines is one of the largest and most respected real estate firms in the world.
As a family-led company, Hines has exceptionally strong values and integrity and carefully guards its clients' reputation as much as its own. This ownership structure allows Hines to take a long-term view and pursue strategies that help the company weather real estate cycles.
Please visit www.hines.com for more information.
1 Represents the Investment Management AUM, including that of the RIA as of 30 June 2022.
Sector forecasts
INDUSTRIAL: Logistics pricing has moved into expensive territory, with record low yields adding to price vulnerability. The outlook is particularly challenging across the most expensive markets such as Glasgow, Milan and Barcelona. Rent growth prospects have also moderated, although the outlook here is more positive. In the near term, rents may benefit from robust leasing health, and markets such as London, Dublin and some of the Nordics markets are expected to outperform. While not forecasted, urban logistics is likely to display relative rental outperformance despite sharper yields, given tighter supply and a more resilient demand base. Furthermore, structural change continues to provide tailwinds for the sector, and Germany, Ireland, Poland and the Nordics should be the major beneficiaries of online acceleration over the next few years.
OFFICE: Prime office values had begun to recover over 2021, with many markets reaching the top end of fair value territory. The UK, German and Italian markets recorded the highest pace of value growth, but given global inflationary pressures, cap rate spreads have narrowed, placing renewed pressure on pricing. The picture is not uniform, with expensive markets such as Paris La Defense, Brussels and Edinburgh looking vulnerable, whilst the five-year outlook is more favourable for fair value centres such as Amsterdam. City centre, trophy assets and offices with green credentials are likely to be most defensive given shifting occupier priorities and undersupply in those segments of the market.
RESIDENTIAL: Demand for urban residential stock had recently run high, and some residential markets are now ripe for correction, given the vulnerability of this sector to interest rate increases. Price affordability had been worsening, with values largely propped up by favourable mortgage affordabil- ity. With that set to shift, the outlook looks gloomier for previously hot markets such as Amsterdam, Munich and Stockholm. Meanwhile, markets with more moderate pricing such as Rome, Paris and Madrid, are likely to see continued growth in the medium term. Many cities across Europe benefit from historic residential and particularly rental undersupply, and so we remain positive in the medium term about rent growth in several core markets such as Munich, Frankfurt and Amsterdam.
RETAIL: Pricing in the retail sector has started to bottom out, and retail values have come down to such an extent that prices look very cheap relative to his- tory, boosting the five-year outlook for price growth. Despite this, we remain underweight to the sector given the material short-term uncertainty given inflationary pressures on consumers and retailers. Our view, however, is that those markets with strong consumption and tourism-based dual demand drivers, such as London, Paris and Milan, will be in pole position to not only recover, but also deliver solid capital value and rent growth over a five-year horizon.
Investment principles & strategy
Hines' investment philosophy is to focus on high-quality properties and maximise value creation through local teams in 314 cities in 28 countries. Hines believes that intrinsically excellent properties, both in terms of physical characteristics and location, are generally able to outperform their respective markets. And this approach translates into more consistent investment performance for investors over the long term, while mitigating short-term downside risks. Hines applies this philosophy to properties in all real estate sectors globally – mixed-use, residential, retail, industrial, office and niche properties – and across the risk spectrum – core, core-plus and value-add. Hines has developed, redeveloped or acquired approximately 1,765 properties since inception, giving it a wealth of knowledge in the sector as of 30 June 2022.
Investment activity at Hines is identified at the local level and approved by the Investment Committee, which provides pattern recognition across geographies and product types, market intelligence, strategic foresight, and risk assessment. This differentiated approach – including a decentralised structure that promotes deep local knowledge, proven investment management capabilities, and extensive subject matter expertise – is key to delivering returns for investors.
Hines believes that the integration of these critical real estate investment functions within one organisation provides a competitive advantage that will directly benefit the investment.
Strategic corporate development
Hines' corporate development strategy is to grow organically and has done so since its inception in 1957 — and now has €88.9bn1 in AUM and 4,700 employees globally.
Hines' focus is not only on investing, developing and managing real estate but also on how sustainability and innovation intersect the built environment. Hines was the first to implement LEED and Energy STAR certification at the turn of the 21st century and has been a pioneer ever since, reducing carbon emissions through innovative technologies, such as T3, which stands for 'Timber, Technology, Transit', a strong, low-carbon alternative to concrete and steel. Hines' 2022 commitment to a zero-carbon portfolio by 2040 is an organic progression of the firm's founding principles of value creation, integ- rity, service, and quality for all clients.
1 Represents the investment management AUM, including that of the RIA as at 30 June 2022.
COMPLIANCE STATEMENT
All information is as at 30 June 2022 and sourced to Hines Interests Limited Partnership.
This profile is for informational purposes only and is intended solely for the use of professional and other qualified investors and is not for general public distribution. The information contained herein was up to date at the time of producing and is subject to change. This information does not constitute an offer to subscribe for securities, units or other participation rights. It is not intended to be a recommendation or investment advice. This document is not directed at or intended for any person (or entity) who is citizen or resident of (or located or established in) any jurisdiction where its use would be contrary to applicable law or regulation or would subject the issuing companies or products to any registration or licensing requirements. In the US, distributed or placed by Hines Securities, Inc, a registered broker-dealer with the Securities & Exchange Commission, and a member of FINRA. In the UK, issued by Hines Europe Real Estate Investments Ltd (HEREI), which is authorized and regulated by the Financial Conduct Authority. In the European Union, distributed or placed by Hines Luxembourg Investment Management S.à.r.l, which is authorized and regulated by the Commission de Surveillance du Secteur Financier. In the Dubai International Financial Centre UK, distributed by HEREI Representative Office Regulated by the Dubai Financial Services Authority as a Representative Office.