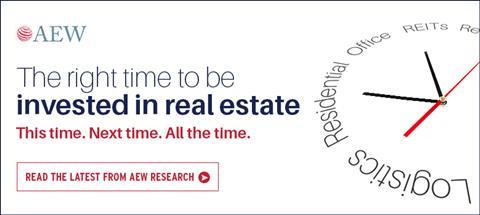 AEW provides real estate investment services to investors worldwide. As one of the world's largest real estate asset managers, AEW manages €83.1bn of real estate assets and securities on behalf of many of the world's leading institutional and private investors (as of 30 June 2023). With over 800 employees operating from 18 offices located in North America, Europe and Asia Pacific, AEW has the experience and the resources on the ground to execute its clients' investment objectives. AEW offers a wide range of real estate investment products including commingled funds, separate accounts, and securities mandates across the full spectrum of investment strategies. AEW represents the real estate asset management platform of Natixis Investment Managers, one of the largest asset managers in the world.
In North America, AEW has over 350 employees operating from its headquarters in Boston, as well as full-service offices in Los Angeles and Denver. The firm's goal is to be its clients' most trusted and effective adviser by offering innovative solutions; adding value to their portfolios; and striving to exceed their expectations for service and performance.
For more information on AEW, visit www.aew.com
Investment principles & strategy
Focused exclusively on real estate since 1981, AEW adheres to a research-guided, value-oriented investment discipline that reflects over 40 years of experience across market cycles. The firm has a long history of integrating fundamental real estate knowledge, capital markets experience and applied economic research with a goal to meet its clients' investment objectives. The firm's investment strategies are implemented by dedicated teams that work in the public or private markets. The platform allows its investment professionals to gain street-level property and market insights from property and market specialists resident in offices throughout the US, Europe and Asia Pacific, as well as a top-down economic perspective from AEW Research. AEW believes a commitment to research and its practical application to decision-making are critical to the success of every investment portfolio it manages.
Strategic corporate development
It is AEW's short- and long-term objective to remain one of the world's leading full-service real estate investment advisers. The growth of AEW's business is closely tied to that of its clients and to the decisions they make regarding allocations to real estate investment. The firm's business plan is focused on providing clients with strong investment performance and exceptional service in four distinct areas: core and value-added direct investment in real estate assets; opportunistic real estate investing; real estate equity securities; and international investment. We are well-positioned in each area.
Performance verification
AEW measures its performance against a number of benchmarks specific to investment strategy and style. The results of each portfolio are periodically audited by independent third parties and audited financial statements provided to clients. AEW is GIPS compliant.
COMPLIANCE STATEMENT

AEW includes (i) AEW Capital Management, L.P. and its subsidiaries and (ii) affiliated company AEW Europe SA and its subsidiaries. AEW Europe SA and AEW Capital Management, L.P. are commonly owned by Natixis Investment Managers and operate independently from each other. Total AEW AUM of $90.7 billion includes $41.9 billion in assets managed by AEW Europe SA and its affiliates, $5.3 billion in regulatory assets under management of AEW Capital Management, L.P., and $43.5 billion in assets for which AEW Capital Management, L.P. and its affiliates provide (i) investment management services to a fund or other vehicle that is not primarily investing in securities (e.g., real estate), (ii) non-discretionary investment advisory services (e.g., model portfolios) or (iii) fund management services that do not include providing investment advice. Staff, offices, and clients include AEW Capital Management, L.P. and AEW Europe SA and their respective subsidiaries.
The material on this site is for informational purposes only. It does not constitute investment advice or a recommendation. Nothing contained on this site shall constitute an offer to sell or a solicitation of an offer to sell any security or any other investment product or service. Please direct any personal, identifiable information, requests, or questions regarding AEW Capital Management's Privacy Statement to DataPrivacy@aew.com or 877-261-2391.