Corporate overview
Aviva Investors is a global asset manager with expertise in real estate, fixed income, equity, multi-asset and alternative investments. Our investment intelligence spans major markets, where we currently invest €394bn (as at 30 June 2018) on behalf of our customers. This gives us the size and scale to successfully seek out opportunities that will deliver specific investor outcomes.
With over €40bn of real estate assets (as at 30 June 2018), Aviva Investors offers comprehensive market coverage with specialist teams covering occupational and investment markets, and our dedicated in-house real estate strategy and research teams undertake proprietary research.
Along with the traditional route of direct acquisition of bricks and mortar, real estate can be accessed via listed and unlisted real estate funds, co-investments and joint ventures, and via real estate debt.
At Aviva Investors we seek to bring our expertise in all these areas together to deliver outcome-oriented solutions for our clients. Capturing and releasing value requires a deep understanding of the market, together with execution capability and agility. Our real estate team is resourced and structured to do that. As at 30 June 2018 we have over 160 real estate investment professionals, based in offices in Frankfurt, London and Paris.
Overview of our corporate structure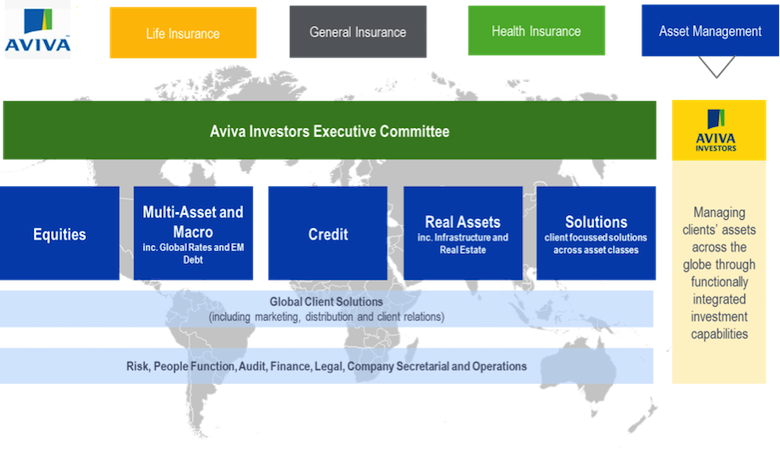 Sector forecasts
INDUSTRIAL: Recent quarters have brought signs that, having held up surprisingly well in the wake of the Brexit referendum, the manufacturing sector is losing momentum. According to the official data, year-on-year growth in manufacturing production slowed to just 1.1% in May, down from 2.6% in February and from a recent peak of 4.9% in October last year. By contrast, leasing activity in the logistics sector enjoyed a strong start to 2018 having struggled a little in the latter part of last year. The sector has been enjoying a sustained period of robust leasing activity for a number of years now and this has driven a marked decline in availability and put upward pressure on rents.
OFFICE: We remain cautious on the outlook for Central London in the next couple of years. Increasing supply and uncertain demand look likely to spark a resumption of rental declines with secondary stock set to suffer worst. Leasing conditions remain robust in the major regional markets meanwhile and most appear relatively defensive in the near term. Low vacancy should help them to cope with increased construction activity as well as economic and political uncertainty. Rental growth has been more muted in these markets and rents look well supported.
RESIDENTIAL: House price measures continue to point to a market that has run out of steam. According to the Nationwide Index, for instance, year-on-year house price growth fell to 2.3% at the end of the second quarter, the slowest pace of growth since Q2 2013. A significant change in the fortunes of the mainstream housing market remains difficult to envisage in the near term. Though interest rates and credit availability remain supportive, peak support from this source has probably passed. Affordability, though improving a little, remains stretched. In addition, Brexit uncertainty is likely to see some weakening of labour market prospects. As a result, house price growth and market activity are likely to remain subdued in the period ahead.
RETAIL: Retail sales growth has been on a slowing trend for much of the past two years or so. Conditions in retail lettings markets remain very difficult and, against a backdrop of structural change due to the rise of online shopping, even strong retailers face a challenging time. Retail rental prospects appear weak as a consequence, especially for secondary locations. We expect to see opportunities for strategic investors who have adapted their retail strategies to take into account structural changes in consumer behaviour, favouring experiential retail in destination locations.
OTHER: We continue to expect return prospects to weaken in the near term, providing opportunities for strategic active investors. The first of these is real estate's yield advantage over fixed-income assets which, though still generous, has been shrinking in recent quarters as gilt yields move a little higher and real estate yields drift lower. In addition, we continue to expect occupier markets to deteriorate in the face of a sluggish economic backdrop. Though industrial occupier markets are structurally well placed, current rates of rental growth appear unsustainable. Coming quarters are likely to remain very difficult for the consumer economy and for retail rents. Downside risks to the market include geopolitical tensions, hard Brexit and the possibility of significantly higher interest rates in response to strong global economic growth.
Investment principles & strategy
All of the direct real estate funds here at Aviva Investors are actively managed and our belief is that to do this effectively we must be conviction-led. At heart we are value investors, following a disciplined investment strategy focused on a small number of core locations where we are deeply embedded and where our superior analytics can drive stock selection and our deep relationships drive execution and add value. Our investment strategy focuses on investing in locations where people want to Live, Work, Play and Learn.
Strategic corporate development
In May 2018, we announced the formation of a new real assets business, bringing together direct real estate, infrastructure, structured finance and private debt under a single leadership and operating structure.
Aviva Investors is one of Europe's largest managers of real assets, with over 35 years of experience and €40bn of assets under management. With global allocations to alternative strategies, including real assets and private debt, expected to more than double by 2025, the formation of Aviva Investors Real Assets (AIRA) will position the business to meet this growing client need.
Mark Versey has been appointed Chief Investment Officer, Real Assets, over-seeing around 300 professionals in five locations (London and Norwich, Paris, Frankfurt and Toronto) working across fund management, asset management, asset origination, underwriting, research and business management.
A real assets leadership team has been established, comprising:
Mark Versey, CIO, Real Assets
Daniel McHugh, Managing Director, Real Estate Investments
David Skinner, Managing Director, Real Estate Strategy and Fund Management
Barry Fowler, Managing Direct, Alternative Income
Chris Urwin, Director of Research, Real Assets
AIRA will focus on being a direct operator in real assets, with full control over fund management, asset management, origination and distribution in its chosen markets.
COMPLIANCE STATEMENT
Except where stated as otherwise, the source of all information is Aviva Investors Global Services Limited ("Aviva Investors") as at 30 June 2018. Unless stated otherwise any views and opinions expressed are those of Aviva Investors. They should not be viewed as indicating any guarantee of return from an investment managed by Aviva Investors nor as advice of any nature. Some of the information within this document is based upon Aviva Investors estimates. It is not to be relied on by anyone else for the purpose of making investment decisions. Issued By Aviva Investors Global Services Limited, registered in England No. 1151805. Registered Office: St Helen's, 1 Undershaft, London EC3P 3DQ. Authorised and regulated by the Financial Conduct Authority.
RA18/1010/30112019.
News from IPE Real Assets
Analysis from IPE Real Assets