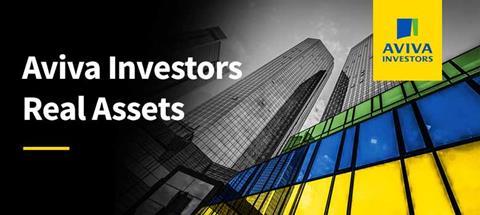 Corporate overview
Aviva Investors is a global asset manager with expertise in real assets, fixed income, equity, multi-asset and solutions. Our investment intelligence spans major markets, where we currently invest over €279bn (as at 31 March 2023) on behalf of our customers. This gives us the size and scale to successfully seek out opportunities that will deliver specific investor outcomes. With approximately €50bn of real assets, €31bn of which is invested in real estate (as at 31 March 2023), Aviva Investors offers comprehensive market coverage with specialist teams covering occupational and investment markets, and our dedicated in- house real estate strategy and research teams undertake proprietary research. Capturing and releasing value requires a deep understanding of the market, together with execution capability and agility. Our real estate team is resourced and structured to do that. As at 31 March 2023, we have over 140 real asset investment professionals, based in London and Paris.
Investment principles & strategy
Private real assets markets are inefficient, opaque, and highly cyclical. This provides greater scope than perhaps any other asset class for price to diverge significantly from value. Unlike in public markets, this can persist long enough for expert investors to exploit the market's complexity and its participants' likelihood of mispricing an asset, creating attractive investment opportunities.
We take a disciplined approach to investing only where we have an advantage, specifically avoiding pursuing opportunities where we do not. We do this by developing deep expertise in a small number of target markets where we have conviction in the long-term, underlying structural drivers. We invest with a clear view of how thematic and structural trends are likely to shape tomorrow's world. We therefore ensure that all investments align with our vision of how cities, consumer habits and supply chains are changing, building resilient portfolios by being ahead of demographic, technological and societal trends.
Furthermore, we are responsible investors. Having a stake in the strength of the communities where we invest, we constantly seek to embed ESG considerations in every step of our decision making, responsibly reducing the carbon footprint of our assets and actively manage our assets to create better places for people to live, work, play and learn.
Sector forecasts
INDUSTRIAL: The logistics sector has held up exceptionally well from an occupier perspective, supported principally by demand for e-commerce. Supply chain pressures also continue as the impact of inflationary pressures and material shortages, alongside the increasing shortage of labour, have presented difficulties for demand. Yields moved out during Q2 2022 for the first time in almost a decade as government bond yields trended upward. This outward yield movement is expected to prevail as the industrial market starts to re-price. Nonetheless, plenty of capital continues to target the sector as investors' conviction in the market fundamentals remains strong, albeit with pricing expectations adjusting. We still believe that 'last mile' logistics in the most dense urban areas, which have competing land use pressures, will remain one of the most resilient areas across all property sectors.
OFFICE: The amount of people utilising workspaces has continued to accelerate post-COVID. As a result, demand for office space is improving and remains particularly robust for the highest quality space. Investment activity is focusing on new and refitted 'Grade A' space, as employers adapt to hybrid working. There is a growing focus on the provision of amenities and creating a productive and collaborative environment for employees. Offices with strong 'green' credentials remain increasingly attractive as attempts to both minimise carbon footprints and to positively impact local communities continue. Although hybrid working has been adopted by many companies, businesses will need to be able to manage mid-week peaks before downsizing can be considered and implemented. We therefore continue to believe that high-quality office space in dense urban locations, which accommodates hybrid working, will continue to see strong occupier and investor demand in the future. Values of more functional offices in weaker locations will continue to be challenged.
RESIDENTIAL: The UK for-sale housing market has seen strong price growth in recent years. Prices are likely to soften significantly in the next year due to increased mortgage costs. Whilst consumer sentiment has deteriorated, in certain locations, a lack of home supply underpins the property market's continuing price trajectory, albeit at a decelerating rate. Whilst in the rental market, inflation continues to feed through to rents nationally, which have risen significantly since COVID. Affordability remains a key issue in many locations. A good way to gain exposure to income growth as well as helping increase the UK's supply of new housing, is investing in the single-family rental sector. The combination of affordability issues in the for-sale market and increased appetite for more suburban and rural housing due to the rise of remote working, makes the sector look attractive.
RETAIL: Retail has suffered over recent months with rising inflation having a negative impact on retail sales volumes. The impact of supply-chain disruptions, shortages of goods and materials, and further increases in the cost of debt and energy continue to damage customer sentiment and limit the speed with which goods can be procured. Polarisation remains within the sector. Out of town retailing, which includes grocery stores and retail warehousing, where occupancy costs are lower, are likely to remain more resilient. Whereas in-town retail, notably including prime discretionary high street retail, is generally more challenged. Our view is that retail has already seen a sustained period of re-pricing over the last few years, therefore will likely see less outward yield movement if interest rates remain elevated.
Strategic corporate development
Aviva Investors is one of Europe's largest managers of real assets, with 40 years of experience and over €50bn of assets under management, €31bn of which is invested in real estate (as at 30 June 2022). Our integrated real assets business (Aviva Investors Real Assets (AIRA)) brings together real estate, infrastructure, and private debt under a single leadership and operating structure. This provides focus, leverages resources, and creates a true value-based platform across all real assets. We believe this makes us more responsive in delivering the multi-asset and single strategy solutions our clients demand in the private assets universe, ranging from absolute return, growth-oriented strategies through to cashflow and liability matching solutions.
Real assets are a core part of Aviva Investors' strategy and integral to our growth ambition and in positioning us to meet a growing client need for solutions in this area. With over 140 real assets investment professionals across four locations, our platform has the scale to access the full depth and breadth of real asset markets. This enables us to deploy capital in an efficient and disciplined manner. Our diverse capabilities allow us to deliver the best outcomes for our clients.
Performance verification
We have our own performance measurement team dedicated to producing detailed performance reports. For each mandate, we build bespoke benchmarks that appropriately reflect the investment objective and risk appetite of our clients.
COMPLIANCE STATEMENT
Except where stated, the source of information is Aviva Investors Global Services Limited (AIGSL). Not to be viewed as indicating any guarantee of return from an investment managed by Aviva Investors nor as advice, nor to be relied on for the purpose of making investment decisions.
In Europe this document is issued by Aviva Investors Luxembourg S.A. Registered Office: 2 rue du Fort Bourbon, 1st Floor, 1249 Luxembourg. Supervised by Commission de Surveillance du Secteur Financier. An Aviva company. In the UK Issued by Aviva Investors Global Services Limited. Registered in England No. 1151805. Registered Office: St Helens, 1 Undershaft, London EC3P 3DQ. Authorised and regulated by the Financial Conduct Authority. Firm Reference No. 119178. In Switzerland, this document is issued by Aviva Investors Schweiz GmbH.