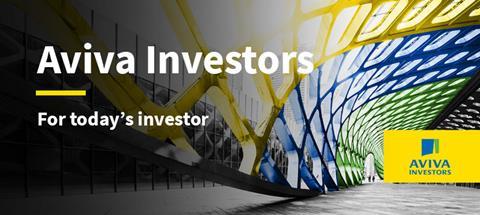 Corporate overview
Aviva Investors is a global asset manager with expertise in real assets, fixed income, equity, multi-asset and solutions. Our investment intelligence spans major markets, where we currently invest €390bn (as at 30 June 2020) on behalf of our customers. This gives us the size and scale to successfully seek out opportunities that will deliver specific investor outcomes. With over €53bn of real estate assets (as at 30 June 2020), Aviva Investors offers comprehensive market coverage with specialist teams covering occupational and investment markets, and our dedicated in-house real estate strategy and research teams undertake proprietary research. Capturing and releasing value requires a deep understanding of the market, together with execution capability and agility. Our real estate team is resourced and structured to do that. As at 30 June 2020 we have over 140 real estate investment professionals, based in offices in Frankfurt, London and Paris.
Investment principles & strategy
Private real assets markets are inefficient, opaque, and highly cyclical. This provides greater scope than perhaps any other asset class for price to diverge significantly from value. Unlike in public markets, this can persist long enough for expert investors to exploit the market's complexity and its participants' likelihood of mispricingan asset, creating attractive investment opportunities. We take a disciplined approach to investing only where we have an advantage, specifically avoiding pursuing opportunities where we do not. We do this by developing deep expertise in a small number of target markets where we have conviction in the long-term, underlying structural drivers.
We invest with a clear view of how thematic and structural trends are likely to shape tomorrow's world. So we ensure that all investments align with our vision of how cities, consumer habits and supply chains are changing, building resilient portfolios by being ahead of demographic, technological and societal trends. Furthermore, we are responsible investors. Having a stake in the strength of the communities where we invest, we constantly seek to embed ESG considerations in every step of our decision making, responsibly reducing the carbon footprint of our assets and actively manage our assets to create better places for people to live, work, play and learn.
Sector forecasts
LOGISTICS: In recent times, manufacturers' supply chains have generally been built around offshoring and outsourcing; minimising inventory to achieve cost efficiencies. The pandemic has exposed the vulnerability in this strategy and highlighted the need for supply chains to be more resilient. Firstly, this crisis is likely to accelerate the structural trend of moving manufacturing to near-adjacent locations, alongside near-shoring. A greater focus on supply chain resilience is likely to result in operators diversifying and holding more inventory. In aggregate, this is likely to positively impact on overall demand for space. There may also be increased demand for automation.
OFFICE: In cities across the world, offices are currently highly underutilised, with only a fraction of workers using their space as normal. The crisis has pushed businesses to experiment with working from home en masse. For many, the experience seems to be going better than expected, aided by new technology, which is raising questions about future demand for office space. Before this crisis, we were seeing polarisation in the office market. Lower- value locations have been challenged by the prospect of greater automation, and demand for commoditised space has been hit by the rise of co-working. Increased working from home will add to these stresses. But in higher-value locations, office space that facilitates collaboration will continue to be sought after. Those that offer easy accessibility and attractive amenities do this best. Office design will continue to evolve to ensure that they succeed in creating places where people want to be and work with others.
RESIDENTIAL: A significant change in the fortunes of the mainstream housing market remains difficult to envisage in the near term. Though interest rates and credit availability remain supportive, peak support from this source has probably passed. Affordability remains stretched. In addition, Brexit uncertainty is likely to see some weakening of labour market prospects. As a result, house price growth and market activity are likely to remain subdued in the period ahead.
RETAIL: With the exception of the grocery sector, lockdown measures have hit retailers particularly hard, with many forced to close stores. Balance sheet strength, ability to reduce costs, access to funding and the type of retailing will be key factors in determining which retailers survive. Many weaker retailers will go out of business. More broadly, European retail will need fewer and smaller stores. For low-engagement retailing – the type that competes directly with online shopping – retail sales in physical stores are likely to decline much faster than previously anticipated. Discretionary retailing will transition to platforms for discovery, engagement and interaction. Certain stores will remain part of a multi-channel strategy as online and offline retailing blurs.
OUTLOOK: The best assets should continue to see strong demand. Nonetheless, we are likely to see an acceleration of structural changes; from falling demand for weaker retail and poorly located office assets to logistics operators' prioritising supply-chain resilience. Portfolios designed to deliver sustainable income by targeting strong occupiers and high-quality assets are likely to see less disruption to cash flows and a stronger rebound. Investors can position themselves to have an information advantage by focusing on specific markets where they can build strong relationships with local stakeholders.
Strategic corporate development
Aviva Investors is one of Europe's largest managers of real assets, with over 35 years of experience and €53bn of assets under management. With global allocations to alternative strategies, including real assets and private debt, expected to more than double by 2025, the formation of Aviva Investors Real Assets (AIRA) will position the business to meet this growing client need. Our vision is to become the number one provider of European real asset solutions. Mark Versey has been appointed Chief Investment Officer, Real Assets, overseeing around 300 professionals in five locations (London and Norwich, Paris, Frankfurt and Toronto) working across fund management, asset management, asset origination, underwriting, research and business management.
A real assets leadership team has been established, comprising:
Mark Versey, CIO, Real Assets
Daniel McHugh, Managing Director, Real Estate Investments
Barry Fowler, Managing Direct, Alternative Income
Chris Urwin, Director of Research, Real Assets
Melanie Collett, Head of UK Asset Management
Darryl Murphy, Managing Director, Infrastructure
Mark Meiklejon, Head of Real Assets Investment Specialists
AIRA will focus on being a direct operator in real assets, with full control over fund management, asset management, origination and distribution in its chosen markets.
Performance verification
We have our own performance measurement team dedicated to producing detailed performance reports. For each mandate, we build bespoke benchmarks that appropriately reflect the investment objective and risk appetite of our clients.
COMPLIANCE STATEMENT
Except where stated as otherwise, the source of all information is Aviva Investors Global Services Limited ("Aviva Investors") as at 30 June 2020. Unless stated otherwise any views and opinions expressed are those of Aviva Investors. They should not be viewed as indicating any guarantee of return from an investment managed by Aviva Investors nor as advice of any nature.
Some of the information within this document is based upon Aviva Investors estimates. It is not to be relied on by anyone else for the purpose of making investment decisions. Issued By Aviva Investors Global Services Limited, registered in England No. 1151805. Registered Office: St Helen's, 1 Undershaft, London EC3P 3DQ. Authorised and regulated by the Financial Conduct Authority.