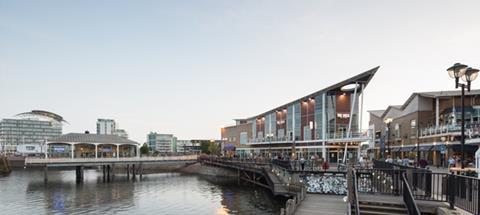 Corporate overview
Schroder Real Estate has managed real estate funds since 1971 and currently has £16bn* (€18bn/$21bn) of gross real estate assets under management (at 30 June 2019).
We manage a broad range of open and closed-ended direct real estate funds offering investors exposure to diversified and sector-focused portfolios and differing risk-and-return profiles. Our investors can access real estate opportunities through a range of investment vehicles, including open-ended funds, REITs, specialist funds, capital partners ( joint ventures and separate accounts) and global real estate securities.
We have 10 teams across Europe, with professionals located in Lon- don, Manchester, Jersey, Frankfurt, Munich, Zurich, Paris, Brussels, Stockholm and Luxembourg, involved in real estate management, operations and distribution. We also have real estate offices in Asia and North America and make use of the wider resources of the Schroders Group including IT, HR, accounting, legal, compliance and tax.
Schroder Real Estate is part of Schroders plc, which is one of Europe's largest listed asset management firms with £444bn under management. The breadth of our investment team provides us with insights that are not commonly available in real estate firms. Schroders is a signatory to the UN PRI and is highly rated as having a strong and integrated responsible investment process.
Source: Schroders at 30 June 2019
* Real estate AUM includes holdings of Schroder Real Estate Capital Partners and Schroders Multi-asset Funds.
Sector forecasts
INDUSTRIAL: We expect industrial rents in Europe to increase by 2–3% p.a. over the next few of years, as on-line retail sales continue to grow rapidly and as demand from other uses (eg, recycling, self-storage) increases. At present the main challenge is the shortage of warehouse staff and that is encouraging occupi- ers to automate. Although multi-let industrial estates require more asset man- agement than big logistics warehouses, we generally prefer them because supply is more constrained, yields are higher (except in London) and lease expiries are evenly spread, providing greater continuity of rental income.
OFFICE: While we expect office rental growth to slow in most European cities over the next couple of years, in line with the economy, we expect it to remain positive. Vacancy rates in Amsterdam, Brussels, the major German cities, Paris and Stockholm are low and developers and lenders continue to take a cautious approach to new building. The outlook for the London office market is more uncertain given the potential impact of Brexit on financial services, although the tech and media sectors continue to expand. We currently see most value in either redevelopment projects in central business districts, or in stabilised assets in adjacent areas close to universities, or new transport links, where yields are higher. We are cautious of buildings where serviced office providers account for the majority of income.
RESIDENTIAL: We are cautious of the UK private residential market given the low level of net yields and the fact that capital values are vulnerable to a fall in house prices. However, we do see opportunities in social housing, particularly supported housing, where it is possible to achieve both an attractive financial return and a positive social impact.
RETAIL: The retail market is suffering from a structural over-supply as sales migrate on-line and as footfall declines. The problem is most acute in northern Europe where on-line penetration is highest. We expect to see further retailer insolvencies and falls in rents and uncertainty over future rental income makes it difficult to price assets. A high yield today could quickly turn into a low yield tomorrow, if a retailer defaults. We believe that the most defensive retail types will be convenience food stores and out-of-town retail warehouses selling bulky goods. They are more immune to the internet and rents are relatively affordable. We also see potential to convert old department stores in tourist destinations into hotels and other uses.
OTHER: We look for types of real estate which are benefiting from long-term structural drivers of demand (eg, ageing population, technology, tourism) and where there is a shortage of good quality space. It is essential to understand the business models of occupiers and investments often involve a degree of operational risk. We favour data centres, hotels with management contracts, nursing homes with private pay residents, retirement villages and serviced accommodation.
Investment principles & strategy
Schroders adopts a research-driven and market-focused investment approach. Our dedicated Real Estate Research team identifies those sectors, cities and real estate characteristics expected to outperform, ensuring portfolios are able to benefit from structural change. Our approach focuses on 'Winning Cities', which have diversified local economies, sustainable occupational demand and low levels of supply.
We focus on the quality of the assets, and their value, when managing portfolios. We aim to generate the majority of the target outperformance though good stock selection and active asset management. We also aim to add value through sector and real estate style allocations; although we recognise the impact of these may vary over time. Each asset is managed in accordance with its individual business plan. The business plan is the focal point for identifying and implementing the active management strategies that will maximise returns. This approach has been key for driving outperformance.
Environmental, social and governance (ESG) considerations are essential to good management and long-term performance of real estate. ESG is a key component of portfolio construction with sustainability and impact objectives established for assets and monitored using our sustainability management system, SIERA.
Strategic corporate development
Schroders has managed real estate since 1971 and continues to develop and diversify its business and offerings to clients.
In April 2019 Schroder Real Estate was awarded a specialist mandate to manage a listed investment trust investing in residential assets. As part of the mandate transfer the incumbent specialist team joined Schroders and is now based at a new office in Manchester.
In June 2019, Schroder Real Estate acquired Blue Asset Management, a real estate investment and asset management business based in Munich, Germany. Blue manages assets of €1.2bn on behalf of its clients across Germany, Austria and Switzerland. Following the acquisition, the founding managing directors and all of their 17 employees joined Schroders, enhancing the real estate capabilities and physical presence in Germany.
Both acquisitions are significant steps in growing Schroders' private assets business, which is a key strategic priority for the firm. We also continue to develop new offerings for clients and are able to offer our client base a range of existing investment options including funds, separate accounts strategies and large single asset/portfolio opportunities (strategic partnernships).
Performance Verification
MSCI, formerly Investment Property Databank (IPD) compile the data on our UK funds and independently calculate performance. Performance for most of Schroders' UK real estate funds is then published by MSCI and The Association of Real Estate Funds (AREF) in the quarterly Pooled Property Fund Indices and the Product Vision Handbook.
COMPLIANCE STATEMENT
Information provided as at 30 June 2019
Risk Considerations
The value of investments and the income from them may go down as well as up and investors may not get back the amounts originally invested. Property-based vehicles invest in real property, the value of which is generally a matter of a valuer's opinion. The price of shares and the income from them may fluctuate upwards or downwards and cannot be guaranteed. It may be difficult to deal in the shares of property-based vehicles or to sell them at a reasonable price because the underlying property may not be readily saleable, thus creating liquidity risk.
Important Information
This information is not an offer, solicitation or recommendation to buy or sell any financial instrument or to adopt any invest- ment strategy. Information herein is believed to be reliable but we do not warrant its completeness or accuracy. Any references to securities, sectors, regions and/or countries are for illustrative purposes only.
Any data has been sourced by us and is provided without any warranties of any kind. It should be independently verified before further publication or use. Third party data is owned or licenced by the data provider and may not be reproduced, extracted or used for any other purpose without the data provider's consent. Neither we, nor the data provider, will have any liability in connection with the third party data. The material is not intended to provide, and should not be relied on for accounting, legal or tax advice. Reliance should not be placed on any views or information in the material when taking individual investment and/or strategic decisions.
Schroders has expressed its own views and opinions in this document and these may change. Past Performance is not a guide to future performance and may not be repeated. The value of investments and the income from them may go down as well as up and investors may not get back the amounts originally invested. Exchange rate changes may cause the value of any overseas investments to rise or fall.
Schroders will be a data controller in respect of your personal data. For information on how Schroders might process your personal data, please view our Privacy Policy available at www. schroders.com/en/privacy-policy or on request should you not have access to this webpage. For your security, communica- tions may be recorded or monitored.
Schroder Real Estate Investment Management Limited, 1 London Wall Place, London EC2Y 5AU. Registration No 1188240 England. Authorised and regulated by the Financial Conduct Authority
Websites
We are not responsible for the content of external sites