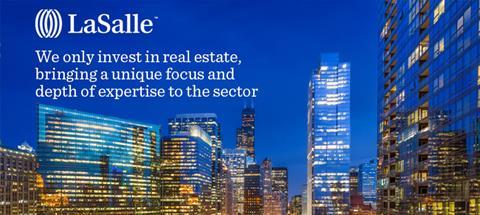 Corporate overview
LaSalle is one of the world's leading real estate investment managers, with over $69.5bn of assets under management globally (as of Q4 2019). We are solely focused on real estate, which enables us to fulfil our primary objective of delivering competitive investment performance, along with the highest levels of client service.
The divisions of our business are as follows:
Private Equity
LaSalle is a global investment manager which only invests in real estate, bringing a unique focus and depth of expertise to the sector, where we pursue specific investment strategies across the risk-return spectrum (core, core+, value-add, opportunistic). LaSalle operates in 17 countries and 24 offices worldwide. As an independent subsidiary of Jones Lang LaSalle Incorporated (NYSE: JLL), one of the world's largest real estate companies, we have a presence in every region of the world in which we invest.
LaSalle's Debt Platform
The European Debt & Special Situations division provides its borrowers with a wide range of financing solutions by actively investing through its four strategies: LaSalle Real Estate Debt Strategies, LaSalle Residential Finance, LaSalle Whole Loan Strategies and Special Situations. Our debt products include whole loans, mezzanine, development financing, stretched senior loans, preferred/joint venture equity in the UK and Western Europe. LaSalle's US debt platform is a commercial real estate bridge lender providing short term, floating rate loans to middle-market commercial real estate sponsors. The group's primary focus is on originating new bridge loans for value-add and transitional properties in sustainable growth markets throughout the US. Each transaction is underwritten with a bottom-up method through an equity owners' lens making sure that all interests are aligned and there is a clear exit strategy
Global Partner Solutions
LaSalle acquired the real estate Multi-Manager business of Aviva Investors in 2018. The existing London-based Global Indirect Business has been incorporated into a new global platform 'LaSalle Global Partner Solutions' with on the ground presence in London, New York, Chicago and Singapore, investing in funds, joint ventures, co-investments and secondaries.
Securities
LaSalle's Real Estate Securities programme gives institutional and individual investors a simple way to access the world's major commercial real estate markets and is one of the most experienced real estate securities investment managers.
COMPLIANCE STATEMENT
The information contained herein is for the sole purpose of providing general information to institutional investors about LaSalle Investment Management and its affiliates. Certain information herein sets out general views of LaSalle Investment Management regarding certain property markets and types of property therein. No representation is made concerning the accuracy of the information compiled herein, and no guarantee or assurance is given that any forecast or opinion in these materials will be realised. For the avoidance of doubt, the information contained herein is not investment advice and may not be construed as the promotion or marketing of any services or financial product sponsored or provided by LaSalle Investment Management or any of its affiliates. LaSalle Investment Management is authorised and regulated by the Financial Conduct Authority in the United Kingdom.