Vauban Infrastructure Partners is a leading European Core Infrastructure asset manager, that invests in the infrastructure assets which contribute to the sustainable development of local communities and their environments. Vauban structures and manages equity funds that are invested into design, construction, maintenance, financing and operation of essential infrastructure assets in the social, digital, utilities and transportation sectors. Vauban commits to investors, industry partners, public authorities and users through a long-term approach to investing.
Vauban's team of experts looks to identify investments with strong growth potential and resiliency in the face of uncertainties and risks to help ensure profitability in the long term. With 36 professionals based in Paris and Luxembourg Vauban currently manages more than €3.7bn of assets1 across six core infrastructure funds and has invested in more than 50 assets across the European mid-market over the past decade.
Vauban Infrastructure Partners is an affiliate of Natixis Investment Managers.
1 As of 12/06/2020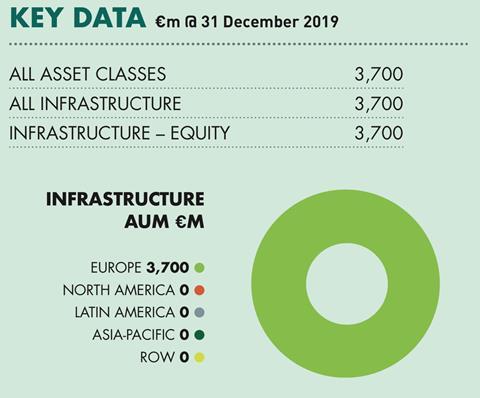 Recent highlights
Has been established as a fully-fledged affiliate of Natixis Investment Managers and approved by the regulatory authority AMF in 2019
Won three awards at the IJ Awards 2019 (1) Best Transport Acquisition - Indigo Group (2) Best Utilities Acquisition - Proxiserve (3) Rising Star in infrastructure investments - Mounir Corm
Our Vision and Beliefs
Vauban's investment philosophy is based on the alignment of all the stakeholders' interests over the long-term to deliver sustainable value. Investing into essential infrastructure assets with a long-term view and a strong focus on sustainability has proven to be a catalyst for establishment of long-term partnerships with public entities and industrial sponsors who have been a source of the Vauban's proprietary deal flow for decades and have allowed Vauban to create an outstanding value to its investors.
Essentially, users and local communities benefit from this approach as well. Through development of sustainable infrastructure systems, Vauban aims at maximizing public benefits by investing into infrastructure projects that are useful, dependable and sustainable, i.e. urban and regional transportation systems, provision of heat, water and fibre optic systems, public amenities, schools, hospitals etc.
Besides keeping sustainability at the heart of the Vauban's focus, the team has always been at the cutting edge of the innovation. By combining a foresight and a deep market knowledge with the multidisciplinary expertise, Vauban seizes market opportunities and has pioneered for example digital infrastructure sector 10 years ago2.
2 Previously a division of Mirova, a responsible investment firm created in 2012 (former division of Ostrum AM)
Investment process and research
Discipline, selectivity and strong risk culture are embedded in the core of the Vauban's investment and asset management processes.
To deliver outstanding resilient returns to its investors Vauban remains both agile and selective in addressing the investment opportunities that best fit Vauban's investment strategy.
Remaining at the front end of sourcing process and capitalising on the proprietary deal flow, Vauban leverages on the seasoned team of investment professionals that mutually possess a more than 15-years track-record of investing in the European core infrastructure space as well as on the established industrial partnerships and platforms.
To preserve the de-risked and defensive nature of the core infrastructure assets in which Vauban invests, multiple control levels and strong risk management processes are embedded at all the levels of sourcing, investment and asset management processes, that are overseen by the inhouse risk management function of Vauban.
Finally, Vauban pursues an active asset management to enhance the value post-investment. Vauban believes a strategy oriented towards value creation either through operational improvements or growth opportunities will facilitate the creation of a granular and well-balanced asset portfolio.
Strategies and products
Vauban's strategy is to invest in a balanced and well-diversified portfolio of the European mid-market core infrastructure assets with stable and long-term cash flows. The strategy follows buy-n-hold approach matching long-term and resilient nature of those cash flows and seeks to deliver regular cash yield to investors with a relatively short ramp-up phase. Vauban's four key sectors of investments are utilities, social and digital infrastructure as well as transportation, where the team targets predominantly investing in the brownfield assets with controlling or co-controlling stakes. The strategy has proven to be successful supported by a long-term track record delivering outstanding value to investors.

Compliance Statement
For Professional Investors only. All investing involves risk, including the risk of capital loss. Vauban Infrastructure Partners is an affiliate of Natixis Investment Managers, the holding company of a diverse line-up of specialized investment management and distribution entities worldwide. Services and products managed by Vauban Infrastructure Partners are not available to all investors in all jurisdictions.
In the E.U. (outside of the UK and France): Provided by Natixis Investment Managers S.A. or one of its branch offices. Registered office of Natixis Investment Managers S.A.: 2, rue Jean Monnet, L-2180 Luxembourg, Grand Duchy of Luxembourg. In France: Provided by Natixis Investment Managers International – a portfolio management company authorized by the Autorité des Marchés Financiers (French Financial Markets Authority - AMF) under no. GP 90-009, and a public limited company (société anonyme) registered in the Paris Trade and Companies Register under no. 329 450 738. Registered office: 43 avenue Pierre Mendès France, 75013 Paris. In the UK: Provided by Natixis Investment Managers UK Limited, authorised and regulated by the Financial Conduct Authority (register no. 190258). Registered Office: Natixis Investment Managers UK Limited, One Carter Lane, London, EC4V 5ER