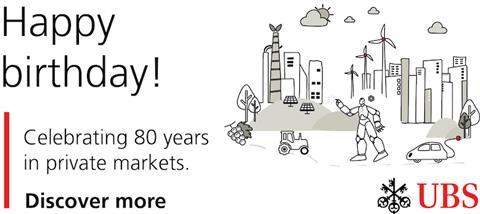 UBS Asset Management's Real Estate & Private Markets (REPM) business has been investing in real estate for almost 80 years, having launched its first real estate fund as early as 1943. Since then, the business has grown steadily, expanding the universe and scope of its real estate investments and adopting a truly diversified business model. On an assets under management basis, the business is one of the leading global real estate investment managers today. REPM's capabilities include core, value -add and, increasingly, opportunistic strategies on a global, regional and country basis. These are offered through open- and closed-end private (unlisted) funds, fund of funds, individually managed (separate) accounts, REITs and publicly traded real estate securities globally. The business actively manages direct investments in the hotel, industrial, multifamily/residential, office and retail real estate sectors, as well as in farmland in the US – a business that specialises in the acquisition, management and disposition of agricultural real estate investments.
Sector forecasts
GLOBAL:
2022 marked a turning point for the global real estate market as sharp rises in interest rates to combat inflation at multi-decade highs started to feed through. Higher interest rates hit real estate markets from the middle of the year and real estate transaction activity dropped sharply as the market started to re-price. The UK led the correction, suffering significant capital value declines, followed by the rest of Europe, while valuations in the US adjusted more slowly and with a delay. In Japan, real estate capital values have not been subject to the same downward pressure as interest rates there have been kept on hold. The adjustment in the market continued into 2023, with yields continuing to increase and capital values continuing to decline. The banking sector stress in early 2023 saw lending conditions tighten, which impacted debt refinancings and securing debt for new investments. The correction in the market has led to attractive discounted and distressed opportunities for investors looking to deploy capital. We are cautious about the office sector due to the impact of hybrid working and the large capex expenditure needed to make some older offices energy efficient. However, offices used for lab space have been a growing area of interest to investors, with strong fundamental demand from occupiers driving the sector. Residential also has strong long-term prospects due to underlying housing shortages. Following near-term price declines, we think the long-term market dynamics are also positive for industrial and logistics.
INDUSTRIAL:
There was further evidence of a slowdown in logistics demand, with 2Q23 take-up dropping by 7% on the previous quarter and by 40% on 2Q22. However, vacancy rates remain extremely low with the aggregate rate at 2.9% and although the pace of prime rental growth has slowed, it remained positive at 1.1%. The logistics market has seen the sharpest correction in capital values, with the weighted prime yield moving from 3.5% in 1Q22 to 4.9% (as at 2Q23). However, as the underlying fundamentals remain strong, investors are starting to see value in the sector at the rebased yields and we expect a strong outperformance over the next 12 months.
OFFICE:
Europe office leasing activity was subdued in 2Q23 due to the economic slowdown and impact of home working. Aggregate take-up came in at 1.9 million sqm, which excluding COVID-impacted quarters was the lowest level since 2009. Despite the weak demand, the vacancy rate was stable at 7.3% largely due to the limited development pipeline. Demand is heavily focused on the best quality buildings in the market, where supply is generally limited. This moved the weighted eurozone prime rent up by 0.6% in the quarter, although rents for secondary space are moving in the opposite direction. Weighted prime eurozone office yields saw the most significant outward yield shift in 2Q23, at 18bps. At 4.57% yields stand 112bps above their pre-correction low of 3.44%.
MULTIFAMILY/LIVING:
The long-term structural drivers of the multifamily sector in Europe remain firmly in place with urban population growth coinciding with a chronic lack of new housing stock in many markets. This is placing significant upward pressure on rents, but with household incomes coming under pressure several governments have intervened to limit or rebase rent levels in the housing market. Yields were at very low levels and are now being impacted by rising-risk free rates, particularly in Germany where prime yields for residential assets were as low as 2.1% at the peak of the market. We generally see better value in the student accommodation sector where yields are higher, and the pass-through of inflationary pressures to rental levels is more achievable and less political.
RETAIL:
Perhaps surprisingly, the strongest prime rental growth in 2Q23 was recorded by the high street retail sector, at 1.7%, partly driven by the return of strong tourism spending. Retail has seen the lowest impact on capital values of the correction so far, with prime high street yields moving out by circa 50bps to 4.1% since 2Q22. This is partly as the sector had already undergone a correction and was not as keenly priced as other markets. Prime high street locations in popular tourist cities are also seeing strong retail sales and levels of demand. However, these locations in Europe are very limited, and the outlook for more secondary retail and particularly shopping centres requiring significant capex remains very challenging.
LIFE SCIENCES:
There has been a surge in investor interest in this space since the pandemic, but within Europe the real estate market remains a very small and niche sector. The US remains the dominant market for venture capital funding going into new companies, but funds have been increasingly looking to Europe as an emerging market with strong opportunities. In the UK this has already translated into a sharp increase in occupational demand around the Golden Triangle of Oxford, Cambridge and London. In Continental Europe, the market is still patchy and generally focused on development of land owned by existing key employers, hospitals or academic institutions into R&D space. This makes access to the market challenging, but with a large volume of capital targeting European life science companies there will need to be a significant increase in suitable real estate stock to support the growth ambitions of the companies.
COMPLIANCE STATEMENT

This publication is not to be construed as a solicitation of an offer to buy or sell any securities or other financial instruments relating to UBS AG or its affiliates in Switzerland, the United States or any other jurisdiction. UBS specifically prohibits the redistribution or reproduction of this material in whole or in part without the prior written permission of UBS and UBS accepts no liability whatsoever for the actions of third parties in this respect. The information and opinions contained in this document have been compiled or arrived at based upon information obtained from sources believed to be reliable and in good faith but no responsibility is accepted for any errors or omissions. All such information and opinions are subject to change without notice. Please note that past performance is not a guide to the future. With investment in real estate (via direct investment, closed- or open-end funds) the underlying assets are illiquid, and valuation is a matter of judgment by a valuer. The value of investments and the income from them may go down as well as up and investors may not get back the original amount invested. Any market or investment views expressed are not intended to be investment research. The document has not been prepared in line with the requirements of any jurisdiction designed to promote the independence of investment research and is not subject to any prohibition on dealing ahead of the dissemination of investment research. The information contained in this document does not constitute a distribution, nor should it be considered a recommendation to purchase or sell any particular security or fund. A number of the comments in this document are considered forward-looking statements. Actual future results, however, may vary materially. The opinions expressed are a reflection of UBS Asset Management's best judgment at the time this document is compiled and any obligation to update or alter forward-looking statements as a result of new information, future events, or otherwise is disclaimed. Furthermore, these views are not intended to predict or guarantee the future performance of any individual security, asset class, markets generally, nor are they intended to predict the future performance of any UBS Asset Management account, portfolio or fund. Source for all data/charts, if not stated otherwise: UBS Asset Management, Real Estate & Private Markets. The views expressed are as of September 2022 and are a general guide to the views of UBS Asset Management, Real Estate & Private Markets. All information as at September 2022 unless stated otherwise. Published September 2022. Approved for global use.© UBS 2018 The key symbol and UBS are among the registered and unregistered trademarks of UBS. Other marks may be trademarks of their respective owners. All rights reserved.