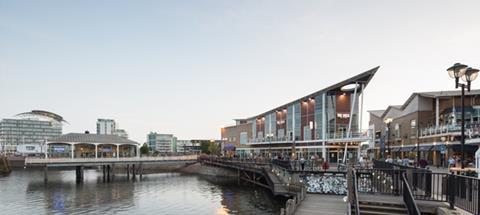 Corporate overview
Schroders Real Estate has managed real estate funds since 1971 and currently has £16bn* (€17bn/$20bn) of gross real estate assets under management (at 31 December 2018).
We manage a broad range of open and closed ended direct real estate funds offering investors exposure to diversified and sector-focused portfolios and differing risk-and-return profiles. Our investors can access real estate opportunities through a range of investment vehicles, including open-ended funds, REITs, specialist funds, capital partners (joint ventures and separate accounts) and global real estate securities.
We have eight teams across Europe, with professionals located in London, Jersey, Frankfurt, Zurich, Paris, Brussels, Stockholm and Luxembourg, involved in real estate management, operations and distribution. We also has real estate offices in Asia and North America and makes use of the wider resources of the Schroders Group including IT, HR, real estate accounting, legal and tax.
Schroder Real Estate is part of Schroders plc, which is one of Europe's largest listed asset management firms with £421 billion under management. The breadth of our investment team provides us with insights that are not commonly available in real estate firms. Schroders is a signatory to the UN PRI and is highly rated as having a strong and integrated Responsible Investment process.
Source: Schroders at 31 December 2018
* Real estate AUM includes holdings of Schroder Real Estate Capital Partners and Schroders Multi-asset Funds.
Sector forecasts
INDUSTRIAL: We expect that UK industrial rental growth will slow to 2-3% p.a. over the next couple of years, because of an increase in the development of large warehouses and because some second-hand space will come back to the market from failed retailers. Moreover, advances in artificial intelligence and predictive ordering should enable occupiers to start using their warehouse space more efficiently.
OFFICE: We expect UK offices rents to remain steady. Outside of the City of London, development in most cities has already peaked and completions over the next two years should be lower than in 2016-2017. Higher residential prices and the relaxation of planning controls in 2013 means that many towns and cities are losing both office and industrial space. Over 14 million square feet of offices in England were converted to residential in 2016/17, equal to the office stock of Newcastle. While office rents in the City of London could fall by 10% through 2018-2020, we expect that rents in the West End and in those areas benefiting from new transport links and structural change (e.g. Crossrail stations, Shoreditch) to be more resilient.
RESIDENTIAL: We are cautious of the private residential market given the low level of yields in the sector and the fact that capital values are vulnerable to a fall in house prices. It is also possible that a Labour government would introduce controls on private residential rents.
RETAIL: UK retail values are falling with an increasing number of retailers and restaurant chains falling into insolvency or entering into company voluntary arrangements ('CVAs') in order to cut their rent. In addition, a number of profitable retailers have announced store closures. At root this malaise reflects an oversupply of similar formats (e.g. mid-market Italian restaurants, pound shops) and the success of online retailers, which have lower overheads than conventional retailers and a much better insight into their customers. The impact is that retail rents in the majority of locations are likely to fall over the next couple of years.
OTHER: While long-term structural changes means that sectors like student accommodation, or nursing homes may look attractive, it is vital to understand the business models of occupiers and to take into account the risks of changes in regulations and lower liquidity. We currently have investments in data centres, doctors surgeries, hotels, nursing homes with private pay residents, self-storage and serviced accommodation.
Investment principles & strategy
Schroders adopts a research-driven and market-focused investment approach. Our dedicated Real Estate Research team identifies those sectors, cities and real estate characteristics expected to outperform, ensuring portfolios are able to benefit from structural change. Our approach focuses on 'Winning Cities and centres'; locations with diversified local economies, sustainable occupational demand and low levels of supply.
We focus on the quality of the assets, and their value, when managing portfolios. We aim to generate the majority of the target outperformance though good stock selection and active asset management. We also aim to add value through sector and real estate style allocations; although we recognise the impact of these may vary over time. Each asset is managed in accordance with its individual business plan. The business plan is the focal point for identifying and implementing the active management strategies that will maximise returns. This approach has been key for driving outperformance.
Environmental Social Governance (ESG) considerations are essential to good management and long-term performance of real estate. ESG is a key component of portfolio construction with sustainability and impact objectives established for assets and monitored using our sustainability management system, SIERA.
Strategic corporate development
Schroders has managed real estate since 1971 and continues to develop and diversify its business and offerings to clients. The two latest corporate develops include the acquisition of specialist hotel management business as well as being awarded a specialist listed mandate managing residential assets:
In April 2019 Schroder Real Estate was awarded a specialist mandate to manage a listed investment trust investing in residential assets. As part of the mandate transfer the incumbent specialist team will join Schroders based at a new office in Manchester.
In April 2018, Schroder Real Estate acquired Algonquin Management Partners (now Schroder Real Estate Hotels), a specialist pan-European hotels investment management business with assets under management (AUM) of €1.8 billion. This acquisition included Schroders acquiring various co-investments alongside Algonquin's existing clients as well as over 30 professionals involved in the management of hotels.
Schroders continues to develop new offerings for clients and are able to offer our client base a range of existing investment options including funds, separate account strategies, and large single asset/ portfolio opportunities (JVs).
Performance Verification
MSCI, formerly Investment Property Databank (IPD) compile the data on our UK funds and independently calculate performance. Performance for most of Schroders' UK real estate funds is then published by MSCI and The Association of Real Estate Funds (AREF) in the quarterly Pooled Property Fund Indices and the Product Vision Handbook.
COMPLIANCE STATEMENT
Information is provided at 31 December 2018.
This document does not constitute an offer or form part of an offer to buy units in any of Schroders' real estate funds. The information and opinions contained in this document have been obtained from sources we consider to be reliable. No responsibility can be accepted for errors of fact or opinion. This does not exclude or restrict any duty or liability that Schroders has to its customers under the Financial Services and Markets Act 2000 (as amended from time to time) or any other regulatory system. Reliance should not be placed on the views and information in the document when taking individual, investment and/or strategic decisions.
Past performance is not a guide to future performance. The value of investments can go down as well as up and is not guaranteed. Any forecasts in this document should not be relied upon, are not guaranteed and are provided only as at the date of issue. Our forecasts are based on our own assumptions which may change. We accept no responsibility for any errors of fact or opinion and assume no obligation to provide you with any changes to our assumptions or forecasts. Forecasts and assumptions may be affected by external economic or other factors.
Units in property unit trusts and limited partnerships, that are unauthorised collective investment schemes, are not readily realisable and there is not a recognized market for such investments. It may be difficult for the investor to deal in such investments or for the investor to obtain reliable information about their value or the extent of the risks to which they are exposed. The funds referred to above are invested in real estate, the value of which is generally a matter of a valuer's opinion.
Schroder Real Estate Investment Management Limited, 1 London Wall Place, London EC2Y 5AU, United Kingdom. Registration No. 1188240 England. Authorised and regulated by the Financial Conduct Authority.
Websites
We are not responsible for the content of external sites