Mirova provides a wide range of investment products and services across five core areas of expertise: equities, fixed income, energy transition infrastructure, social impact investing and natural capital.
With c. 20 years of experience in the structuring and management of energy transition infrastructure funds (3.4Bn€ of AuM invested across more than 300 wind, solar, hydro and biomass projects and representing over 5.8GW of installed capacity) (as of 30 Sept 2023), Mirova strives to provide prominent institutional clients with long-term greenfield and brownfield investment opportunities across Europe while supporting the development of sustainable and resilient infrastructure surrounding communities and local economies. For Mirova, sustainable development begins with responsible investment. Mirova is an affiliate of Natixis Investment Managers.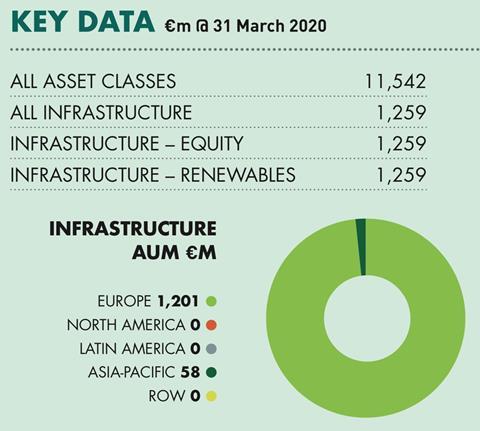 Recent highlights
Won two awards at the Infrastructure Investor Awards 2019 (1) European Energy Investor of the year (2) European Renewables Energy Investor of the year
Joined forces with Engie to acquire a 1.7 GW hydroelectric portfolio in Portugal.
Eurofideme 4 closed at €859m – the largest European renewable energy fund to date
Our vision and beliefs
Energy transition infrastructure assets represent one of the fastest growing segments within the broader global real assets' environment, as it produces a significant and growing portion of the world's electricity. As a mature and competitive industry, investments in renewables can potentially deliver a range of portfolio benefits including stable income, long-term total returns, diversification potential, inflation linkage.
As a responsible investor, one of the critical roles we play in the transition to a low-carbon future is to bring greater investor capital to renewable energy markets to scale up clean energy production mix and make it a mainstream sector.
Beyond the mature renewable technologies that have constituted the core focus of Mirova's energy transition team and built its track record, interesting dynamics are appearing in the wider climate infrastructure sector: energy storage and advanced mobility., Given its expertise with renewables and industrial partners, Mirova is well placed to address these emerging opportunities.
Our ambition is to create client value with cutting-edge project construction and operation, acquisition, asset management and disposal strategies.
Investment process and research
Four-step investment process:
Investment opportunities identification: The team has strong origination capabilities through a broad network of industrial partners.
Investment selection:
Clearance Committee – Each investment opportunity is subject to a preliminary analysis to ensure its consistency with the fund strategy.
Investment Decision –The Investment Committee to makes a formal decision on the transaction, considering the opinion of the Expert Committee, incl. recourse to third partiesto perform due diligence. Other functions are represented at the Investment Committee such as legal, compliance, risk ESG and middle office, but have no voting right.
Participation follow-up – The investment team is responsible for the relationship with the developer and other stakeholders in the project and has a hands-on approach to budget and costs management., refinancing capabilities and board representations. All investments are required to have at least a legal, insurance and technical due diligence performed by a third party.
Exit –assets are sold after 7 to 10 years of operation with the approval of the Investment Committee based on the opinion of the Expert Committee.
Strategies and products
Mirova invests predominantly in greenfield renewable energy assets using proven technologies (onshore wind, solar, biomass, hydro, etc.) and seeks enhanced returns through diversification in Europe and investments in late development stage projects, energy storage and low-carbon mobility. To create a strong alignment of interest and secure proprietary deal flow, we establish long-term partnerships with industrial companies, co-investing with them in project companies, sharing the risk and reward associated with the construction and operation phases of projects. We therefore implement a responsive and flexible approach to deal structuring to best match the project developer's expectations (i.e. equity and mezzanine investments.

Compliance Statement
For Professional Investors only. All investing involves risk, including the risk of capital loss. Mirova is an affiliate of Natixis Investment Managers, the holding company of a diverse line-up of specialized investment management and distribution entities worldwide. Services and products managed by Mirova are not available to all investors in all jurisdictions. In the E.U. (outside of the UK and France): Provided by Natixis Investment Managers S.A. or one of its branch offices. Registered office of Natixis Investment Managers S.A.: 2, rue Jean Monnet, L-2180 Luxembourg, Grand Duchy of Luxembourg. In France: Provided by Natixis Investment Managers International – a portfolio management company authorized by the Autorité des Marchés Financiers (French Financial Markets Authority - AMF) under no. GP 90-009, and a public limited company (société anonyme) registered in the Paris Trade and Companies Register under no. 329 450 738. Registered office: 43 avenue Pierre Mendès France, 75013 Paris. In the UK: Provided by Natixis Investment Managers UK Limited, authorised and regulated by the Financial Conduct Authority (register no. 190258). Registered Office: Natixis Investment Managers UK Limited, One Carter Lane, London, EC4V 5ER