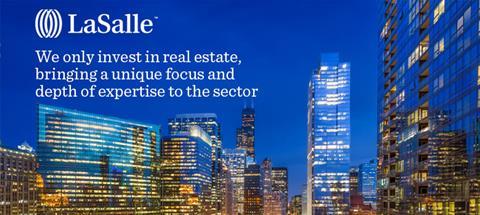 Corporate overview
LaSalle is one of the world's leading real estate investment managers, with more than $65bn of assets under management globally (as of Q2 2020). LaSalle sponsors a complete range of investment vehicles spanning the risk-return spectrum, and the firm's diverse client base includes public and private pension funds, insurance companies, governments, corporations, endowments and private individuals from across the globe. We are solely focused on real estate, which enables us to fulfil our primary objective of delivering competitive investment performance, along with the highest levels of client service.
The divisions of our business are as follows:
Private Equity
LaSalle is a global investment manager which only invests in real estate, bringing a unique focus and depth of expertise to the sector, where we pursue specific investment strategies across the risk-return spectrum (core, core+, value-add, opportunistic). LaSalle operates in 15 countries and 22 offices worldwide. As an independent subsidiary of Jones Lang LaSalle Incorporated (NYSE: JLL), one of the world's largest real estate companies, we have a presence in every region of the world in which we invest.
Debt & Special Situations
Europe. LaSalle's European Debt & Special Situations division pro- vides its borrowers with a wide range of financing solutions by actively investing through its four strategies: LaSalle Real Estate Debt Strategies, LaSalle Residential Finance, LaSalle Whole Loan Strategies and Special Situations. Debt products include whole loads, mezzanine, development financing, stretched senior loans, preferred/joint- venture equity in the UK and Western Europe.
US. LaSalle's US debt platform is a commercial real estate bridge lender providing short-term, floating rate loans to middle-market commercial real estate sponsors. The group's primary focus is on originating new bridge loans for value-add and transitional properties in sustainable growth markets throughout the US. Each transaction is underwritten with a bottom-up method through an equity owners' lens making sure that all interests are aligned and there is a clear exit strategy.
Global Partner Solutions – Indirect Investing
LaSalle Global Partner Solutions (LaSalle GPS) offers investors access to global investment opportunities across the risk spectrum by partnering with expert real estate operators through a variety of indirect investment vehicles. LaSalle GPS is an open architecture investment platform that offers a range of opportunities across private, public, debt and equity quadrants, aiming to deliver durable, long-term income and attractive total returns through investments in funds, joint ventures, co-investments and secondaries.
Global Real Estate Securities
LaSalle's Real Estate Securities programme gives institutional and individual investors a simple way to access the world's traditional and niche commercial real estate sectors. With over 30 years in the industry, LaSalle is one of the most experienced real estate securities investment managers. Our dedicated team invests in real estate securities traded in North America, Europe and Asia Pacific for institutional and individual investors around the world, working closely with clients to design portfolios to suit their investment objectives and styles.
Sector forecasts

LaSalle expects economic conditions in Asia Pacific to remain weak by his- torical standards in the near term, but well-positioned in the global context. China, which was first in and first out of the 2020 COVID -led recession, exhibits relative strength and anchors the region. In 2021, economic and real estate market recoveries are expected to be uneven within the region. While there is abundant liquidity, bifurcation of total returns by market/sector is expected to continue.
OFFICE: Despite the relative success of working from home, it is likely to be just an option, not a permanent replacement for office space in major Asia Pacific markets. Many office markets in the region have achieved high return-to-office ratios, which signals the willingness to return to offices is much higher than anticipated. In the current market cycle, tenant profiles are increasingly important in mitigating operating income risks. LaSalle favours offices in Tokyo and Osaka due to the size of these markets, the depth of liquidity, and the relatively healthy occupier markets. For investors with a higher risk tolerance, monitor Shanghai, Sydney, Melbourne, and Singapore CBDs and Beijing office markets as the weakening fundamentals could provide opportunities at reasonable prices.
INDUSTRIAL: LaSalle continues to favour the logistics sector in Asia Pacific. The resilience of logistics demand during the pandemic suggests that it is primarily supported by domestic consumption, not global trade. For core strategies, we continue to favour logistics markets in the eastern seaboard of Australia, Tokyo, Osaka, and China's tier-1 and satellite cities due to their relatively large populations. For high-return strategies, we continue to favour build-to-core logistics markets in China, the Greater Seoul area, Tokyo, Osaka, and Nagoya supported by the attractive logistics development yields.
RETAIL: In 2021, LaSalle expects the retail sector to remain weak in most Asia Pacific markets due to cyclical weakness and the structural disruption of e-commerce. We are not in favour of retail assets for investors with a low risk tolerance. Investors who can tolerate risk should be highly selective when evaluating retail investments, but only if repricing opportunities arise.
RESIDENTIAL: LaSalle continues to favour the multifamily sector in Japan, the only country with an institutional multifamily sector. For core and lease-up strategies, we favour Tokyo, Osaka, and Nagoya where demand for multifamily properties is expected to remain stable, even after the pandemic. For high-return strategies, we favour build-to-core strategies or conversion to multifamily in Australia and China.
HOTEL: The hotel industry remains the hardest hit sector in the region due to pandemic-related travel restrictions. In 2021, travel restrictions combined with economic improvement are likely to increase domestic travel more than international travel. This trend is expected to benefit hotels targeting domestic visitors as the re-opening in several Asia Pacific countries progresses. It is still too early for investors to consider this sector, unless with substantial pricing discounts or business plans for alternative uses to compensate for high risks.
Investment principles & strategy
Clients come first in our business and we use our fiduciary experience to deliver competitive performance. Our many long-standing clients trust LaSalle and often invest in multiple mandates with us around the globe. A global investment perspective, fostered by the insights of our global research team and the experience of our fund managers, coupled with our ability to execute deals and manage real estate, allows us to seek out robust returns for our clients.
LaSalle's in-house proprietary research gives our clients unique insight into global property markets. We invest heavily in market analysis and investment strategy, believing that a deeper understanding of market dynamics directly influences our ability to deliver competitive investment performance. The strength of the integrated relationship between research and investment teams is vital in generating ideas and investment opportunities for clients.
Our Research & Strategy team identifies opportunities in the market, as well as develops client-specific strategies, providing direction to the investment teams, whose knowledge and network of contacts ensure LaSalle access to both on-market and off-market opportunities.
Performance verification
LaSalle's property and investment level performance in Asia Pacific is benchmarked against target returns, according to client mandates/funds. These target returns of funds are referenced from appropriate indices where available, including indices published by ANREV.
Global Partner Solutions
Majority of the mandates are benchmarked against MSCI IPD All Balanced Funds index, according to client/mandate requirements. However, a number of mandates are using target returns of either an absolute target return or targets in line with RPI and or INREV indices. LaSalle GPS Performance is currently calculated by LaSalle in line with MSCI methodology.
COMPLIANCE STATEMENT
The information contained herein is for the sole purpose of providing general information to institutional investors about LaSalle Investment Management and its affiliates. Certain information herein sets out general views of LaSalle Investment Management regarding certain property markets and types of property therein. No representation is made concerning the accuracy of the information compiled herein, and no guarantee or assurance is given that any forecast or opinion in these materials will be realised. For the avoidance of doubt, the information contained herein is not investment advice and may not be construed as the promotion or marketing of any services or financial product sponsored or provided by LaSalle Investment Management or any of its affiliates. LaSalle Investment Management Asia Pte Ltd is regulated by the Monetary Authority of Singapore.