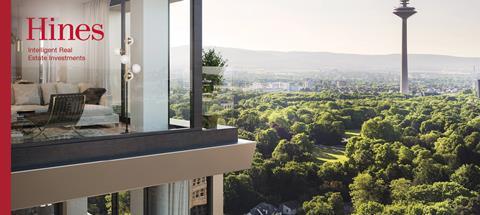 Hines is a global investment manager and passionate steward of real estate portfolios serving communities all over the world. Founded in 1957, the firm has approximately 4,700 employees in 28 countries and oversees investment assets under management totalling approximately $92.3bn.1 In addition, Hines provides third-party services for over 102.1m sqft.
Hines has extensive experience across the risk spectrum and focuses on acquiring, developing and adding value to properties in all real estate sectors: mixed-use, residential, retail, industrial, office and niche properties. And with a pioneering and acclaimed commitment to sustainability and innovation, Hines is one of the largest and most respected real estate firms in the world.
As a family-led company, Hines has exceptionally strong values and integrity and carefully guards its clients' reputation as much as its own. This ownership structure allows Hines to take a long-term view and pursue strategies that help the company weather real estate cycles.
Please visit www.hines.com for more information.
1 Represents the Investment Management AUM, including that of the RIA as of 30 June 2022.
Sector forecasts
INDUSTRIAL: After a run of strong capital gains, many markets are offering much lower return prospects heading into 2023, including Australia and Japan. The Greater China and Singaporean markets still look relatively affordable with attractive return potential. In developed markets, it is increasingly essential to select metros and locations with care as the logistics sector now appears expensive or even very expensive. In the case of a regional recession, this sector is most at risk of repricing. While price forecasts have come down as prices rose in Australia, that market has also posted the second-strongest annual rent growth among 33 country/sector markets covered by Hines Research, a sign that e-commerce tailwinds are in play there. This may in fact slow over the next year, but it is possible that urban logistics or 'last mile' proves more defensive than more general 'big box' logistics, particularly in Australia. In China, we have found that the amount of space that is currently younger than 10 years of age (a proxy for 'modern') is low enough to require new development.
OFFICE: We have gained some clarity on the relative impact of work-from-home (WFH) on Asian metro office markets. Per Google mobility data, office visits are down between 5-10% from pre-pandemic peaks in most Developed Asian office markets. This compares to the US, which is down by 20% (all data as of the end of September 2022). Since 2019, office-using employment has continued to grow robustly in Asia's major metros, exceeding that of the US major metropolitan areas. This is factored into our views on the potential for regional losses of demand due to WFH, and our view was always that Asian office markets would suffer closer to a 5% reduction of demand over the mid- term relative to closer to -10% in the US. Supply is also down for the region's office markets, on average, with levels that are lower than 70% of history. We have noted ongoing slowdowns in space under construction in markets like Seoul's CBD, Tokyo, and Singapore. All things equal, lower supply will support rents, even with a recession. Consequently, while focusing on quality will be key in Asia as in other regions, we believe that the office sector offers lower risk over the next five years. Our research suggests India Office is particularly interesting as a growth story.
RESIDENTIAL: This is another sector that has seen region-leading price and rent growth over the last year. The gains in price may be misleading for investors interested in for-rent residential, as much of the data considers the for- sale market as well. Having said that, this sector only trails logistics in terms of risk for capital losses over the next year. On the positive side, rents have also performed very strongly. If ranking 33 country/sector markets by the strength of trailing annual rent growth, five out of the top 10 on this metric were apartment markets, led by Korea and Australia. Even so, our analysis suggests that rents in many Asian residential markets are significantly more affordable than prices. We believe this will, on the margin, push households to rent over buy. It is likely, in our view, that rental demand will support for-rent residential prices relative to for-sale prices over the coming years.
RETAIL: The retail sector has become Asia's 'yield play'. We have been carefully monitoring the sector watching for the inflection point where yields are compelling on a relative basis (versus other sectors), but also supported by rents that have bottomed out and vacancies that have topped out. The average retail forecast for Developed Asia, per Hines Research's proprietary forecasts, is now solidly positive. Additionally, amongst almost 30 developed economy retail markets we track, a full three-fourths now offer positive rent forecasts. With store-based retail sales also stabilising, we see opportunity in Japan, Australasia, and Hong Kong. While a recession would slow both local and tourism spending, that would impact fundamentals negatively over a one to two-year period, with a recovery expected in the latter years of our five-year forecast. We also note that the retail sector is the most attractively priced sector in our view. That pricing should allow values to hold up relative to other more expensive sectors.
Investment principles & strategy
Hines' investment philosophy is to focus on high-quality properties and maximise value creation through local teams in 314 cities in 28 countries. Hines believes that intrinsically excellent properties, both in terms of physical characteristics and location, are generally able to outperform their respective markets. And this approach translates into more consistent investment performance for investors over the long term, while mitigating short-term downside risks. Hines applies this philosophy to properties in all real estate sectors globally – mixed-use, residential, retail, industrial, office and niche properties – and across the risk spectrum – core, core-plus and value-add. Hines has developed, redeveloped or acquired approximately 1,765 properties since inception, giving it a wealth of knowledge in the sector as of 30 June 2022.
Investment activity at Hines is identified at the local level and approved by the Investment Committee, which provides pattern recognition across geographies and product types, market intelligence, strategic foresight, and risk assessment. This differentiated approach – including a decentralised structure that promotes deep local knowledge, proven investment management capabilities, and extensive subject matter expertise – is key to delivering returns for investors.
Hines believes that the integration of these critical real estate investment functions within one organisation provides a competitive advantage that will directly benefit the investment.
Strategic corporate development
Hines' corporate development strategy is to grow organically and has done so since its inception in 1957 — and now has $92.3bn1 in AUM and 4,700 employees globally.
Hines' focus is not only on investing, developing and managing real estate but also on how sustainability and innovation intersect the built environment. Hines was the first to implement LEED and Energy STAR certification at the turn of the 21st century and has been a pioneer ever since, reducing carbon emissions through innovative technologies, such as T3, which stands for 'Timber, Technology, Transit', a strong, low-carbon alternative to concrete and steel. Hines' 2022 commitment to a zero-carbon portfolio by 2040 is an organic progression of the firm's founding principles of value creation, integrity, service, and quality for all clients.
1 Represents the investment management AUM, including that of the RIA as at 30 June 2022.
COMPLIANCE STATEMENT
All information is as at 30 June 2022 and sourced to Hines Interests Limited Partnership.
This profile is for informational purposes only and is intended solely for the use of professional and other qualified investors and is not for general public distribution. The information contained herein was up to date at the time of producing and is subject to change. This information does not constitute an offer to subscribe for securities, units or other participation rights. It is not intended to be a recommendation or investment advice. This document is not directed at or intended for any person (or entity) who is citizen or resident of (or located or established in) any jurisdiction where its use would be contrary to applicable law or regulation or would subject the issuing companies or products to any registration or licensing requirements. In the US, distributed or placed by Hines Securities, Inc, a registered broker-dealer with the Securities & Exchange Commission, and a member of FINRA. In the UK, issued by Hines Europe Real Estate Investments Ltd (HEREI), which is authorized and regulated by the Financial Conduct Authority. In the European Union, distributed or placed by Hines Luxembourg Investment Management S.à.r.l, which is authorized and regulated by the Commission de Surveillance du Secteur Financier. In the Dubai International Financial Centre UK, distributed by HEREI Representative Office Regulated by the Dubai Financial Services Authority as a Representative Office.