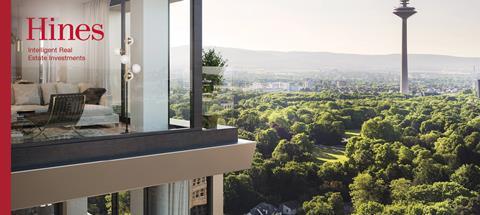 Hines is a global real estate investment, development and management firm, founded in 1957, with a presence in 225 cities in 25 countries and $144.1bn of assets under management – including $75.5bn for which Hines serves as investment manager and $68.6bn for which Hines provides third-party property management services.
Hines remains a privately owned company with exceptionally strong values and integrity and one that carefully guards its clients' reputation as much as its own. This ownership structure allows Hines to take a long-term view and pursue strategies that help the company weather real estate cycles.
Hines' portfolio of existing projects, completed and acquired, includes more than 1,591 properties representing 536m sq ft of office, living/ housing, mixed-use, industrial/logistics, hospitality, medical and sports facilities, as well as large master-planned communities and land developments. In addition, Hines' property management portfolio includes 576 properties totalling 246.6m sq ft of prime real estate. The firm has approximately 4,820 employees, most often locals in their specific investment market, executing the different activities of Hines globally.
With extensive experience in investments across the risk spectrum and all property types, and a pioneering commitment to sustainability, Hines is one of the largest and most respected real estate organisations in the world.
Please visit www.hines.com for more information.
Source: Hines, 30 June 2020
Sector forecasts
INDUSTRIAL: Hines' recession modelling suggests that the Asia logistics sector will suffer the smallest cumulative price declines among the four major property types; moreover, it offers the strongest recovery in both prices and rents. Chinese logistics markets offer the most upside, but markets with lower online sales penetration rates, including Tokyo and Australia, may see a catch-up on this measure. Hines research shows that rent is well-correlated with change in online sales, this bodes well for returns in those markets. Dense metro markets in Korea, Japan and China are witnessing a revolution in logistics facility design that is validating new development to replace inventory that in comparison looks to be increasingly obsolete.
OFFICE: Hines expects price declines for the office sector but those declines should be relatively moderate (approximately 10% on average). While office values in mainland Chinese tier-1 markets are falling, the current momentum may not be indicative of a final trough, as the correction in China started with a COVID -19 outbreak that led the Western Hemisphere. Hong Kong is the exception. Australia's office markets may prove to be the most defensive, although Melbourne's very stringent response to the pandemic may result in stronger declines than Sydney. The question of how work-from-home will affect future office leasing patterns remains unresolved, but Hines believe Asia is less susceptible than the US and Europe. Additionally, several Asian markets lack a sufficient supply of modern space due to increasing demand in developing economies (China and India) and ageing stock in more mature markets (Australia and Hong Kong).
RESIDENTIAL: While the region continues to see the velocity of COVID -19 cases fluctuate, local economies have generally done a good job of keeping people in work. This effort combined with low rates should support continued demand. While the predominant residential market in Asia is still for-sale, there are signs of growing tenant and investor interest in the for-rent segment. For example, if Australian tax legislation is amended to facilitate build-to-rent, it would offer compelling opportunities for new build or conversion; in Hong Kong conversions of commercial uses to alternatives forms of living may also perform well.
RETAIL: While the beleaguered retail sector has suffered a disproportionate blow from the COVID -19 pandemic in western markets, retail write-downs in Asia have been in-line with those of office markets. Once again, Chinese markets have seen the strongest price declines with Hong Kong in the lead. India's tier-1 markets, which are arguably under-retailed, have seen very limited declines. Hines still expect structural trends, however, to weigh on any subsequent recovery in rents. Hines remains cautious on standalone investments, but retail as part of mixed-used developments will always have its place.
Investment principles & strategy
Hines' philosophy is to focus on high-quality properties and maximise value through the firm's vertically integrated platform. Hines believes that the highest quality properties, both in terms of physical characteristics and location, are generally able to outperform their respective markets. Hines believes that this approach translates into more consistent investment performance for investors over the long term, while mitigating short-term downside risks and potential gaps in rental income.
Hines' local market knowledge, when coupled with its central resources, investment management and proprietary research, creates a marked difference between Hines and its competitors. This vertical integration and deep understanding of real estate both from an investor's point of view and as a world-class operator is the hallmark of Hines. This investment philosophy has been developed and refined over 60 years of experience and applies to all mandates and all real estate sectors.
Investment ideas are generated by bringing together the top-down guidance from the firm's Proprietary Research Group, strategy and investment management teams together with the expertise and concrete investment opportunities that the local Hines teams originate.
Hines believes that the integration of these critical real estate investment functions within one organisation provides a competitive advantage that will directly benefit the investment.
Strategic corporate development
Hines takes a holistic approach to real estate investing that creates an advantage for investors. Sophisticated trend analysis, deep local market knowledge, and hands-on operational expertise allow Hines to swiftly capitalise on opportunities as it seeks to optimise every aspect of real estate to maximise value. With the rapidly changing market environments within each real estate sector and regions, Hines is able to leverage its presence in 225 cities and 25 countries to gather real time local data for their proprietary research and strategy teams to identify opportunities across the risk spectrum and serve the investors.
With over 60 years of real estate experience, Hines continually seeks strategic ways to grow the business. Through strong partnerships with valued clients, Hines continues to foster organic growth while meeting the needs of investors. Hines offers a variety of real estate products across the risk spectrum and throughout worldwide geographies to provide solutions to investors. Over the next year, Hines will continue to expand its core flagship funds in North America, Europe and Asia-Pacific. Hines will also continue to partner with investors on deveIoping strategic opportunities which include student housing, last mile logistics, ESG and various other strategies.
COMPLIANCE STATEMENT
All information is as at 30 June 2020 and sourced to Hines Interests Limited Partnership.
This profile is for informational purposes only and is intended solely for the use of professional and other qualified investors and is not for general public distribution. The information contained herein was up to date at the time of producing and is subject to change. This information does not constitute an offer to subscribe for securities, units or other participation rights. It is not intended to be a recommendation or investment advice. This document is not directed at or intended for any person (or entity) who is citizen or resident of (or located or established in) any jurisdiction where its use would be contrary to applicable law or regulation or would subject the issuing companies or products to any registration or licensing requirements. In the US, distributed or placed by Hines Securities, Inc, a registered broker-dealer with the Securities & Exchange Commission, and a member of FINRA. In the UK and European Union, issued by Hines Europe Real Estate Investments Ltd (HEREI), which is authorized and regulated by the Financial Conduct Authority. In the Dubai International Financial Centre UK, distributed by HEREI Representative Office Regulated by the Dubai Financial Services Authority as a Representative Office.