Corporate overview
We seek to deliver sustainable investment solutions across real assets categories, geographies, risk profiles and execution formats so that our clients, people and communities thrive. One of the world's leading real assets invest- ment managers, our team is responsible for more than $146.9bn of assets under management.
Sector forecasts
INDUSTRIAL:
The vast majority of logistics markets provide both absolute and relative value. The exception at national level is Chicago.
Proximity to major population clusters, established multi-modal transpor- tation access, and relative supply-constrained market environments should allow coastal logistics hubs to outperform on a risk-adjusted return basis despite extremely low cap rates
Despite record supply underway, historically low availability rates are expected to remain below long-term averages, supporting continued above-trend rent growth. In-place rents are still well below current market rents in most areas, allowing for significant mark-to-market gains.
OFFICE:
In the office sector, only life science is expected to deliver positive excess returns, supported by sector-leading rent growth and limited cap rate expansion.
In contrast to legacy office markets, life science and modern office product are forecast to product above-average adjusted returns, led by higher-yielding modern office product in Sunbelt markets like Phoenix, Atlanta, Raleigh, Nashville, and Dallas.
Boston and San Francisco are also forecast to deliver excess returns, but lower going-in cap rates and marginally lower rent growth result in lower total returns.
Chicago also offers attractive yields and a record of strong demand for mod- ern responsive office product in emerging areas like Fulton Market.
Conditions in the office market match the worst periods in history. High vacancies compound the impact of higher capital costs, distressing assets with near-term debt maturities. Sub-lease space continues to climb. But leasing activity has returned to pre-COVID -19 levels, and demand has turned positive— largely favouring modern, well-located product. Vacancies for life science are at all-time lows, supporting strong rent growth.
RESIDENTIAL:
A persistent supply shortage and the inaccessibility of the for-sale market will sustain rental demand and rent growth and continue to attract investor interest. Modest underweight to conventional apartments rela- tive to benchmark as we increase strategic allocation to alternative residential sectors.
In general US returns are still higher than in Europe given strong leasing performance in logistics and niche residential.
US single family rentals are one of the most attractively priced residential markets globally
RETAIL:
After a decade of limited supply, retail vacancies have fallen to pre- Global Financial Crisis levels supportive of modest rent gains for NCC retail. But rising e-commerce sales and the anticipated footprint reduction among both department store and in-line tenants will continue to restrain the mall sector's performance.
Favourable demographic trends, bolstered by the movement of households away from major cities during the pandemic, as well as growing white-collar job concentrations in fast-growing secondary markets will drive relative excess returns in top-performing markets.
E-grocery presents potential headwinds to a previously insulated segment of the retail market, however.
OTHER:
While likely to outperform the overall office sector, medical office is forecast to deliver below average returns and relative value. Hotels offer yield premium but high volatility reduces risk-adjusted returns.
Investment principles & strategy
Realise new life in your investment's lifecycle
Our experienced teams – whose interests are aligned with both investors and occupiers – employ a consistent and rigorous insights-based investment and risk-mitigation process. We aim to align investor goals with occupier needs and believe that helping our investors understand the changing needs of end users will create superior long-term performance.
Our affiliation with CBRE enhances our offering as an investor and operator of real assets. This, coupled with our flexibility to work with other leading service providers, means we can deliver on all aspects of an investment's life-cycle. We believe this enhances value for both investors and occupiers.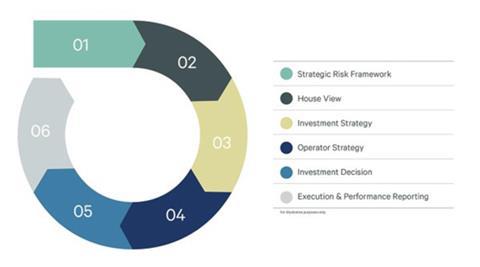 COMPLIANCE STATEMENT
Senior management of CBRE Investment Management is responsible for ensuring compliance with a code of ethics, regulatory requirements, and fiduciary obligations.
CBRE Investment Management is an invest- ment adviser registered with the Securities and Exchange Commission under the Investment Advisers Act of 1940. It also is authorized and regulated in certain European and Asian countries to undertake certain regulated activities in conjunction with its investment advisory and fund management services.
The firm has designated compliance officers across the regions and has adopted, implemented, and provided for reviews of adequacy and effectiveness of its written policies and procedures.
All employees are required to comply with the Investment Management Policies and Procedures, which include legal and compliance policies.