Corporate overview
We seek to deliver sustainable investment solutions across real assets categories, geographies, risk profiles and execution formats so that our clients, people and communities thrive. One of the world's leading real assets invest- ment managers, our team is responsible for more than $146.9bn of assets under management.
Sector forecasts
INDUSTRIAL:
Despite repricing in industrial, it remains a preferred sector. The repricing in the industrial sector over 2022 and 2023 drives negative capital value growth over that period. That said, the volatility on the investment side does not fully reflect what is for the most part a strong occupier market. The structural trends underpinning demand in industrial continue.
Higher borrowing costs are feeding into upward yield pressure, with logistics yields forecast to expand by 83 basis points in 2022, and a further 25bps in 2023.
The repricing in the sector is being driven by the higher interest rate environment, and not reflective of any fundamental shift in the occupier market.
We are still forecasting rental growth of 9% in 2022 and just under 4% in 2023. Rents are forecast to grow 2% pa, and 3.2% pa for the prime segment over our forecast period.
Continuing construction cost inflation and supply chain issues are dampening the supply response, adding to upward rent pressures.
A cautionary note is that the upcoming economic stagnation could adversely impact the occupier market, especially in the secondary part of the market.
To be clear, the logistics sector remains an outperformer in our forecasts. However, the margin of outperformance is reduced. The pool of attractive opportunities has shrunk.
OFFICE:
The outlook for average quality offices has been upgraded, especially for London offices. This is driven by a more stable yield profile in the forecast period, with rental growth still forecast to underperform the wider market. The structural challenges facing the sector remain, namely hybrid working and ESG regulations. We still expect prime offices to outperform the wider sector.
Positive on modern office but negative of legacy office.
RESIDENTIAL:
Return forecasts and RARE analysis point to overweight positions in all five of the residential segments we cover.
Even if household finances are squeezed further, spending on accommoda- tion will continue to be prioritised – which makes the sector a good inflation hedge.
The exceptions being residential lets – rest of UK and student accommoda- tion, where demographic and structural trends continue to boost demand across the sector.
Residential yields are forecast to move out the least as robust investor demand coupled with a lack of product keeps a lid on any outward yield shift.
None of the UK markets ex affordable housing meet the absolute return hurdle.
RETAIL:
In Europe, retail segments have high returns driven by income. Office and logistics are the worst performing sectors given structural and cyclical outward yield shift respectively.
The persistent high inflationary environment has meant a larger decline in household disposable income, and in turn, a larger downgrade for the most retail segments.
In high-yielding retail and hospitality segments, the impact of higher inter- est rates to influence property yields will be smaller although the majority of outward shift will occur from 2023 onwards as the cost of living crises severely dents retails sales.
Retail segments outside shopping centres and Central London shops have seen capital value growth forecasts downgraded given the cost of living crisis. This is offset by upgrades in the office and industrial sector, which benefit from swift repricing in 2022, leading to a more stable yield profile in the forecast period.
Investment principles & strategy
Realise new life in your investment's lifecycle
Our experienced teams – whose interests are aligned with both investors and occupiers – employ a consistent and rigorous insights-based investment and risk-mitigation process. We aim to align investor goals with occupier needs and believe that helping our investors understand the changing needs of end users will create superior long-term performance.
Our affiliation with CBRE enhances our offering as an investor and operator of real assets. This, coupled with our flexibility to work with other leading service providers, means we can deliver on all aspects of an investment's life-cycle. We believe this enhances value for both investors and occupiers.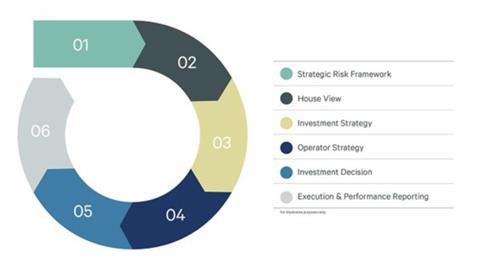 COMPLIANCE STATEMENT
Senior management of CBRE Investment Management is responsible for ensuring compliance with a code of ethics, regulatory requirements, and fiduciary obligations.
CBRE Investment Management is an investment adviser registered with the Securities and Exchange Commission under the Investment Advisers Act of 1940. It also is authorized and regulated in certain European and Asian countries to undertake certain regulated activities in conjunction with its investment advisory and fund management services.
The firm has designated compliance officers across the regions and has adopted, implemented, and provided for reviews of adequacy and effectiveness of its written policies and procedures.
All employees are required to comply with the Investment Management Policies and Procedures, which include legal and compliance policies.