Corporate overview
We seek to deliver sustainable investment solutions across real assets categories, geographies, risk profiles and execution formats so that our clients, people and communities thrive. One of the world's leading real assets investment managers, our team is responsible for more than $146.9bn of assets under management.
Sector forecasts
INDUSTRIAL:
The occupational drivers of the APAC logistics sector are long term and structural in nature. The steadily rising capital value growth in recent decades in APAC logistics has been impressive
Only during the global financial crisis (GFC) of 2008/09 was there a notable cyclical dip at the regional level and ever since, there has been a steady, stable rise of capital values
The added relevance of the logistics sector was made clear by the pandemic, which accelerated e-commerce trends and thus absorption of standing stock, and pre-commitments to stock under construction
We are forecasting continued logistics cap rate compression over 2023–27 in Japan and China. Cap rate expansion in Australia and South Korea will be offset by strong rent growth.
OFFICE:
Office forecasts are lower, due to increased supply pipelines in some markets and a delay in a more robust return to the office.
Office performance is varied by country with Singapore and South Korea to do relatively better.
The relative positions of all the Japanese markets, as well as Singapore and Seoul, look relatively favourable in an Asia Pacific office context in the coming five-year period.
Asia Pacific office rents were downgraded given continued uncertainty regarding the impact of work from home (WFH), in addition to increased supply pipelines in some major markets. However, we do expect the premium quality, higher ESG-credentialled segments to outperform the more generic, lower ESG segments.
The other major change to income was in the hotel sector, where we are forecasting a more modest, although still strong, rebound in revenue.
RESIDENTIAL:
Tokyo residential rent growth has remained steady, while capital value growth has accelerated
Residential rental growth in the Tokyo 23 wards has remained steady post- pandemic. As of July 2022, Japanese residential rents in the Tokyo 23 wards increased 2.1% YoY, which is similar to the three-year (2.1%) historic growth rate and stronger than the 10-year (1.4%) historic growth rate.
Residential capital value growth in the Tokyo 23 wards has accelerated post-pandemic. As of July 2022, Japanese residential capital values in the Tokyo 23 wards increased 9.4% YoY, which is higher than the 10-year (6.1%) annualised growth rate.
Tokyo residential prices are increasing due to rising demand from two- earner households, continued low-interest rates in Japan and supply constraints, resulting from increased construction costs and land scarcity
RETAIL:
The overall position of the Asia Pacific retail markets remains weak, with a weighted regional average required return of 7.0% yet the weighted regional average forecast of only 5.4%.
However, retail in Japan , Singapore and Kuala Lumpur all fall above the relative RARE line and look attractive. The bulky goods retail format in the largest three Australian cities also look good on a relative basis.
Longstanding structural challenges posed by e-commerce, in addition to new uncertainties around post-pandemic retail demand (and thus desired formats) continue to dampen rental and capital growth forecasts for most core retail markets in the region.
OTHER:
The all property total return forecast at the aggregate level is 5.7% over 2023–27, which is slightly lower than the previous forecast of 5.9% in June.
Hotel, residential, logistics, data centres and healthcare are forecast to outperform the all property aggregate, while retail and office are forecast to underperform.
Hotel sector forecasts were downgraded given that some of the recovery is starting to be captured in 2022. Nonetheless, we still expect a robust rebound over 2023–27, following the massive fall of revenues in 2020 and 2021.
Except for Japanese retail, all APAC retail markets fall below the relative RARE line and thus provide poor relative value.
Investment principles & strategy
Realise new life in your investment's lifecycle
Our experienced teams – whose interests are aligned with both investors and occupiers – employ a consistent and rigorous insights-based investment and risk-mitigation process. We aim to align investor goals with occupier needs and believe that helping our investors understand the changing needs of end users will create superior long-term performance.
Our affiliation with CBRE enhances our offering as an investor and operator of real assets. This, coupled with our flexibility to work with other leading service providers, means we can deliver on all aspects of an investment's life-cycle. We believe this enhances value for both investors and occupiers.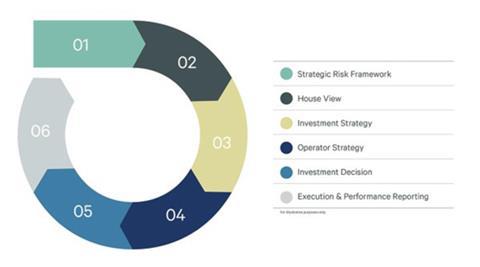 COMPLIANCE STATEMENT
Senior management of CBRE Investment Management is responsible for ensuring compliance with a code of ethics, regulatory requirements, and fiduciary obligations.
CBRE Investment Management is an invest- ment adviser registered with the Securities and Exchange Commission under the Investment Advisers Act of 1940. It also is authorized and regulated in certain European and Asian countries to undertake certain regulated activities in conjunction with its investment advisory and fund management services.
The firm has designated compliance officers across the regions and has adopted, implemented, and provided for reviews of adequacy and effectiveness of its written policies and procedures.
All employees are required to comply with the Investment Management Policies and Procedures, which include legal and compliance policies.