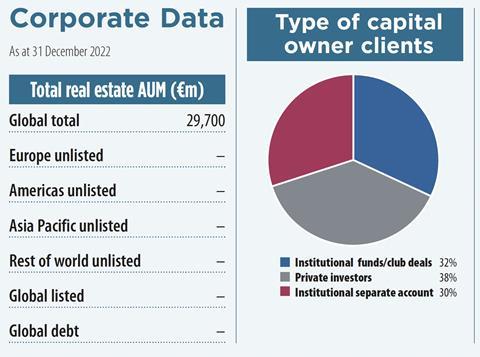 | PRODUCT TYPE | |
| --- | --- |
| REIM Number of portfolios / funds | 83 |
| REIM Nb insitutional investors | >230 |
| REIM Nb private investors | >140 000 |
| | |
| --- | --- |
| STRATEGY | AUM (€m) |
| Core /Core+ | 28,8 |
| Value added | 0,9 |
| | |
| --- | --- |
| ASSET CLASSES | AUM (€m) |
| Offices | 16,6 |
| Retail | 4,2 |
| Logistics | 2,7 |
| Residential | 2,7 |
| Healthcare | 1,2 |
| Hôtel/Leisure | 1,2 |
| Mix/Others | 1,2 |
COMPLIANCE STATEMENT
BNP Paribas Real Estate is committed to conducting our business in compliance with all laws and regulations in accordance with the highest principles of ethics.
Therefore, it has developed policies and procedures describing the steps all employees must take to be compliant across different areas of risk when conducting our business.
We have constantly reviewed its internal risk assessment, taking the rapidly changing environment surrounding us into due consideration, and placed appropriate "remedial action" and "preventive measurements."
It has been the unchanged strategy of ours that strict compliance control shall be of importance to meet the high expectation of professional investors. Like our strategy applicable for risk management, rapidly-and-dramatically-changing world has obliged us to review the compliance policy regularly and deliberately.