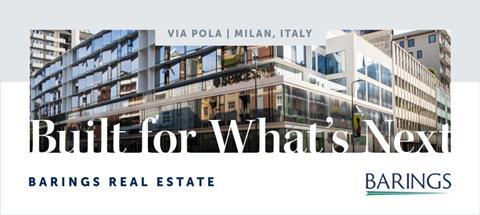 Barings is one of the world's largest diversified real estate investment managers, with more than $45 billion AUM* and 180 real estate clients worldwide . The Barings Real Estate (BRE) team offers a broad range of investment opportunities globally across the private debt and equity markets. BRE Europe has a team of 72 professionals, 9 offices across Europe and manages in excess of €6.8 billion of real estate assets.* The team invests across all major property sectors, with a focus on global relative value and preferred strategies driven by our in-house proprietary research group. Barings' distinctive investment style is executed by local teams and enables us to seek to deliver compelling returns to our investors.
*As at September 30, 2020.
Our competitive advantages:
Depth of Team — The BRE team consists of over 290 investment professionals across debt and equity spanning the entire investment process. In-house acquisitions and origination, investment management, asset management, portfolio management, research and analytics, risk management, capital markets—as well as specialty roles such as engineering, tax and legal—ensure continuous collaboration throughout each investment's life.
Sourcing Capabilities — Locally embedded teams enhance market connectivity through their strong networks of property owners, institutional investors, developers and banks. This connectivity provides robust volume and access to attractive on-market and rare off-market deal flow.
Focus on Asset Management — BRE has a fully integrated asset management team and unlocks value through active management, regardless of investment style. Asset Managers are sector specialists and regionally dispersed to best understand the nuances of each individual asset's demands.
Global Platform — BRE invests around the globe, in 11 countries, managed by 25 local offices. BRE's equity, debt, private and public real estate capabilities are designed to promote constant market participation—uncovering the interconnectivity between markets, economies and cycles, with the objective of making better informed decisions on behalf of our clients.
Cycle-Tested Approach — BRE's long track record of investing across multiple cycles, the risk spectrum and geographies creates the experience necessary to understand how real estate responds to changing conditions.
Diversified Solutions — BRE strives to be a strategic partner to our investors, and tailors solutions to each client's goals and objectives. The platform offers investment solutions through funds, separate accounts and joint ventures. Solutions can include independent or multi-asset portfolios across BRE equity and debt, Barings Alternative Investments and Barings Fixed Income and Equity.
Parent Company Stability — As part of MassMutual, BRE has the financial stability and flexibility to take a long-term approach. This support is illustrated by its long-standing investment management mandate for MassMutual's General Investment Account, and its ongoing support for existing and new products.
*As of June 30, 2020. Barings Real Estate is a part of Barings LLC, a Registered Investment Adviser.
Sector Forecasts
Industrial: The European logistics sector has performed strongly over recent years, benefiting from the rise of e-commerce and the growth of omni-channel retail. Even when the economy slowed last year, demand remained healthy, with annual take-up still above the five-year average. Over the past decade, vacancy has been tightening from a peak 15%, to sub 5% today. While the sector is expected to be more resilient to COVID-19 impacts, it may still face challenging occupier market conditions—with the boost to e-commerce unlikely to offset temporary sharp declines in local GDP and a global trade slump this year. Although development pipeline delays should help prevent vacancy from spiking sharply, with rising insolvency rates in businesses hit hardest by the virus, there will likely be upward supply pressures. Longer term, we should see a significant uptick in the structural demand for industrial floor space—driven by accelerating online retail, greater corporate propensity to hold larger inventories, concerns about global "just-in-time" ultra-lean supply chains, and even some on-shoring of production due to the political focus on national security.
Office: The European office market ended 2019 with a sense of positivity, with annual take-up above long-term trends and vacancy below 6%. With the spread of COVID-19, this optimism vanished as office employees were forced to work from home. Even with the easing of lockdown restrictions, social distancing measures and public transport fears mean a return to the office for many workers is still a while away. With the services sector heavily impacted and corporates' requirements on hold, near-term letting activity will be subdued. Vacancy may steadily rise over the coming months, but development activity will be muted until conditions improve. Short-term office rental growth is heavily weighted to the downside, but the lack of development could build the case for stronger rental growth during 2022 and beyond, particularly for Grade A, best-in-class space. Longer term, it remains to be seen whether there will be a reappraisal of agile working practices ("hot desking") as employees spend more time working from home. Social distancing and more stringent hygiene measures could lead to a reduction in worker-to-floor space ratios. When activity does revive, it is anticipated that there will be a flight to quality, with elevated demand for newer, sustainable, flexible offices—making these assets even more valuable in the future.
Retail: The rise of e-commerce has been detrimental to the retail sector, with the market currently grappling with a huge oversupply of obsolete space. COVID-19 has only exacerbated sector problems, with retailers' cash flows decimated by the forced closure of non-essential stores, and reduced store footfall because of social distancing measures. While the incremental relaxation of lockdown restrictions and the reopening of physical stores will be a welcome relief for the sector, footfall levels will take time to recover, as virus fears deter some shoppers from physical store visits. Labor market pressures and prolonged weaker consumer confidence, will likely weigh on discretionary spending levels. Government fiscal support clearly will help limit retail sector damage, but store closures and bankruptcies will likely rise, which will push up vacancy rates. Rent collection may be challenging as retailers try to get their balance sheets back in order. Longer term, this crisis could ultimately lead to an acceleration in e-commerce adoption rates, as social distancing measures encourage consumers who have never before shopped online to go digital for the first time.
Investment Principles and Strategy
Barings maintains an absolute commitment to working with our clients to help them achieve their investment objectives, while remaining alert to the cyclical nature of real estate opportunities and the wisdom of balancing return potential with risk management.
Our Approach to Real Estate Investment
· We operate on a global platform. Our competencies cover a broad spectrum of real estate investment alternatives, comprising private real estate equity and debt across all major property sectors. Our breadth of capabilities allows us to respond accordingly to cyclical opportunities as they arise.
· Research is at the center of our investment decision-making, from formulating client-specific strategies across real estate, to tactical execution at the portfolio and asset levels. We apply fundamental research of global economics and the capital market forces that drive relative value.
· Real estate remains dominated by private market relationships and negotiated transactions. Our locally-based professionals bring years of cycle-tested experience, and our extensive history in real estate debt and equity markets provides a competitive advantage in accessing and negotiating transactions.
Strategic corporate development
BRE's long-term strategic business plan represents a careful balance between the institutional appetite for real estate investment and the effective execution of prudent real estate investment and portfolio management strategies. Growth initiatives are undertaken as supported by our proprietary research and focused investment strategies, as well as the resources, capacities and competencies of the firm. We have consistently and strategically served our clients and are prepared to grow the business as opportunities develop. As a subsidiary of MassMutual, Barings has the resources to develop and execute new strategies and products. Future growth of the platform will occur as strategic opportunities arise, and we intend to expand our investment offering in response to compelling opportunities and investor requirements.
Performance verification
Performance of each portfolio is measured against the relevant benchmark(s) that are the accepted standard(s) for each of the funds under management. All of our real estate managed funds are audited externally each year. Additional performance information is available upon request.
COMPLIANCE STATEMENT
Commentaries on the economy and financial markets contained herein are based on information believed to be reliable, although there can be no guarantee as to its accuracy. They reflect the current opinion of the firm, which is subject to change based on changes in the economy and financial markets, and access to and reliability of relevant data. The forecasts should not be relied upon as investment advice. Data as of June 30, 2020.
Supporting documents
Click link to download and view these files
PDF, Size 4.1 mb

PDF, Size 8.09 mb