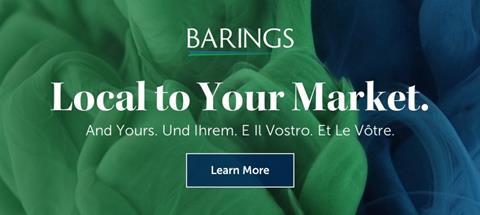 Barings is a $338+ billion* global financial services firm dedicated to meeting the evolving investment and capital needs of our clients and customers. Through active asset management and direct origination, we provide innovative solutions and access to differentiated opportunities across public and private capital markets. A subsidiary of MassMutual, Barings maintains a strong global presence with business and investment professionals located across North America, Europe and Asia Pacific.
*As of December 31, 2019
The Barings Alternative Investments group seeks differentiated sources of returns by offering investors access to a diverse range of opportunities across private equity, real assets, asset-based investments and real estate.
Barings is one of the world's largest diversified real estate investment managers, managing or servicing assets for more than 200 real estate clients worldwide. The Barings Real Estate team offers a broad range of investment opportunities globally across the public and private debt and equity markets. The team invests across all major property sectors with a focus on global relative value and trend-backed preferred strategies. Our distinctive investment style enables us the opportunity to deliver compelling returns to our investors.
Our competitive advantages:
Global platform, local execution: Barings Real Estate is one of the largest global real estate platforms with local, experienced real estate investment professionals in core, value-add and opportunistic strategies across property sectors and structures
Information Advantage: As an active investor in equity and debt, we gain comprehensive investment insights into pricing and trend visibility that allows us to analyze each investment opportunity through a relative-value lens
Trusted partner: Our business model embodies a fiduciary culture, alignment of interests, transparency and a history of delivering on client investment objectives.
Disciplined risk manager: We avoid style drift and target risk-priced investing, and focus on seeking to provide clients with compelling risk-adjusted returns.
*As of June 30, 2019. Barings Real Estate is the marketing name used to represent the real estate advisory business of Barings LLC and its subsidiaries.
Sector Forecasts
Industrial: Strong European logistics market fundamentals are reflected in strong take-up levels, which have been steadily rising over the last six years. Through this period, vacancy rates have been falling year-on-year and now stand at just over 4%, down from a peak of 15% in 2009. Over the longer term, significant variations in e-commerce adoption means that supply chain disruption and the resultant boost to occupier demand should continue for a number of years in Europe, in our view. Outsourcing to specialist 3PLs will experience further growth—an added demand tailwind that will likely be further amplified by increased automation. The result will be a faster supply chain throughput and rising storage capacity. Increased intensity of use should support higher rents in the long term, in turn improving development viability for 'final mile' against higher value land uses (e.g. residential). Sustained rental growth prospects and resistance to obsolescence will be most attractive where land values are higher relative to rents and capital values, and by implication, site supply is more constrained/inelastic.
Office: Occupier demand continues apace across European office markets, although supply shortages are reportedly now limiting take-up in select markets. The aggregate vacancy rate has fallen to around 6%, with supply in markets such as Hamburg, Munich and central Paris even tighter, experiencing vacancy rates well below 4%. The central London office market has also remained surprisingly resilient, given the extended period of Brexit uncertainty, with annual take-up above long-term trend and supply levels falling. Although new development has begun to re-emerge, most European markets are suffering from a lack of modern office stock. Over the mid-term, this situation is not expected to significantly improve, with 2019/2020 completions estimated at about 1.8% of total stock per year, which is below reasonable stock attrition rates (typically 2-3% per year, assuming a 40-year physical life cycle). If the current level of economic momentum is sustained, the best rental growth prospects still reside where grade-A vacancy is tightest.
Retail: The current pace of retail sales growth is above average in the majority of European countries. Despite some recent moderation, Eurozone consumer confidence (closely correlated to consumer spending) remains well above the long-term trend. Strong labor markets, rising wages and low inflation add further support to retail sales volumes and sentiment. Across Europe, e-commerce uptake and therefore shopping patterns continue to evolve at significantly different paces. Significant variations also exist in the national retail stock per capita. Inevitably, countries with an over provision of space face a higher risk of stock obsolescence, particularly in more secondary retail locations. Structural concerns about the sector's long-term feasibility seem to be increasingly dominating investor thoughts. This is reflected in the growing number of investors who are shunning the sector, even in markets where the shift online is at an early stage.
Investment principles & strategy
We maintain an absolute commitment to helping our clients achieve their investment objectives, while remaining alert to the cyclical nature of real estate opportunities and the wisdom of balancing return potential with risk management.
Our approach to real estate investment:
We operate on a global platform. Our competencies cover a broad spectrum of real estate investment alternatives comprising private and public real estate equity and debt across all major property sectors. Our breadth of capabilities allows us to respond accordingly to cyclical opportunities as they arise.
Research is at the centre of our investment decision-making, from formulating client-specific strategies across real estate, to tactical execution at the portfolio and asset levels. We apply fundamental research of global economics and the capital market forces that drive relative value.
Real estate remains dominated by private market relationships and negotiated transactions. Our professionals bring years of cycle-tested experience, and our extensive history in real estate debt and equity markets provides a competitive advantage in accessing and negotiating transactions.
Strategic corporate development
Barings Real Estate's long-term strategic business plan represents a careful balance between the institutional appetite for real estate investment and the capacity to effectively execute prudent real estate investment and portfolio management strategies. Growth initiatives are undertaken as supported by our focused investment strategies and opportunities, as well as the resources, capacities and competencies of the firm. We have consistently and strategically retained our staff to serve our clients and are prepared to grow the business as opportunities develop. As such, we have the resources to develop and execute new strategies and products. Future growth of the platform will occur as strategic opportunities arise, and we intend to expand our investment offering in response to both new opportunities and investor requirements.
COMPLIANCE STATEMENT
Commentaries on the economy and financial markets contained herein are based on information believed to be reliable, although there can be no guarantee as to its accuracy. They reflect the current opinion of the firm, which is subject to change based on changes in the economy and financial markets, and access to and reliability of relevant data. The forecasts should not be relied upon as investment advice. Data as of March 31, 2019.