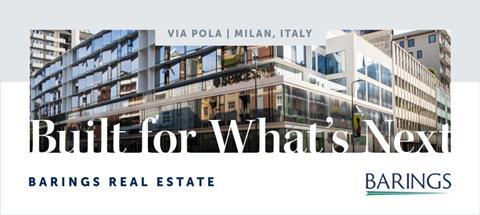 Barings is a $391+ billion* global investment manager sourcing differentiated opportunities and building long-term portfolios across public and private fixed income, real estate, and specialist equity markets. With investment professionals based in North America, Europe and Asia Pacific, the firm, a subsidiary of MassMutual, aims to serve its clients, communities and employees, and is committed to sustainable practices and responsible investment.
Barings is one of the world's largest diversified real estate investment managers, with 175 real estate clients worldwide. The Barings Real Estate (BRE) team offers a broad range of investment opportunities globally across the private debt and equity markets. The team invests across all major property sectors, with a focus on global relative value and preferred strategies driven by our in-house proprietary research group. Barings' distinctive investment style is executed by local teams and enables us to seek to deliver compelling returns to our investors.
Our competitive advantages:
· Depth of Team — The BRE team consists of 200+ investment professionals* across debt and equity spanning the entire investment process. In-house acquisitions and origination, investment management, asset management, portfolio management, research and analytics, risk management, capital markets—as well as specialty roles such as engineering, tax and legal—ensure continuous collaboration throughout each investment's life.
· Sourcing Capabilities — Locally embedded teams enhance market connectivity through their strong networks of property owners, institutional investors, developers and banks. This connectivity provides robust volume and access to attractive on-market and rare off-market deal flow.
· Focus on Asset Management — BRE has a fully integrated asset management team and unlocks value through active management, regardless of investment style. Asset Managers are sector specialists and regionally dispersed to best understand the nuances of each individual asset's demands.
· Global Platform — BRE invests around the globe, with 16 offices across nine countries*. BRE's equity, debt, private and public real estate capabilities are designed to promote constant market participation—uncovering the interconnectivity between markets, economies and cycles, with the objective of making better informed decisions on behalf of our clients.
· Cycle-Tested Approach — BRE's long track record of investing across multiple cycles, the risk spectrum and geographies creates the experience necessary to understand how real estate responds to changing conditions.
· Diversified Solutions — BRE strives to be a strategic partner to our investors, and tailors solutions to each client's goals and objectives. The platform offers investment solutions through funds, separate accounts and joint ventures. Solutions can include independent or multi-asset portfolios across BRE equity and debt, Barings Alternative Investments and Barings Fixed Income and Equity.
· Parent Company Stability — As part of MassMutual, BRE has the financial stability and flexibility to take a long-term approach. This support is illustrated by its long-standing investment management mandate for MassMutual's General Investment Account, and its ongoing support for existing and new products.
*As of September 30, 2021. Barings Real Estate is a part of Barings LLC, a Registered Investment Adviser.
Sector Forecasts
Industrial: Logistics occupier demand and letting activity is heading towards record highs across Europe in 2021, driven by a pandemic surge from e-fulfilment. Further, with supply chain fragility and increased trade frictions the order of the day, this strong backdrop looks set to continue into the future. Available space is tight and despite an uptick in new development, with pre-lets and build to suit schemes predominant. Vacancy thus remains below 5%.
BNP Paribas Real Estate note that in the Netherlands, particularly low availability of modern space, and even development sites in key hubs, is pushing occupier demand into non-traditional and less established secondary markets. The excess of demand over supply means the favourable rental growth outlook for landlords looks set to persist.
Office: Europe's office vacancy rate increased during the pandemic, but by only 150bps to 7.5%. This is remarkably resilient given pandemic mobility data shows that physical occupancy was at a fraction of normal levels. Only marginal softness in prime office rents has occurred so far, but until physical occupancy recovers, negative pressures exist on the sector. However, because the majority of vacancy is older surplus stock, and Grade A modern space is in chronic short supply, prime rents should continue to hold up well.
With WFH likely to persist in part, a post-pandemic occupier 'flight to quality' is about to begin. Tenants will be looking for less, but higher quality buildings. This is due to lingering virus fears, a productivity drive favouring more collaboration/meeting layouts, and most significantly the corporate shift towards to all things "E" in ESG. Only the most modern office space is flexible and 'green' enough to accommodate all of these more stringent occupier needs. The mid-term income growth prospects for the best quality, most sustainable office accommodation has increased. The converse applies for older space, where the pace of obsolescence has been accelerated.
Residential: Unprecedented pandemic economic contractions meant governments rapidly stepped into support households, through policies such as job protection schemes, temporary removal of transfer taxes, mortgage holidays etc. This, along with a WFH reappraisal of housing needs, has generating well above average house price appreciation during the pandemic.
The outlook for the sector remains favorable, with the caveat that the fiscal response—which has significantly supported the housing market—remains vulnerable to policy error (e.g. an unexpected spike in unemployment if job support programs are ended too early). This risk may however be partially offset by the amount of savings that consumers have accumulated, which could filter into new demand for housing.
Retail: As the vaccine rollout has gathered momentum, Europe's physical stores have reopened this year. With accumulated lockdown savings behind them and a significant pent-up demand to spend, household consumption is now expected to focus on discretionary goods and services (e.g. clothing, footwear, health, restaurants, travel and tourism). However, the delta variant may currently be denting consumer confidence and delay the surge in spending into the Autumn/Winter.
Retail real estate has been undergoing a prolonged period of structural change with the shift towards online retailing. This is very advanced in the UK, but just beginning in Spain and Italy. The pace of online adoption has been accelerated by the pandemic. While this will fall back a little on store re‑openings this summer, a step change has occurred, this secular trend has a decade or longer to run across Europe. Physical retail does have a future, but stock selection risk will remain highly elevated for many years to come.
Investment Principles and Strategy
Barings maintains an absolute commitment to working with our clients to help them achieve their investment objectives, while remaining alert to the cyclical nature of real estate opportunities and the wisdom of balancing return potential with risk management.
Our Approach to Real Estate Investment
· We operate on a global platform. Our competencies cover a broad spectrum of real estate investment alternatives, comprising private real estate equity and debt across all major property sectors. Our breadth of capabilities allows us to respond accordingly to cyclical opportunities as they arise.
· Research is at the center of our investment decision-making, from formulating client-specific strategies across real estate, to tactical execution at the portfolio and asset levels. We apply fundamental research of global economics and the capital market forces that drive relative value.
· Real estate remains dominated by private market relationships and negotiated transactions. Our locally-based professionals bring years of cycle-tested experience, and our extensive history in real estate debt and equity markets provides a competitive advantage in accessing and negotiating transactions.
Strategic corporate development
BRE's long-term strategic business plan represents a careful balance between the institutional appetite for real estate investment and the effective execution of prudent real estate investment and portfolio management strategies. Growth initiatives are undertaken as supported by our proprietary research and focused investment strategies, as well as the resources, capacities and competencies of the firm. We have consistently and strategically served our clients and are prepared to grow the business as opportunities develop. As a subsidiary of MassMutual, Barings has the resources to develop and execute new strategies and products. Future growth of the platform will occur as strategic opportunities arise, and we intend to expand our investment offering in response to compelling opportunities and investor requirements.
Performance verification
Performance of each portfolio is measured against the relevant benchmark(s) that are the accepted standard(s) for each of the funds under management. All of our real estate managed funds are audited externally each year. Additional performance information is available upon request.
COMPLIANCE STATEMENT
Commentaries on the economy and financial markets contained herein are based on information believed to be reliable, although there can be no guarantee as to its accuracy. They reflect the current opinion of the firm, which is subject to change based on changes in the economy and financial markets, and access to and reliability of relevant data. The forecasts should not be relied upon as investment advice. Data *As of December 31, 2021