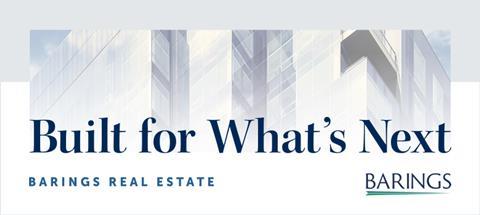 Barings is a $347+ billion* global investment manager sourcing differentiated opportunities and building long-term portfolios across public and private fixed income, real estate, and specialist equity markets. With investment professionals based in North America, Europe and Asia Pacific, the firm, a subsidiary of MassMutual, aims to serve its clients, communities and employees, and is committed to sustainable practices and responsible investment.
*As of September 30, 2023
Barings Real Estate (BRE) is a part of Barings and offers a broad range of global investment opportunities across the private debt and equity investment markets. BRE invests in all major property sectors and offers an expansive range of financing solutions to real estate borrowers.
Follow us on LinkedIn at https://www.linkedin.com/showcase/barings-real-estate/
Investment Principles and Strategy
Barings maintains an absolute commitment to working with our clients to help them achieve their investment objectives, while remaining alert to the cyclical nature of real estate opportunities and the wisdom of balancing return potential with risk management.
Our Approach to Real Estate Investment
We operate on a global platform. Our competencies cover a broad spectrum of real estate investment alternatives, comprising private real estate equity and debt across all major property sectors. Our breadth of capabilities allows us to respond accordingly to cyclical opportunities as they arise.
Research is at the center of our investment decision-making, from formulating client-specific strategies across real estate, to tactical execution at the portfolio and asset levels. We apply fundamental research of global economics and the capital market forces that drive relative value.
Real estate remains dominated by private market relationships and negotiated transactions. Our locally-based professionals bring years of cycle-tested experience, and our extensive history in real estate debt and equity markets provides a competitive advantage in accessing and negotiating transactions.
We believe sustainable assets are synonymous with prime and sustainably-managed investments and can contribute to enhanced returns. We provide our clients with investment platforms that excel in its commitment to ethical, sustainable, and responsible investing. We continue to evolve our approach to Environmental, Social, Governance (ESG)to help us to deliver more sustainable value.
Our competitive advantages:
Depth of Team — The BRE team consists of 250 investment professionals* across debt and equity spanning the entire investment process. In-house acquisitions and origination, investment management, asset management, portfolio management, research and analytics, risk management, capital markets—as well as specialty roles such as engineering, tax and legal—ensure continuous collaboration throughout each investment's life.
Sourcing Capabilities — Locally embedded teams enhance market connectivity through their strong networks of property owners, institutional investors, developers and banks. This connectivity provides robust volume and access to attractive on-market and rare off-market deal flow.
Focus on Asset Management — BRE has a fully integrated asset management team and unlocks value through active management, regardless of investment style. Asset Managers are sector specialists and regionally dispersed to best understand the nuances of each individual asset's demands.
Global Platform — BRE invests around the globe, with 17 offices across nine countries*. BRE's equity, debt, private and public real estate capabilities are designed to promote constant market participation—uncovering the interconnectivity between markets, economies and cycles, with the objective of making better informed decisions on behalf of our clients.
Cycle-Tested Approach — BRE's long track record of investing across multiple cycles, the risk spectrum and geographies creates the experience necessary to understand how real estate responds to changing conditions.
Diversified Solutions — BRE strives to be a strategic partner to our investors, and tailors solutions to each client's goals and objectives. The platform offers investment solutions through funds, separate accounts and joint ventures. Solutions can include independent or multi-asset portfolios across BRE equity and debt, Barings Alternative Investments and Barings Fixed Income and Equity.
Parent Company Stability — As part of MassMutual, BRE has the financial stability and flexibility to take a long-term approach. This support is illustrated by its long-standing investment management mandate for MassMutual's General Investment Account, and its ongoing support for existing and new products.
*As of December 31, 2022. Barings Real Estate is a part of Barings LLC, a Registered Investment Adviser
Strategic Corporate Development
BRE's long-term strategic business plan represents a careful balance between the institutional appetite for real estate investment and the effective execution of prudent real estate investment and portfolio management strategies. Growth initiatives are undertaken as supported by our proprietary research and focused investment strategies, as well as the resources, capacities and competencies of the firm. We have consistently and strategically served our clients and are prepared to grow the business as opportunities develop. As a subsidiary of MassMutual, Barings has the resources to develop and execute new strategies and products. Future growth of the platform will occur as strategic opportunities arise, and we intend to expand our investment offering in response to compelling opportunities and investor requirements.