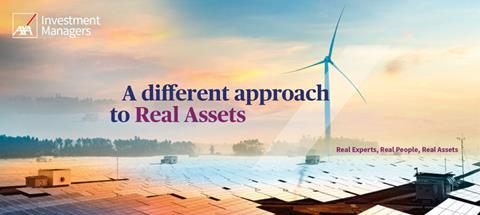 Corporate overview
AXA Investment Managers - Real Assets brings together €102bn in AUM, including €72.3bn in direct property & infrastructure and €26.1bn in real asset finance as at 30 September 2020. We offer a 360° view of real asset markets, investing in equity and debt, across different geographies and sectors, and via private and listed instruments. We are the #1 property portfolio and asset manager in Europe¹, and among the largest worldwide. Our teams have 30 years' experience managing funds and mandates, with over 600 people in 14 offices, operating in 20 countries and giving us in-depth knowledge of countries, cities and sectors.
INREV Fund Manager Survey, June 2020. #1 Real estate manager headquartered in Europe based on total assets under management.
Investment process & research
AXA IM – Real Assets enjoys long-standing relationships with sponsors, banks and advisors in the infrastructure market, and our expertise in understanding and pricing complex transactions makes us a trusted counterparty.
Size is essential to access the infrastructure market. AXA IM – Real Assets has a recognised ability to source and execute large deals, leading to greater negotiating power with banks. Our co-investment program is designed to enable investors to participate in large transactions regardless of the size of their commitments.
Our vision & beliefs
With respect to infrastructure debt, we finance core to core-plus infrastructure assets with stable and defensive income streams in European countries, focusing on operational assets which meet our strict due diligence criteria. By addressing the market in its entirety, we believe we can select transactions which fit our clients' risk-adjusted return objectives while offering diversification within an infrastructure portfolio.
With respect to infrastructure equity, we invest across the core to core-plus spectrum focused upon defensive underlying earnings rather than heroic growth assumptions or high leverage. This reflects our heritage as an insurance-backed infrastructure investor – where earnings reliability and diversification are essential - and we believe this guides us to superior risk-adjusted returns.
Strategies & products
AXA IM – Real Assets began investing in infrastructure in June 2013 upon the launch of the Infrastructure Finance platform with a commitment from the AXA Group to invest up to €10bn infrastructure investments. Our move into infrastructure debt complimented our over 10 years of experience of managing and investing in commercial real estate debt.
The Infrastructure Finance platform manages European close-ended funds and mandates of senior infrastructure debt focused on financing core and core+ assets with stable and defensive income streams across European countries. As of September 2020, the infrastructure debt platform has €7.3bn of asset under management. The infrastructure debt platform is currently the 4th largest platform globally in terms of capital raised over the past 5 years. To date, the platform has executed 98 transactions with 64 different issuers and borrowers across 17 countries.
In 2016, AXA IM – Real assets began investing in infrastructure equity on behalf of the AXA Group. The dedicated infrastructure equity team has over 20 years of experience in Infrastructure and are well placed to execute infrastructure deals. Our integrated team covers each step, from origination through execution to ownership, to best ensure we invest and actively optimise our investments with accountability; analytical focus on long-term deliverability not "doing deals"; and Continuous improvement.
Since the launch of the infrastructure equity platform, the team has successfully executed nine infrastructure equity transactions of c.€1.5bn, as at September 2020[1]. The investments are in the transportation, energy & utilities and digital sectors across Europe.
[1] Source: AXA IM – Real Assets including Acciona Energía Internacional and Covage which remain subject to regulatory approval and financial close.
COMPLIANCE STATEMENT

Source of all data: AXA IM – Real Assets data (unaudited) as at 30 September 2020. This material is for informational purposes and Professional Investors only. It is not intended as an offer or solicitation with respect to the purchase or sale of any security or advice in relation to any potential investment. Past performance, past experience and track record information is not necessarily representative of future results: performance is not constant over time and the value of investments may fall as well as rise. Company accepts no liability in relation to the accuracy or completeness of the information contained in this document. Information may be subject to change without notice.