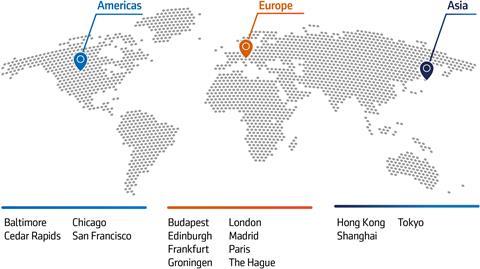 Corporate overview
Aegon Asset Management is an active global investor. Our 370 investment professionals manage and advise on assets of $463.8bn(as at 30 June 2021) for a global client base of pension plans, public funds, insurance companies, banks, foundations, wealth managers, family offices and individuals. We are a global business with 1,200 employees across Europe, the Americas and Asia.
We organise our investment capabilities around four focused investment platforms where we have deep asset-class expertise: fixed income, real assets, equities, and multi-asset & solutions.
Each platform has dedicated teams, organised globally and committed to maximising client benefit from their specialist areas. These platforms are supported by teams dedicated to responsible investing and multi-management.
Aegon Asset Management is a wholly owned subsidiary of Aegon N.V., a leading global financial services business. Aegon N.V. is a public company listed on Euronext Amsterdam and the New York Stock Exchange.
Investment principles & strategy
Strength and Scale
Part of Aegon Asset Management, an active global investor with $463.8bn AUM/AUA1
Multidisciplined team of 110 real assets investment professionals1
Dedicated support from global in-house research, legal, compliance, risk management and operations teams.
Focus on yield and relative value
Wide-range of yield-oriented and total return debt and equity solutions
Strategies seek to deliver strong relative value and returns through thoughtful top-down research and deployed with intelligent bottom-up analysis.
Deep and established relationships
Business built on cycle-tested platform, deep and broad market access and long-term relationships
Decades of experience working with diverse groups of clients across pensions, insurance, wealth management and affiliates.
Client focus
Provides specialty solutions across the risk/return spectrum for insurance companies, banks and other institutional clients worldwide
30+ year track record structuring real assets strategies customised for clients.
1 As of 30 June 2021. Personnel may be employed by any of the Aegon Asset Management affiliates.
Aegon AM Real Assets capabilities
Debt
Commercial mortgage loans
Agricultural mortgage loans
Equity
Tax credit equity
Natural resources/energy private equity
Real estate private equity
Strategic corporate development
Aegon AM is comprised of active global asset managers focusing on four asset classes: fixed income, real assets, equities and multi-asset and solutions, which are structured as four global investment platforms. By organising our investment teams globally, we harness our investment expertise and research across regional borders to help create an information advantage to aid us in delivering consistent long-term outperformance.
Within each investment platform, we offer a distinct product suite that cannot easily be replicated by our competitors and index managers and that meets industry leading standards and operating margins. For our existing traditional strategies, we aim to benefit from our responsible investing edge and scale advantages. For alternative strategies, we also strive to grow existing capabilities while increasing the number of distinct strategies that are not easily replicated by competitors or index managers.
Across markets, we believe in the investment benefits that come from responsible investing. By leveraging our well-resourced, dedicated responsible investing team, we aim to increase the number of sustainable and impact strat- egies to meet the increasing demand of our clients.
We continue to leverage our heritage managing insurance and pension assets. We remain committed to developing and customising innovative solutions for our affiliate distribution channels and the general account of our parent company. By leveraging our affiliate investment needs, we have access to seed capital and can offer third-party clients attractive co-investment opportunities
COMPLIANCE STATEMENT
Aegon AM UK is authorised and regulated by the Financial Conduct Authority (FRN: 144267) and is additionally a registered investment adviser with the United States (US) Securities and Exchange Commission (SEC). Aegon AM US and Aegon RA are both US SEC registered investment advisers. Aegon AM US is also registered as a Commodity Trading Advisor (CTA) with the Commodity Futures Trading Commission (CFTC) and is a member of the National Futures Association (NFA). Aegon AM NL is registered with the Netherlands Authority for the Financial Markets as a licensed fund management company and on the basis of its fund management license is also authorized to provide individual portfolio management and advisory services in certain jurisdictions. Aegon AM NL has also entered into a participating affiliate arrangement with Aegon AM US.