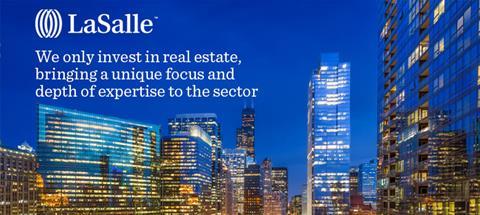 Corporate overview
LaSalle is one of the world's leading real estate investment managers. With over 40 years of experience and US$65 billion (as of 31st March 2020) of assets under management, LaSalle is invested in both private real estate equity and debt, and publicly listed real estate securities. Our sole focus is real estate, offering our clients a unique focus and depth of experience in the asset class.
The divisions of our business are as follows:
Private Equity
LaSalle is a global investment manager which only invests in real estate, bringing a unique focus and depth of expertise to the sector, where we pursue specific investment strategies across the risk-return spectrum (core, core+, value-add, opportunistic). LaSalle operates in 15 countries and 22 offices worldwide. As an independent subsidiary of Jones Lang LaSalle Incorporated (NYSE: JLL), one of the world's largest real estate companies, we have a presence in every region of the world in which we invest.
LaSalle's Debt Platform
The European Debt & Special Situations division provides its borrowers with a wide range of financing solutions by actively investing through its four strategies: LaSalle Real Estate Debt Strategies, LaSalle Residential Finance, LaSalle Whole Loan Strategies and Special Situations. Our debt products include whole loans, mezzanine, development financing, stretched senior loans, preferred/joint venture equity in the UK and Western Europe. LaSalle's US debt platform is a commercial real estate bridge lender providing short term, floating rate loans to middle-market commercial real estate sponsors. The group's primary focus is on originating new bridge loans for value-add and transitional properties in sustainable growth markets throughout the US. Each transaction is underwritten with a bottom-up method through an equity owners' lens making sure that all interests are aligned and there is a clear exit strategy
Global Partner Solutions
LaSalle acquired the real estate Multi-Manager business of Aviva Investors in 2018. The existing London-based Global Indirect Business has been incorporated into a new global platform 'LaSalle Global Partner Solutions' with on the ground presence in London, New York, Chicago and Singapore, investing in funds, joint ventures, co-investments and secondaries.
Securities
LaSalle's Real Estate Securities programme gives institutional and individual investors a simple way to access the world's major commercial real estate markets and is one of the most experienced real estate securities investment managers.
Sector forecasts
INDUSTRIAL: The US industrial market's strong start to 2019 carried over into the second quarter, with the national availability rate at 7.1%, close to an all-time low. Industrial rent growth slowed slightly from the last several quarters but remained historically strong, with asking rents increasing by 6.4% year-over-year to $7.50 PSF. Completions for the quarter exceeded net absorption by 10.7m sq ft. Despite uncertainty surrounding mounting global trade tensions, sustained growth in e-commerce and a robust labour market have buoyed demand for warehouse space even as supply steadily grows. Industrial NPI returns led all other property types by a wide margin, generating a 13.9% trailing year total return.
OFFICE: US office vacancy rates continued to fall through the second quarter of 2019, reaching 12.2% – the lowest level since 2001. That trend has been driven by particularly strong demand, with 14.7m sq ft of new completions being offset by 17.1m sq ft of net absorption in the quarter (outpacing the trailing five-year average for net absorption of 13.6m sq ft). Downtown/CBD vacancy (10.4%) remains lower than suburban vacancy (13.2%), however suburban vacancy is falling more rapidly. Office rent growth continues to accelerate, with average gross asking rents increasing by 5.1% year-over-year this quarter. Quarterly NPI returns for office were in line with the previous four quarters at 1.7%, and trailing year overall returns for office (6.8%) narrowly beat the mark for all property types (6.5%).
RESIDENTIAL: Slowing performance continued in 2Q 2019, due to competition with e-commerce. Both supply and demand were flat; quarterly absorption for open-air retail centers remains positive but sunk to its lowest level in three years. National vacancy in power centres rose to 4.9%, up 50bps from last year. Despite strong consumer sentiment and a boost to consumer spending, 7,600 store closures have already been announced in 2019. Year-over-year rent growth for the quarter was 2.5%, and is expected to fall to 1.0% in 2020. Total NPI retail returns for the current quarter were –0.11%. Up to a five-year basis, retail is the worst performing sector among major property types.
RETAIL: Stagnant demand growth combined with a lack of new supply kept US open-air retail fundamentals stable in the second quarter. Demand trended lower in the quarter as space vacated at power centres impacted the statistics. Retailer closure announcements have moderated from earlier in 2018, but continued to hit the headlines last quarter, under the cloud of e-commerce market share growth. Construction remains at a historic low of 0.3% as retailers are being very cautious with expansions. NPI returns for retail lag the index and are the lowest of all property types. Given the stress on the sector this is expected to persist for several years as appraised values trend lower.
Investment principles & strategy
Clients come first in our business and we use our fiduciary experience to deliver competitive performance. Our many long-standing clients trust LaSalle and often invest in multiple mandates with us around the globe. A global investment perspective, fostered by the insights of our global research team and the experience of our fund managers, coupled with our ability to execute deals and manage real estate, allows us to seek out robust returns for our clients.
LaSalle's in-house proprietary research gives our clients unique insight into global property markets. We invest heavily in market analysis and investment strategy, believing that a deeper understanding of market dynamics directly influences our ability to deliver competitive investment performance. The strength of the integrated relationship between research and investment teams is vital in generating ideas and investment opportunities for clients.
Our Research & Strategy team identifies opportunities in the market, as well as develops client-specific strategies, providing direction to the investment teams, whose knowledge and network of contacts ensure LaSalle access to both on-market and off-market opportunities.
Performance verification
LaSalle internally calculates asset and fund level performance according to the NCREIF/PREA Performance Measurement & Risk manual & guidance; which follows GIPS where applicable. LaSalle internally conducts a quality control and trend analysis process on a quarterly basis before considering any performance finalised to disseminate. LaSalle measures its US client mandates according to the mandate directed benchmark, which are typically, but not limited to the NCREIF Property Index or the NCREIF Fund Index-ODCE. LaSalle's Canadian mandates contribute to MSCI and measure its Canadian asset and fund level performance against various MSCI Canadian regional benchmarks as appropriate to each mandate. LaSalle's US Private Equity Real Estate is currently undergoing GIPS verification for a seven-year compliant track record for the periods 1 January 2012 through 31 December 2018 under the 2010 GIPS standards. LaSalle has a plan in place to claim compliance for these periods in 2020. Once verification is complete, LaSalle's US Private Equity Real Estate business line will continue to be verified annually by thirdparty verifiers to ensure compliance is maintained.
COMPLIANCE STATEMENT
The information contained herein is for the sole purpose of providing general information to institutional investors about LaSalle Investment Management and its affiliates. Certain information herein sets out general views of LaSalle Investment Management regarding certain property markets and types of property therein. No representation is made concerning the accuracy of the information compiled herein, and no guarantee or assurance is given that any forecast or opinion in these materials will be realised. For the avoidance of doubt, the information contained herein is not investment advice and may not be construed as the promotion or marketing of any services or financial product sponsored or provided by LaSalle Investment Management or any of its affiliates. Securities offered in the United States through LaSalle Investment Management Distributors, LLC, a member of FINRA/SIPC.