Corporate overview
We are a leading commercial property investment manager, focused on the UK market and acting on behalf of institutional clients world-wide to advise on investing in and the active management of UK commercial property assets.
Established in 2004, we have a consistent track record of investment outperformance for each of our funds. Orchard Street had assets under discretionary management of €4.42bn as at 30 June 2020.
We possess the full range of skills and key networks to enable us to provide a full service property investment management offer, whilst retaining a boutique approach to client relationships. Our focus is on identifying the best properties, creating the right transaction structures and using a disciplined investment approach. Our partners have a wide breadth and depth of experience built across the industry over many years and their hands-on approach is integral to the success of our investment approach.
Sector forecasts
INDUSTRIAL: This sector continues to go from strength to strength with the inexorable rise of internet retailing being accelerated most recently by the COVID -19 outbreak. This is driving rent up, particularly for smaller and medium sized properties in and around the larger urban areas. We think the broader trend of strong outperformance of this sector has another two to three years to run but we are increasingly selective in our acquisition strategy, avoiding properties which we see as ex-growth or over-priced, instead focusing on those where there is sustainable tenant demand, limited competition and the opportunity to push rents forward through active asset management.
OFFICE: The office sector is currently treading water as COVID -19 has hit demand for offices in the short term. Similar to the industrial sector, we expect the virus to act as an accelerator to pre-existing trends of home / flexible working and further increase the pace of investment in automation/ AI. We expect the greatest impact on demand to be in back office/secondary locations. Demand for offices for higher value functions we believe will become increasingly concentrated in the principal major office centres and any reduction in office headcount with be mitigated by an increase in floorspace per worker as corporates seek to improve the working environment so as to encourage greater productivity, staff retention and prospects for recruiting the best talent. Brexit is expected to have a negative impact on economic growth in the short term, although, given the size of the impact which COVID -19 has made, it may be difficult to isolate the impact that it has. In addition, at least some of the impact has already been priced in, via falls in the value of sterling and the relatively attractive pricing of UK assets versus other large continental European markets where values have continued to rise.
RESIDENTIAL: Residential investment is re-emerging as an institutional asset class after a prolonged hiatus, as owner occupation has become both increasingly out of reach of many and renting the preferred choice for others. Demand remains focused on the larger urban areas with proximity to public transport a key factor. The stock of large scale is due to increase substantially over the next few years as a number of larger-scale developments complete. We continue to appraise investments on a case-by-case basis, including where there is an option to add value through change of use, but have yet to find a compelling investment proposition of sufficient scale which delivers an appropriate risk return for our clients.
RETAIL: The UK has too much retail space in the wrong locations and this is expected to depress the performance of this sector for some time to come. However, not all retail property is bad, rather the retail sector has become polarised by changes in consumer spending patterns which have been accelerated by the pandemic. The pandemic has also exposed weaknesses in the highly leveraged structures, which rely on continual rapid cashflow, put in place by private equity firms that have in recent years become invested heavily in acquiring retailers. In the short term we see further pain for town centre retail but we believe that the performance of retail parks will remain more resilient and at current levels of pricing offer attractive and sustainable income streams. Over the medium term we see only limited opportunity to deliver acceptable performance in smaller and medium-sized town centres, except perhaps via change of use.
OTHER: Outside of the main commercial property sectors we see opportunities for a diverse range of investors from both longer term inflation-linked income leases on primary and secondary healthcare but also medium-term opportunities such as hotels and direct-let student accommodation. However, each asset should be considered on its individual merits with a particular focus on sustainability of the underlying operational business and the residual value of the asset.
Investment principles & strategy
Income is the key to outperformance in property investment, with approximately 75% of total return coming from income over the longer term. Our beliefs are that:
Pro-active asset management creates consistent outperformance
Disciplined investment decisions are key to performance
Reputation for quick and reliable execution adds value
Experience counts – executive partners average 20 years-plus experience in the sector
Smaller highly focused teams outperform larger firms
Communication is critical
Strategic corporate development
Since inception in 2004 Orchard Street has built a reputation as a trusted adviser to a small number of world-class institutional investors. We have a demonstrable record for consistent outperformance based on disciplined stock selection and a structured, relentless approach to asset management.
In October 2014, MLC Asset Management (previously NAB Asset Management) became a partner with a majority ownership interest in Orchard Street. Executive partners retain a minority stake in the business.
We continue to grow the business at a pace that preserves our real estate performance track record for all our clients and we retain our focus on deep, long term relationships with our client base.
Performance verification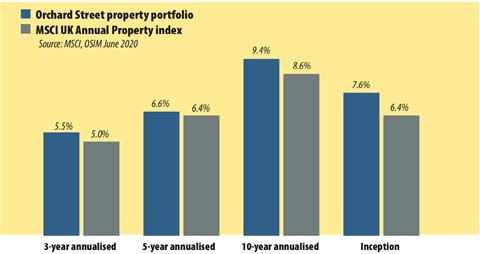 OSIM has consistently outperformed over three, five and 10 year periods against the MSCI UK Annual Property index. The performance shown above is a composite track record of OSIM core/core-plus client mandates that are benchmarked against MSCI.
COMPLIANCE STATEMENT
This information is provided for use by qualified institutional investors and their advisors only. Further information is available on request or on our website.
Whilst Orchard Street Investment Management LLP is not regulated, its wholly owned subsidiary, Orchard Street Investment Advisers Ltd. is authorised and regulated by the Financial Conduct Authority of the UK (FRN 461061).