Corporate overview
We are a leading commercial property investment manager, focused on the UK market and acting on behalf of institutional clients worldwide to advise on investing in the responsible and active management of commercial property assets.
We are a trusted adviser and have delivered 17 years of consistent performance for our clients.
Responsible investment is in our DNA. It's embedded in every aspect of how we operate as a business and how we manage our clients' capital. We consider the environmental, social and regulatory risks to, and impacts of, all of our assets under management.
Orchard Street is leading the way towards a low-carbon, prosperous future. By combining pioneering sustainability know-how with proven asset management expertise, we create cleaner buildings and better financial outcomes.
We can help you reach your sustainability goals.
Orchard Street – the perfect balance of sustainability and performance.
Responsible real estate investment manager
100% of responsible investing targets met in 2020
First UK refurbished building to receive WELL Gold Shell & Core certification
First carbon neutral in operation industrial site in west London
Founded in 2004
We only invest in real estate, €4.3bn in AUM*
16 years of driving consistent outperformance for our small stable of world class investors
Strong track record executing investment programmes
c. £3bn invested over last seven years and more than £1bn sold Ț Partners financially aligned with our clients' interests
Single investment committee delivers consistency across all mandates through cycles
Reputation for shrewd stock selection and forensic asset management
* AUM as at 31 December 2020 and represents the aggregate of the net asset values of client assets under management, measured under the individual client's reporting GAAP (Generally Accepted Accounting Principles), with the addition of undrawn committed capital.
Sector forecasts
INDUSTRIAL: Demand from both investors and occupiers continues to outstrip the supply which is pushing up rents and values and we expect this to continue for at least the next 12–24 months. However, rising prices have driven down the rental yields in this sector, particularly in London and the South East, making them potentially more exposed to an economic down- turn than other higher yielding parts of the market. We continue to favour multi-let industrial estates in supply constrained urban areas, although we are becoming increasingly selective in certain parts of London and the South East where rents have risen sharply, and so we have concerns over affordability, and yields plumb further historic lows. The vast majority of the existing stock, particularly multi-let industrial estates, has relatively poor environmental credentials, but this can be profitably rectified by targeted refurbishment. This brings with it stronger tenant demand, higher rents and keener valuation yields as well as substantial environmental benefits from their substantially reduced carbon footprint.
OFFICE: COVID -19 continues to depress demand for offices in the short term and we expect vacancy rates across most segments of the market to continue to rise, albeit vacancy will continue to be concentrated in poorer quality second hand stock. The virus has accelerated the trend of flexible working which is likely to result in a short-term reduction in demand but we expect this to be focused on secondary office centres and we see demand in the larger, more vibrant urban centres, to begin to recover in late 2022 as corporates and particularly younger employees rediscover the value of the office. As a result, we expect that tenant demand will increasingly focus on better quality 'healthy buildings' where people want to work (rather than ones you can squeeze more bodies into) and that a significant performance differential will emerge between these buildings and the rest of the market.
RESIDENTIAL: Residential investment is re-emerging as an institutional asset class after a prolonged hiatus, as owner occupation has become both increasingly out of reach of many and renting the preferred choice for others. Demand remains focused on the larger urban areas with proximity to public transport and amenity key factors. The stock of large scale privately rented accommodation is due to increase substantially over the next few years as a number of institutional investors re-enter the sector. We continue to appraise investments on a case-by-case basis, including where there is an option to add value through change of use, but have yet to find a compelling investment proposition of sufficient scale which delivers an appropriate risk return for our clients.
RETAIL: The UK has too much retail space in the wrong locations and this is expected to depress the performance of this sector for some time to come. However, not all retail property is redundant, rather the retail sector has become polarised by changes in consumer spending patterns which have been accelerated by the pandemic. The pandemic has also exposed the weaknesses of a number of highly leveraged retailers and those who have failed to adapt their offering for changing consumer tastes. In the short term we see further pain for town centre retail but we believe that the performance of retail parks will remain more resilient, and at current levels of pricing, offer attractive and sustainable income streams. Over the medium term we see only limited opportunity to deliver acceptable performance in smaller and medium-sized town centres, except perhaps via change of use or from dominant local 'neighbourhood' retail centres which are not oversupplied.In the long term we expect to see enduring value in retail park investments underpinned by income and, as the impact of COVID -19 fades, from the larger 'destination' city centres where their leisure offer is key to sustaining consumer interest.
OTHER: Outside of the main commercial property sectors we see opportunities for a diverse range of investors from both longer-term inflation-linked income leases on primary and secondary healthcare but also medium-term opportunities such as hotels and direct-let student accommodation. However, each asset should be considered on its individual merits with a particular focus on sustainability of the underlying operational business and the residual value of the asset.
Investment principles & strategy
We believe that income is key to outperformance in property investment, with approximately 75% of total return coming from income over the longer term. Our core beliefs as a real estate manager are that:
Responsible investment, which is embedded within our acquisitions, development and refurbishment procedures, enhances the long-term value of our clients' real estate portfolios
Pro-active asset management creates consistent outperformance
Disciplined investment decisions are key to performance
Our reputation for quick and reliable execution adds value
Experience counts
Smaller highly focused teams outperform larger firms
Communication is critical
Maintenance of a strong control environment is fundamental to client needs.
Performance verification
OSIM has consistently outperformed over three, five and 10 year periods against the MSCI UK Annual Property index. The performance shown above is a composite track record of OSIM core/core-plus client mandates that are benchmarked against MSCI.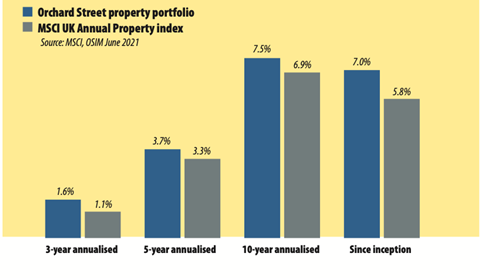 COMPLIANCE STATEMENT
This information is provided for use by qualified institutional investors and their advisors only. Further information is available on request or on our website.
Whilst Orchard Street Investment Management LLP is not regulated, its wholly owned subsidiary, Orchard Street Investment Advisers Ltd. is authorised and regulated by the Financial Conduct Authority of the UK (FRN 461061).