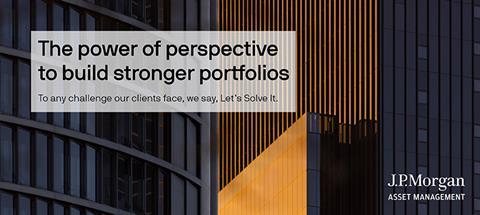 Corporate overview
At J.P. Morgan Asset Management, we believe investors deserve an expert global partner they can trust to step up and deliver strong outcomes. From the largest institutional investors around the world to financial advisors around the corner, our clients rely on the power of perspective to help build stronger portfolios and solve their toughest challenges.
Our perspective draws on knowledge earned over a century of investing through every market cycle. Today, with market intelligence trusted the world over, we offer deep, actionable insights. From our vantage point, we strive to see correlations others miss and seize opportunities that our global, connected view can deliver. Through our fully ESG-integrated investment platform, enhanced investment stewardship, and range of ESG-focused strategies, we invest for sustainable return in a sustainable world.
Campbell Global, part of J.P. Morgan Asset Management since 2021, is our leading global investment manager focused on forestland. They are widely recognized as an authority on both forest management and timberland investing. Based in Portland, Oregon, they have nearly four decades of experience in forestland management and value creation. A pioneer in the field, over the last 35+ years they have managed more than 5.3 million acres (2.1 million hectares) worldwide for pension funds, foundations, and other institutional investors. As of December 31, 2021, Campbell Global managed approximately USD 5.5 billion and over 1.7 million acres (0.7million hectares) in U.S., Australia, New Zealand, and Chile.
Vision and beliefs
Responsible investing is core to our corporate values
Responsible investing is core to our corporate values and drives us to find new ways to improve our environment. This is why we plant trees to replace those we've harvested, open our forests for recreational purposes and report on our activities with precision and transparency. We are a partner to clients, communities, environmental groups and local governments.
2020 key performance indicators:
Planted 536 million trees since our founding (24 million in 2020 alone) across 20,480 hectares
Created 3,850+ direct and indirect jobs
Conducted 6,200+ safety trainings and inspections
Protected more than 8,000 kilometre of streams across 63,130 hectares
A leader in creating carbon offsets
Carbon offsets are essential for meeting Global and Corporate Greenhouse Gas Emissions Targets, and working forests are an ideal natural capital solution for generating offsets. Campbell Global is a leader in creating carbon offsets and sequestering carbon by implementing a variety of strategies including sustainable management practices on commercial forestlands, improved forest management projects, afforestation projects and forest management regimes that yield stored carbon in harvested wood products.
Investment process and research
Timberland has the flexibility to fit into a variety of portfolios and need not be a dedicated allocation. We see our clients and other timberland investors adding their investments to a broad spectrum of allocations including: Dedicated timberland allocation, real estate, real assets, inflation edge, sustainability/impact.
Timberland investing can offer a variety of benefits:
Inflation risk: Respond positively during inflationary environments.
Diversification: Biological growth drives strong diversification vs. other asset classes.
Consistent income: Steady income driven primarily by the sale of harvested logs.
Sustainability: Sequester carbon, promote biodiversity, and deliver renewable products used across the economy
Campbell Global has a rigorous and disciplined investment approach that focuses on core timberland markets and transactions of scale. The team has developed a robust data- and technology-driven process over decades that is further informed by carbon know-how and sustainability considerations.
Why Campbell Global?
For over four decades, Campbell Global has created value through its innovative thinking and dynamic approach to investing in and managing sustainable forests. Dedicated specifically to sustainably managing timberland, our integrated, experienced team — from investment professionals to local, boots-on-the-ground foresters — seeks to capitalize on opportunities.
Strategies and products
Campbell Global, part of J.P. Morgan Asset Management since 2021, is our leading global investment manager focused on forestland.
40+ years of timberland investing experience
USD 5.5bn assets managed worldwide
1.7m acres managed worldwide
Gain access to a real assets strategy that provides diversified exposure to core timberland assets around the word, while targeting a negative carbon footprint (SFDR Article 9).
Please contact your J.P. Morgan Asset Management client advisor, or use the contact us tab for more details.
Compliance statement
This is a marketing communication and as such the views contained herein are not to be taken as advice or a recommendation to buy or sell any investment or interest thereto. It should be noted that the value of investments and the income from them may fluctuate in accordance with market conditions and investors may not get back the full amount invested. Past performance and yield are not a reliable indicator of current and future results. There is no guarantee that any forecast made will come to pass. J.P. Morgan Asset Management is the brand name for the asset management business of JPMorgan Chase & Co. and its affiliates worldwide. Our EMEA Privacy Policy is available at www.jpmorgan.com/emea-privacy-policy. This communication is issued in Europe (excluding UK) by JPMorgan Asset Management (Europe) S.à r.l.and in the UK by JPMorgan Asset Management (UK) Limited, which is authorised and regulated by the Financial Conduct Authority.