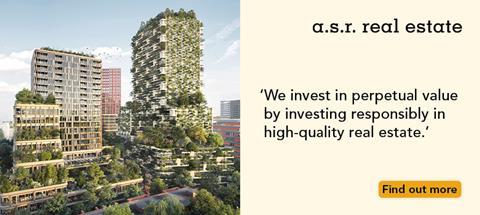 a.s.r. real estate has been investing in real estate on behalf of institutional investors and managing real estate portfolios for over 130 years. As part of a.s.r., one of the largest insurance companies in the Netherlands, a.s.r. real estate has always felt responsible for delivering long-term returns on invested assets. Forward thinking and sustainability is part of our DNA.
Investing in perpetual value
a.s.r. real estate manages non-listed sector funds, which invest in retail and residential properties, offices, real estate on science parks and agricultural land in the Netherlands. We also invest in renewables.
ASR Real Assets Investment Partners invests globally in indirect non-listed real estate and infrastructure and listed real estate on behalf of our clients.
Thanks to our many years of experience, we know that real estate asset management is fundamentally about people. People who count on us for their lives and livelihoods. People who rely on financial security through their pension fund and insurance company. And, of course, our own people.
That's why we invest not only in advanced systems and tools but also in attracting and retaining the most experienced and talented professionals. We strongly believe that investing in quality is the best way to guarantee a return on investment and long-term value development.
As a team, we deliver on our promise to 'invest in perpetual value' by investing responsibly in high-quality real estate.
Sector forecasts
OFFICE:
Offices near intercity train stations in the G-4 cities, Amsterdam, Rotterdam, The Hague and Utrecht have been consistently outperforming the general Dutch office market. COVID -19 has led to uncertainty in the Dutch office market and has accelerated the trend of hybrid working. We expect that offices near public transport hubs in the G-4 and Eindhoven will be less affected than other submarkets. The highly urbanised nature of these cities and supply of various functions within walking distance will be especially attractive for the next generation's workforce.
RESIDENTIAL:
The fundamentals driving the Dutch residential market are strong but it is facing some important social and environmental challenges. The population is expected to grow considerably in the coming decades due to ageing and migration. The government is expected to curb increasing rents to improve affordability. Still, under the current market circumstances, affordable rental homes will remain attractive even during any future market turmoil.
RETAIL:
The retail market has rapidly adapted to the digital and physical consumers' shopping needs during COVID-19.Retailers increasingly open and optimise concept stores in city centres to build brand awareness and to increase customer loyalty. This, in combination with the redevelopment of redundant retail on the edges of city centres benefits prime retail locations. Especially in the multifunctional city centres of the G-4 and to a lesser extent G5-8. Moreover, attractive retail yields increasingly trigger investor interest. Food-anchored district shopping centres and supermarkets offer diversification, steady yields and sound fundamentals.
RURAL:
The farmland market fundamentals have been consistently strong in the last decades. Farmland investment is also a diversifier in investment portfolios. The scarcity of farmland, growing worldwide population, high ambitions for renewable investments and demand for food, in combination with a world leading position on agricultural innovation, create a continuous demand for Dutch land. Besides some challenges in the short term, the sector is undergoing one of the most profound transitions in decades towards a more sustainable sector. Adaptative farming plays a key role in reducing exposure and vulnerability to climate change and can be supported by technology and social innovation. Investing in farmland can help investors to reach goals regarding corporate social responsibility.
SCIENCE PARKS:
The science park real estate market fundamentals have been consistently strong. In fact, most science park-specific sectors, such as pharma, biotech and life science have even benefited from COVID-19. Continued investments in these sectors remain due to the COVID -19 crisis as the need for vaccines and R&D in human health and life science are becoming more necessary in 'tomorrow's society'. The long-term growth trend of knowledge-based industries is expected to continue as supply chain issues and geopolitical turmoil could contribute to additional reshoring of some parts of the high-tech and pharmaceutical industries.
Investment principles & strategy
The a.s.r. real estate fund's investment policy is to invest in direct real estate, by selecting core high-quality assets in the best locations in the Netherlands. We provide investors the opportunity to invest in funds with stable, sustainable and attractive returns. While this ensures the quality of the portfolios it also protects against future obsolescence. Key points in a.s.r. real estate's investment strategies include:
Core funds:
Provide investors with stable, low-risk and attractive returns through active asset management with our in-house fund, asset and property management.
Personal approach:
It's all about people. That's why a.s.r. real estate builds a personal relationship with all of our clients to gain a thorough understanding of their needs.
Long-term:
As part of an insurance company, a.s.r. real estate has always felt responsible for delivering long-term returns on invested assets. Forward thinking and sustainability are part of our DNA.
Research-driven investment approach:
Research is fundamental to the investment style, philosophy and process. The research department translates market data and market analyses into tailor-made investment views and advisory reports.
Strategic Corporate Development
On behalf of our clients, we invest responsibly in high-quality real estate that fits within a clearly defined strategy. We are convinced that this offers the best guarantee for returns and value development in the long term. Not only for our clients but also for society.
With ASR Nederland N.V. as anchor investor and a strong international investor base consisting of more than 30 institutional investors, a.s.r. real estate is able to anticipate developments and act quickly on opportunities that arise in the market. Such as acquiring assets and portfolios, structuring non-listed real estate sector funds, but also investing in renewables (solar and wind farms).
Performance Verification
The funds' investment returns are closely monitored and compared with market benchmarks such as the MSCI Dutch or relevant European sector indices. To value sustainability, we use the GRESB scores.
Compliance statement
ASR Real Estate B.V. (a.s.r. real estate) is a Private company with limited liability (Besloten vennootschap met beperkte aansprakelijkheid) incorporated under the laws of the Netherlands. a.s.r. real estate is a subsidiary of ASR Nederland N.V. a.s.r. and its licensed subsidiaries are supervised by the Dutch Central Bank (DNB) and the Netherlands Authority for the Financial Markets (AFM).
a.s.r. real estate holds a license as a manager of alternative investment institutions as referred to in Section 2:65(1)(a) of the Financial Supervision Act (Wet op het financieel toezicht (Wft)). Pursuant to this license a.s.r. real estate acts as a manager of alternative investment institutions in the sense of article 1:1 Wft.