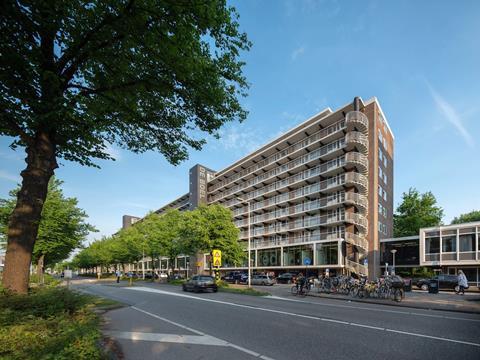 Leading institutional residential investor
Vesteda invests the pension savings and insurance premiums entrusted to it by institutional investors, such as pension funds and insurance companies, in sustainable Dutch homes for middle-income tenants.
Vesteda is a service-oriented institutional residential investor with a sizeable and varied portfolio of homes in attractive neighbourhoods in the Netherlands. With an investment portfolio of more than 27,000 homes, representing a total value of nearly €8 billion at the end of 2019, Vesteda manages the largest Dutch residential fund. Vesteda is internally managed, is cost-efficient and has in-house property management.
As such, Vesteda contributes to future income security for retirees, affordable living for Dutch middle-income households and to the continued improvement of the quality of urban communities.
Key characteristics
Vesteda
Established in 1998 as Vesteda Woningen (Vesteda Residential Fund) as a spin-off of the residential portfolio of Dutch pension fund ABP
Single fund manager
Internally managed: no management fee structures and carried interest arrangements
Open-ended core residential real estate fund
Broad institutional investor base with a long-term horizon
Attractive risk profile
Limited use of leverage (target <30%); S&P credit rating BBB+
Active investor relations policy
In-house property management since 2003
Governance in accordance with best practice guidelines, including INREV, with the emphasis on transparency and alignment of interests
AIFMD (Alternative Investment Fund Managers Directive) licence obtained in 2014
Transparent for tax purposes (fund for the joint account of participants; Dutch FGR fund structure)
GRESB five-star rating (the highest) and ranking of third in a peer group of 16
Assets
Vesteda offers sustainable housing and operates in a socially responsible manner
All in the Netherlands, all in residential and related properties
Well-diversified portfolio consisting of nearly 500 residential complexes in economically strong regions
Focus on the mid-rental segment with monthly rents between €737 and approximately €1,200
Targets
Outperform the Customeyes benchmark and work towards our long-term goal of having a tenant satisfaction score of at least 7
Ensure that 99% of our portfolio has green energy labels (A, B or C) by 2024
Outperformance of the three-year MSCI IPD Netherlands Residential Benchmark
Focus on affordability and sustainable living:
The limited availability of affordable housing in combination with rent increases far higher than inflation, is a problem for our target group, middle-income households. Supply is limited and this scarcity has driven up market rents in recent years. The increasing pressure on the housing market in the major cities in the Netherlands is pushing more and more people out to the suburbs and the satellite cities near major urban centres. As a socially responsible investor with a long-term perspective, we believe it is important to serve this group as effectively as possible. This is why Vesteda has voluntarily capped its rent increases for its free market rental contracts for the past two years.
Vesteda continues to make good progress on our ESG objectives. Our efforts relate among other things to resource consumption, portfolio sustainability, stakeholder engagement and health and well-being. Thanks to its focus on sustainability, Vesteda qualifies for financing in the form of green bonds. In May 2019, Vesteda was therefore the first residential real estate investor to issue a euro green bond. It has already helped us attract a broader group of investors, reduce our average interest rate and extend the average term of our financing facilities. We have used the €500 million proceeds of the bond to refinance sustainable homes, as well as to finance sustainable projects in the acquisition pipeline.
Investment principles
The profile of Vesteda is that of a 'core' investment fund. Investment is only in Dutch residential and housing-related properties.
Performance verification
Vesteda compares its yield with the MSCI IPD/ROZ Netherlands 'All Residential' benchmark that expresses the average yield of Dutch residential property investments over various periods. The index gives the market average of actual results of all participants (including Vesteda), allowing for sales, purchases and redevelopments in addition to the standing investments.
COMPLIANCE STATEMENT
Vesteda Residential Fund is a contractual investment fund (beleggingsfonds) as defined in section 1:1 of the Dutch Financial Supervision Act (AFS).
The manager, in its capacity as manager and operator of Vesteda Residential Fund, is subject to regulation by the Dutch Financial Markets Authority (Autoriteit Financiële Markten) and the Dutch Central Bank (De Nederlandsche Bank). The manager obtained a license to act as manager of alternative investment funds in accordance with article 2:67 of the AFS on 17 February 2014. The participation rights can only be acquired by professional investors as defined in section 1:1 of the AFS.
This presentation may contain forward-looking statements. These forward-looking statements are based on current assumptions about future activities and are subject to known and unknown factors and other uncertainties, many of which are beyond Vesteda's control, and so actual results in the future may differ materially from these expectations.