Taking enhanced indexing to the next sustainability level
The rising demand for sustainable investment solutions poses challenges. Asset managers are increasingly required to apply high ESG and environmental standards, even to the most basic index-based strategies. In this context, being able to combine some of the highest sustainability standards with efficient quantitative investment techniques has become a key distinguishing feature. This was clearly demonstrated by Robeco's recent win of a mandate from France's Fonds de Reserve pour les Retraites.
Speed read
• Integrating high sustainability standards and rules-based investment
• Monitoring environmental impact in addition to classic ESG scores
• Customizable portfolios to meet client-specific requirements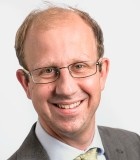 Back in 2015, the French pension fund Fonds de Reserve pour les Retraites (FRR) was looking to renew its passive equity mandates and, in the process, it wanted to integrate high sustainability standards. In particular, the French organization wanted to reduce its portfolio's carbon footprint by 50% and to enhance the ESG profile of the portfolio with a focus on the environmental dimension, in line with its ambitious investment policy.
At the same time, however, methodology requirements for the different targets mentioned in the tender were intentionally left open for interpretation. Very limited guidance was provided in terms of precise metrics and quantitative constraints.
"Our Zurich-based sister company and sustainable investing pioneer, RobecoSAM, was actually already looking into similar requests from other clients," says Machiel Zwanenburg, a portfolio manager from Robeco's quantitative equities team. "Moreover, it appeared that many of the elements sought by the FRR were already part of the building blocks of our existing RobecoSAM QI Global Sustainable Equities strategy."
Monitoring environmental impact
The chosen approach relies on the new Environmental Impact Monitoring tool developed by RobecoSAM. This tool (see Figure 1 below) helps investors assess the footprint of their portfolios and to make better informed decisions, based on four key metrics: greenhouse gas emissions, energy consumption, water consumption and waste generation.
Figure 1: Sample Environmental Impact Report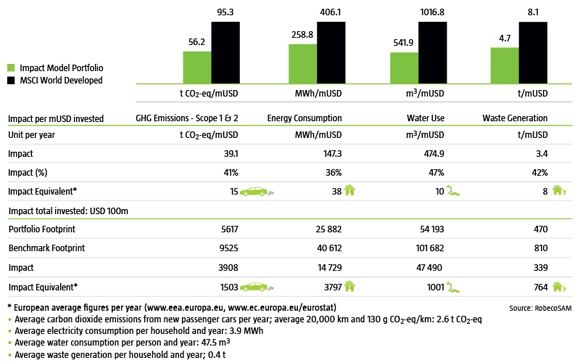 "The solution we were able to develop for the FRR was avant-garde because it systematically included the RobecoSAM Environmental Dimension Score," said Daniel Wild, Head of Sustainability Investing R&D at the Switzerland-based firm. This forward-looking score complements the firm's current environmental rating, and allows one to gauge the readiness of a company to master future environmental challenges and opportunities.
In addition, drawing on its proprietary Corporate Sustainability Assessment (CSA), RobecoSAM can also help ensure the portfolio maintains its high ESG quality standards. RobecoSAM's CSA consists of an annual ESG analysis of over 3,800 listed companies and is one of the most comprehensive databases of financially material sustainability information.
In practice, this means the FRR will be able to:
1. Avoid the worst environmental offenders
2. Apply a 50% carbon reduction restriction to the portfolio algorithm
3. Select the companies that are best equipped to manage future environmental challenges
Not purely passive
The FRR also appeared to be quite flexible regarding the reference indices that could be used as benchmarks and actually came up with a list of possible benchmarks. And, despite the fact that the fund was initially looking for passive solutions, some of those selected were actually smart beta indices. In this context, an enhanced indexing strategy, designed to systematically capture the market return and, in addition, benefit from well-rewarded factor premiums, quickly appeared to be the best way forward.
This kind of rules based approach lends itself particularly well to combining performance targets with sustainability goals. While most passive-leaning investment strategies deal with sustainability as a separate issue, this solution aims to strike an optimal balance in order to maximize sustainability profile of a portfolio and its ability to harvest factor premiums.
Enhanced indexing portfolios take the capitalization-weighted index as a starting point. Then they give slightly more weight to stocks with favorable factor characteristics and slightly less to stocks with unfavorable factor characteristics, using proprietary investment models. This ensures the investment is relatively cost effective, while preventing overcrowding and arbitrage.
"A portfolio with a positive environmental impact while providing an attractive risk/return profile"
Robeco's Core Quant equity strategies follow this kind of enhanced indexing approach. They exploit proven factor premiums such as value, quality and momentum, combined within a transparent portfolio algorithm and a unique set of risk controls, designed to consistently outperform the market after costs. In addition, our proprietary portfolio construction algorithm features a flexible structure, so we can easily adapt mandates to a variety of individual requirements concerning, for example, the investable universe, the level of active risk and the integration of stricter sustainability criteria.
Integrated investment process
Robeco stood out from the competition by pitching a strategy that was not purely passive. One crucial element in the selection process was to convince the FRR that sustainability investing and risk-controlled quantitative techniques could be fully integrated in one comprehensive solution. By combining well-known factor premiums with a higher exposure to companies with enhanced sustainability profiles, the strategy generates a portfolio with a positive environmental impact while at the same time providing an attractive risk/return profile.
Finally, active ownership aspects were also among the key elements that influenced the FRR's decision. At Robeco, we believe that voting in our clients' interests, as well as engaging with the companies in which we and our clients invest have a positive impact on both investment results and on society.
"This mandate win clearly proves that in addition to generating returns, pension funds also want to make an impact by integrating ESG data into their investment portfolios," Wild says. "It highlights the progress we are making on developing the third generation ESG scores, which complement well-known factors such as value, momentum, low volatility and quality."
In short, we have devised a solution that:
• Combines Robeco's experience in quant and RobecoSAM's expertise in sustainability
• Enables a 50% reduction of carbon footprint compared to the MSCI World index
• Integrates reliable historical environmental data and forward looking sustainability criteria
• Benefits from well-known factor premiums, resulting in an attractive risk/return profile
• Remains flexible and can be customized to fit the client's specific requirements