Some emerging markets are more equal than others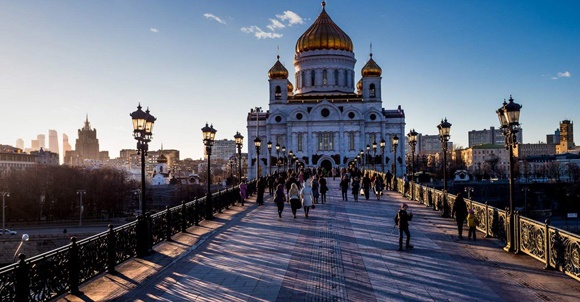 2017 was the year of the dramas that did not unfold. President Trump did not stop international trade, Kim Jong-un did not start a nuclear conflict, and equity markets did not collapse following the Fed's rate hikes. What equity markets did do, was keep an eye on fundamentals, with global growth picking up and earnings improving across not only developed markets but also emerging markets.
Speed read
• Earnings revisions in emerging markets turn positive
• Asia looks healthy, growth in Latin America is disappointing
• Political developments and the pace of tapering are risks
Frankly, we expect more of the same of what happened in 2017 to happen in 2018: with sustained earnings growth and markets performing for as long as the central banks' tapering remains well flagged and proceeds in line with the pick-up in global growth. As a base case, we expect at least three rate hikes and the start of Quantitative Tapering in the US, while we believe the European Central Bank will not start tightening its ultra-loose stance before September 2018.
When looking at the different markets, there seem to be two main discriminants: the first one is valuations, as European equities are cheaper than their US and Japanese counterparts, and emerging market equities are cheaper than developed markets equities overall.
Figure 1 Emerging markets equities trade at a discount to developed markets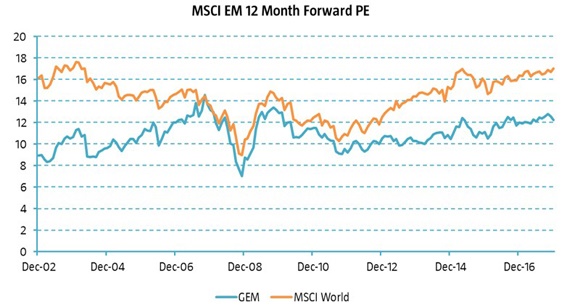 The second one is earnings revisions, which we argue might be close to a peak in 2018 for developed markets, but have just turned positive for emerging markets. 
Figure 2 Earnings revisions emerging markets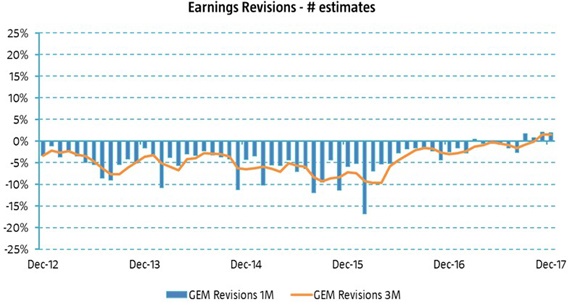 Not all emerging markets are equal
The case for emerging versus developed markets is still compelling. Emerging markets show a 25% discount to developed markets (based on forward Price-Earnings) and are in a more recent stage of recovery particularly versus the US. That said, not all emerging markets are equal. While the overall growth outlook among emerging markets is improving, there are wide differences.
The outlook for Asia is healthy, even when including China, where we expect growth numbers to come down only gradually. However, in contrast to Asia, growth in Latin America has been disappointing. In Brazil, economic growth finally seems to be turning positive, but it remains low and the fiscal deficit is still very large. Mexico is showing some strength, but the outlook remains uncertain due to the North American Free Trade Agreement (NAFTA) negotiations, and this could affect future Gross Domestic Product growth.
In Europe, the Middle East and Africa (EMEA), growth is improving for Poland, the Czech Republic and Hungary (the CE3 countries) and Russia, but South Africa continues to face headwinds. Credit growth and a loose monetary policy are helping growth in Turkey, but this could come at the expense of continued inflationary pressures, with the most recent CPI number at 13% yoy. Based on the above, our Emerging Markets Equity team continues to prefer Asia to Latin America and EMEA, maintaining a negative stance on Turkey and Mexico, while cautiously keeping an eye on the political developments unfolding in South Africa and Brazil.
Two types of risks
Looking at equity markets, many of us have been investing long enough to know that nothing ever moves in a straight line, and that we always need to keep an eye on the risks. Our investment teams see two risks that developed and emerging markets have in common. The first is political risk, whether it comes from Kim Jong-un's making good on his nuclear threats; the outcome of elections in Brazil, Mexico or Italy; or the unfolding of Brexit.
The second is the pace of tapering. Although we expect to see a pick-up in the pace of monetary tightening towards the end of the year, central banks are likely to move slowly in 2018. That said, should inflation pick up above current expectations, for example due to one of the major economies overheating or due to policy measures, we could face a steeper tightening cycle rather than one that gradually responds to improvements in the global economy.
None of the risks above are part of our base case scenario at this moment, which supports our positive view on emerging equity markets. However, in this world where everything seems predictable – even the unpredictability of the risks – we need to look at what comes from left field. For the companies we invest in, innovation is left field.