Country Sustainability Ranking: peripheral progress stalling

The European peripheral countries have not made any further progress in the RobecoSAM Country Sustainability Ranking. The most striking development is the continued political turbulence that Italy is facing. Leader Sweden is the only advanced economy that has seen a notable increase in its score; the other winners, most notably the United Arab Emirates and Israel, are emerging markets.
Speed read
• Scandinavian countries still ahead of the pack
• Progress stalls in European periphery
• Emerging giants face demographic headwinds
The RobecoSAM Country Sustainability Ranking analyzes the environmental, social, and governance (ESG) profiles of 65 countries around the globe. Updated twice a year, it scrutinizes ESG data from 22 developed and 43 emerging market economies to calculate an overall country score. The chart below shows the latest rankings.
Country Sustainability Ranking June 2017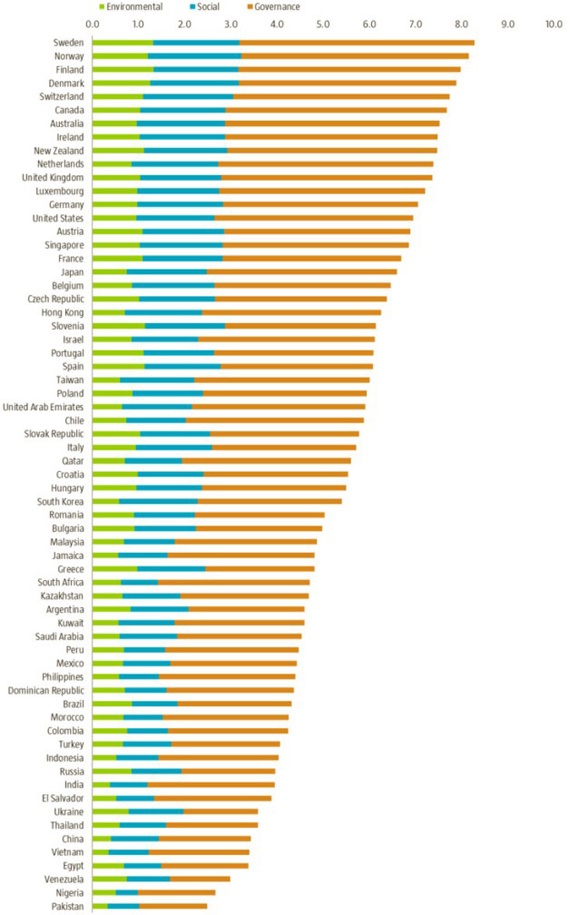 Losing ground: Ukraine and South Korea
The two countries whose scores have deteriorated the most are Ukraine and South Korea. The political situation in Ukraine continues to be tense, while South Korea was rocked by the removal of former President Park Geun-hye in a corruption scandal this year. Tensions with North Korea are also rising. The election of Moon Jae-in in May could restore calm, as he has promised to address corruption, curb the influence of conglomerates (chaebols), and take a more conciliatory approach towards its northern neighbor.
EMU rankings: Ireland to be impacted by Brexit?
Finland consolidated its leading position among the European Monetary Union (EMU) member states. Behind Finland in the EMU ranking comes the Republic of Ireland, which continued to stabilize its overall sustainability profile. However, the country is faced with major uncertainty brought about by the UK's Brexit decision. Britain's withdrawal from the EU could damage British-Irish cooperation, with unintended consequences in areas such as trade, foreign direct investment, energy, migration, and the Republic's future relationship with Northern Ireland. All of these could have potential ramifications for the country's sustainability profile, especially in areas such as political risk and competitiveness.
Progress stalls among peripherals
The European peripheral countries did not make further progress in their sustainability performance. Greece is once again in negotiations for a new debt relief deal with EU officials and the IMF. In May, the Greek government slashed its GDP growth forecast for 2017 by 1 percentage point to 1.8%, as it moved towards implementing new austerity measures. Social and political tensions are likely to rise again. As a result, Greece will continue to occupy the bottom position among EMU members in the foreseeable future.
Ranked 25th, the initial progress made by Spain just after the financial crisis has stalled during the last two years. Much of this stagnation can be explained by the delicate socio-economic conditions and the political uncertainty that has marked recent years. In Spain, the crisis has left deep sores that are still visible in high unemployment, inequality, poverty and inadequate education.
Italy has also endured some politically turbulent months, causing a renewed decline of its political risk rating following a temporary recovery in 2016. Even though the country has initiated some reforms, the business climate is still impaired by considerable inefficiencies in public administration, slow judicial processes, inadequate regulations and a lack of competition. Further reform efforts will be needed to improve the business environment, increase workers' skills and reduce poverty, all of which are essential for more sustainable economic growth. Italy needs to restore the political stability that would allow these kinds of policy measures to be implemented.
Emerging markets: India resumes upward trend
Singapore has defended its clear leadership in sustainability performance in the emerging markets universe. Ranked 16, it has even outpaced several advanced economies. India has resumed its gradual upward trend. Thanks to the Bharatiya Janata Party's major victory in legislative elections in India's most populous state of Uttar Pradesh in March, Prime Minister Modi has consolidated his power, which augurs well for future plans.
Political uncertainty in Turkey remains high, and is the most important risk driver for the country's future ESG trend. President Erdogan has continued his crackdown on opponents, has been re-elected leader of the ruling AKP party, and has resumed talks on reintroducing the death penalty — indicators pointing towards an increasingly authoritarian future for Turkey. This does not bode well for the Turkish economy, its political stability, or a return to normalized relations with the European Union and other western countries.
Emerging markets face demographic headwinds
An increasing number of emerging market countries are faced with a rapidly worsening demographic transition, which will adversely affect their economic growth potential. The trend is most acute in China, which has already seen the share of its working-age population shrink by 1 percentage point to 73.2% from 2010 to 2015, and UN projections suggest a further decline to 58.9% by 2050. A similar, albeit slightly less pronounced trend is projected for Brazil. In contrast, the percentage of working-age persons in India is expected to slightly expand from 65.6% in 2015 to 67.1% in 2050.