Are we heading for a bear market?

A series of seemingly unstoppable stock market highs has left investors wondering if a correction is coming. But predicting one is harder than it looks, says Lukas Daalder, Chief Investment Officer of Robeco Investment Solutions.
Speed read
• Record number of all-time highs fuels fears of a correction
• Predicting a bear market using valuation and volatility doesn't work
• Robeco remains overweight stocks, with a stop-loss in place
The S&P 500 has closed at a fresh all-time high 57 times so far this year, while the Nasdaq has secured 70 new all-time high closes, shattering the 1999 record of 61. The fact that the 1999 rally was followed by a crash is making many people nervous, Daalder says.
Trying to see one coming though is not an exact science, as economists and academics cannot even agree on what constitutes a bear market, and not all stocks have become expensive due to the continuing bull market, he says.
"Concerns of an upcoming correction are spreading with each all-time high reached," says Daalder, whose multi-asset fund remains overweight on stocks. "Reading through the various outlooks published by the major banks and institutions, the central theme is one of cautious optimism, with a clear emphasis on the caution part."
Lofty levels
"The valuation of US stocks has reached lofty levels, while credit spreads have declined, regardless of the underlying deterioration of credit quality and overall leverage. Not surprisingly, more and more analysts are contemplating if, when and how the current rally in the risky parts of the US financial markets will come to an end."
A recent Financial Stability Review by the European Central Bank flagged the high valuation of the US stock market, warning that any correction there would also pose a risk for the much cheaper European stock markets. But would it trigger a bear market?
"If you want to take a crack at predicting bear markets, you first need to have a clear idea of how to define one," Daalder says. "Using one definition of 'any 20% correction from the previous peak' sounds simple, but it raises a number of questions."
"Strictly interpreted, this means that the Nikkei index has been in a bear market for over 27 years. Although no one will claim that the Nikkei has been a solid investment, it does not do justice to the six 20% drawdowns that the index has experienced since the 1990s."
"Another consideration may be that of inflation: the Brazilian Bovespa rose more than 1,000% in 1994, while inflation was as high as 5,000%. Most investors would qualify that as a bear market."
Shiller's definition
Daalder looks at the definition of the Nobel Prize-winning economist Robert Shiller: "The peak before a bear market, per my definition, was the most recent 12-month high, and there should be some month in the subsequent year that is 20% lower." This means there have been 13 US bear markets since 1881 – the most recent one occurring during the Eurozone crisis of 2011 – but it still doesn't tell the whole story, Daalder warns.
"The rule that a 20% correction needs to take place within 12 months means that you are filtering out the bear markets that take a bit longer to develop," he says. "Additionally, whereas Shiller uses real prices in the construction of his famous Cyclical Adjusted Price Earnings ratio (CAPE, or Shiller PE), he sticks to a nominal approach. As a result, the 1970s and 1980s were 'bear-free', even though there were some pretty nasty corrections during that timeframe."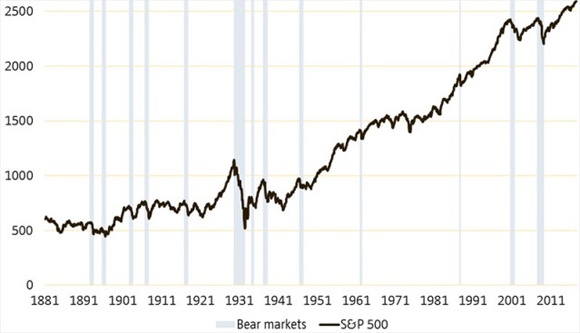 Considering volatility
The fact that high valuation increases the risk of a correction is probably not a shocking statement to make, but does low volatility add something to the mix as an early warning signal? Shiller seems to imply so by warning that in his US analysis, "stock price volatility was lower than average in the year leading up to the peak month preceding the 13 previous US bear markets". This has led some investors to draw parallels with today's low levels of volatility as a danger signal.
However, this is also unreliable, Daalder says. "Record low volatility is by no means a reliable early warning signal for spotting bear markets. Looking at the top-10 list of periods of record low volatility, only once (in 1895) did it precede a bear market: in the other nine cases there was no bear market sell-off. All in all, on a standalone basis, this does not appear to be a useful tool with which to flag a bear market."
So what about looking at the combination of valuation and volatility? The table below attempts to do this by matching volatility levels with 12-month forward stock market returns. "If the combination of low volatility and high valuations have historically spelt trouble, one would expect the returns of the bottom left of the table to be lower on average than in the rest of the table (inside the red circle). But there does not appear to be a particular low point in that part of the matrix," Daalder says.
"All in all, we do not think that there is much predictive value to be had by looking at the combination of valuation and volatility. Of course, we agree with the ECB and Shiller that the current valuation of US stocks is a cause for concern, but whether that means that we are heading for a correction anytime soon remains to be seen."
"The current rally has been very much momentum and liquidity driven, and so far we see little signs that this is about to end. We therefore continue to be long on stocks, but with a tight stop loss in place."