5-year Expected Returns 2019-2023: Patience is a virtue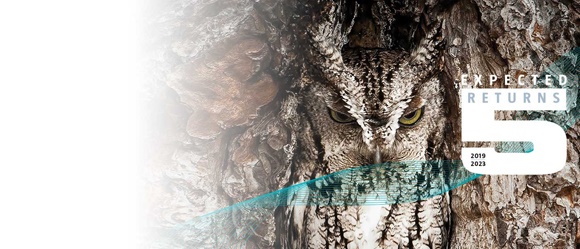 Modest returns on equities and bonds that are still in negative territory mean investors will need to be patient, our new five-year outlook predicts. 
Speed read
• A careful approach is advisable amid headwinds seen for 2019-2023
• Equities again seen returning the most, government bonds the least
• Economic cycle in prolonged mature phase, recession likely
With the current period of economic expansion set to break a new record, the introduction of tighter monetary policy already underway, and the expectation that a recession will end the decade-long bull markets, a more careful approach is advisable, Robeco Investment Solutions says.
Its forecasts in Expected Returns 2019-2023 once again predict that equities will be the best-performing asset class over the next five years, with emerging market stocks returning 4.5% a year and developed markets 4% for euro investors.
And the team continues to believe that German government bonds will deliver negative returns of -1.25% a year, while developed global government bonds should return -0.25%. Emerging market debt in local currencies is seen returning 3.75% a year, while investment grade corporate bonds should deliver 1% and high yield (non-investment grade) credits 1.5%.
Low returns for longer
The main headwinds are led by the end of multi-trillion-dollar quantitative easing stimulus programs along with the belief that markets are now 'playing in extra time'. Given the uncertainties, it means that 'patience is a virtue' is the new order of the day.
Returns are denominated in euros. Bond and cash returns are euro hedged, except for local currency emerging market debt. The value of your investments may fluctuate and past performance is no guarantee of future results. Source: Robeco.
Expected annual returns 2019-2023
Developed market equities
4.00%
Emerging market equities
4.50%
German government bonds
-1.25%
Developed global government bonds
-0.25%
Emerging government debt (local)
3.75%
Investment grade credits
1.00%
High yield
1.50%
Listed real estate
3.25%
Commodities
4.00%
Cash
0.50%
"The title of last year's Expected Returns, 'Coming of Age', reflected our view that what was then an almost record-long period of economic expansion still had some way to go. One year later, many indicators are virtually unchanged and the global economic cycle is enjoying a prolonged mature phase, as evidenced by the recent cyclical upswing," says Robeco Chief Economist Léon Cornelissen.
"But as central banks continue their shift away from quantitative easing to tighter monetary policy, this expansion will slow. With valuations for every major asset class looking stretched, a transition to the next phase could easily send markets into a tailspin. A recession at some point seems inevitable."
Global growth is good
"So, what should investors do? Opting for a more defensive portfolio is often the default solution, but in the current economic climate there are risks associated with doing too much, too soon. The advantages of adopting a more patient approach therefore seems a fitting theme for this five-year outlook. 'Patience is a virtue' is thus our theme this year and underscores our view that there are still opportunities to harvest risk premiums in the major asset classes."
Robeco Investment Solutions believes that there is certainly no need to panic, as the global economy is still in relatively good shape, and growth remains solid. The US, ever the engine of global growth, is still going strong, and the Federal Reserve's tighter policy has not put a spanner in the works.
Meanwhile, China has done well to bring down unsustainable debt-fueled growth to more sensible levels, and the once-troubled Eurozone has continued to grow, while emerging economies are seen continuing to outperform developed economies. "Hence, our motto for the world as a whole is 'steady as she goes'," says Cornelissen. Too good to be true?
"For investors, this may all sound a bit too good to be true. On a five-year horizon, we are likely to experience a US recession at some point – if only on the maxim that 'stability breeds instability'. It is difficult to predict when this will happen, but it could take place after the presidential elections in November 2020. Trade tensions are likely to be kept in check, as a serious escalation would be counterproductive, and self-harm is not generally considered to be a viable political strategy."
"It is clear that the investment environment could change dramatically in the next five years and that current conditions are already quite challenging, with compressed spreads, widespread overvaluation in the major asset classes, and low volatility. For long-term investors, it makes sense to start anticipating these changes, but they should not forget that patience is a virtue in the world of investing, too."