2017: A Most Interesting Time
Adding Value in Global Investment Grade Corporate Portfolios
Looking ahead to 2017 I am reminded of an old expression, "May you live in interesting times," and global corporate bond investors certainly weathered plenty of interesting times in 2016: divergent monetary policies, rising geopolitical risks, Brexit, Trumponomics, and Chinese policy reform, to name a few.
Boon or headwind?
As much as these factors have spurred market volatility, we would note that they have also provided attractive entry points, especially considering still favourable fundamentals and a host of stabilising technical tailwinds. The most notable game changers in 2016 were the negative interest rate policies of the European Central Bank and Bank of Japan, which sent investors in search of yield, and the ECB and Bank of England's corporate bond purchase programs, which removed about €46 billion and £4 billion of bonds, respectively, from the market through November 2016. Despite a year of record new issuance, investor demand combined with central bank purchases resulted in European corporate spreads tightening sharply - before political uncertainty sent spreads wider again in November.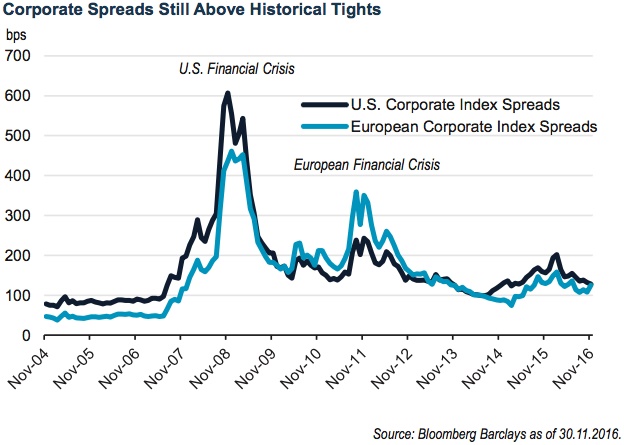 In the U.S., meanwhile, the Federal Reserve is signalling a series of short-term rate hikes and President-elect Trump is expected to initiate a potential inflation-fuelling economic stimulus package. Considering these cross-currents, where can investors find value in global corporate portfolios?
Download the complete white paper at the link beneath Related Files