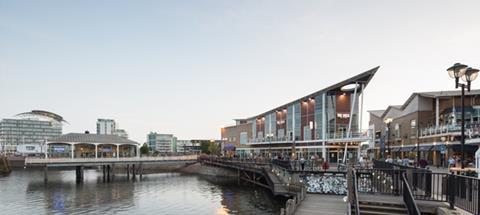 Corporate overview
Schroder Real Estate has managed real estate since 1971 and is one of Europe's largest managers of real estate. As at 30 June 2020, Schroder Real Estate managed £17.4bn* (€19.2bn/$21.5bn) of real estate on behalf of a wide range of institutions. Our investment range allows clients to access real estate through open-ended funds, listed REITs, specialist funds, joint ventures, separate accounts and global real estate securities. We offer a diverse range of strategies, spanning defensive, income-focused strategies through to actively managed, specialist, value-add strategies in the hotel sector for example.
We have teams across Europe with professionals located in London, Manchester, Frankfurt, Munich, Zurich, Paris, Brussels, Stockholm and Luxembourg. We also have real estate offices in Asia (Hong Kong, Singapore and Shanghai) and North America with wider resources provided by the Schroders Group.
Schroder Real Estate is part of Schroders plc, which is one of Europe's largest listed asset management firms with over £500bn under management. The breadth of our investment team provides us with local insights and asset management that are not commonly available in real estate firms. Schroders is a signatory to PRI and is highly rated as having a strong and integrated Responsible Investment process.
Source: Schroders at 30 June 2020
* Real estate AUM includes holdings of Schroder Real Estate Capital Partners and Schroders Multi-asset Funds.
Strategic corporate development
Schroders has managed real estate since 1971 and continues to develop and diversify its business and offerings to clients.
In July 2020, Schroder Real Estate acquired a majority stake in Pamfleet, a value-add real estate investment manager with $1.1bn of assets under management as at 30 June 2020. The existing team remained with the organisation which was renamed Schroder Pamfleet, with all three offices in Asia being retained.
The acquisition reinforces Schroders' private assets and real estate capabilities, building on other recent acquisitions such as Blue Asset Management and Algonquin. It also brings significant additional industry expertise and geographical reach into some of the largest and fastest growing Asian real estate markets, which are attractive to many of our institutional clients.
Sector forecasts
INDUSTRIAL: The jump in on-line sales triggered by COVID-19 has given a further boost to warehouse demand across Europe. In addition, the disruption of supplies caused by the pandemic, combined with the growth in protectionism means businesses are holding more stock of key items and re-shoring some production to Europe, in order to create two or more independent supply chains. However, while there is strong demand for warehouses, there is also significant new supply and we expect this to limit rental growth to 2% pa through 2021–22. Although multi-let industrial estates require more asset management than big logistics warehouses, we generally prefer them because supply is more constrained, yields are higher (except in London) and lease expiries are evenly spread, providing greater continuity of rental income.
OFFICE: There is a lot of debate about the future of the office and whether the increase in home working during the pandemic means that companies will require less space once it is brought under control. On the one hand, staff like the flexibility of choosing where to work and companies can save money by cutting space. On the other hand, working from home can leave people feeling isolated and there are concerns that it will damage productivity by reducing informal training and the exchange of new ideas. We expect that office rents will fall by 5% in most European cities over the next 18 months, as a minority of occupiers try to sublet space and as developers complete speculative schemes started before COVID -19. However, while we cannot be certain, we think this is likely to be a cyclical phenomenon and that demand for good quality offices in big city centres and university towns will recover in the medium term, driven by the growth in tech, life sciences and professional services.
RESIDENTIAL: We are cautious of the UK private rented residential sector given the low level of net yields and the fact that capital values are vulnerable to a fall in house prices. However, we do see opportunities in retirement villages, where there is a large under-supply of accommodation and social supported housing, where it is possible to achieve both an attractive financial return and a positive social impact.
RETAIL: COVID -19 has accelerated the shift to online shopping in Europe by around five years. In part this is due to nervousness about visiting stores, but it also reflects insolvencies and store closures and heavy investment by profitable retailers in websites. For example, Inditex/Zara plans to fully integrate its stores with its online platform, so that consumers can buy any item immediately and either pick it up in store, or have it delivered. The weakness of fashion sales has hit shopping centres hard and prime centre rents in Europe are likely to fall by 20–25% between end-2019 and end-2022. The most defensive retail types are likely to be food stores and out-of-town retail warehouses selling bulky goods. They are more immune to the internet and rents are relatively affordable. We also see potential to convert old department stores in tourist destinations into hotels and other uses.
OTHER: We look for types of real estate which are benefiting from long-term structural drivers of demand (eg, ageing population, technology, tourism) and where there is a shortage of good quality space. It is essential to understand the business models of occupiers and investments often involve a degree of operational risk. In the hotels market, we expect that 2021 will see a number of distressed sales which will provide the opportunity to acquire good quality assets at a discount. We also favour data centres, laboratories, nursing homes with private pay residents and self storage.
Investment principles & strategy
Our investment philosophy is centred on consistent principles: investing in strong fundamentals and actively managing portfolios. We adopt a research- driven and market-focused investment approach. Our dedicated Real Estate Research team identifies those sectors, cities and real estate characteristics expected to outperform, ensuring portfolios can benefit from structural change. Our approach focuses on 'Winning Cities' and regions best-positioned to benefit from structural trends that will drive demand for property over the medium to long term.
We focus on the quality of the assets, and their value, when managing portfolios. We aim to generate the majority of the target outperformance though good stock selection and active asset management. We also aim to add value through sector and real estate style allocations; although we recognise the impact of these may vary over time. Each asset is managed in accordance with its individual business plan. The business plan is the focal point for identifying and implementing the active management strategies that will maximise returns. This approach has been key for driving outperformance.
Environmental, social and governance (ESG) considerations are essential to good management and long-term performance of real estate. ESG is a key component of portfolio construction with sustainability and impact objectives established for assets and monitored using our sustainability management system, SIERA.
Performance Verification
MSCI, formerly Investment Property Databank (IPD) compile the data on our UK funds and independently calculate performance. Performance for most of Schroders' UK real estate funds is then published by MSCI and The Association of Real Estate Funds (AREF) in the quarterly Pooled Property Fund Indices and the Product Vision Handbook.
COMPLIANCE STATEMENT
Information provided as at 30 June 2020
Risk Considerations
The value of investments and the income from them may go down as well as up and investors may not get back the amounts originally invested. Property-based vehicles invest in real property, the value of which is generally a matter of a valuer's opinion. The price of shares and the income from them may fluctuate upwards or downwards and cannot be guaranteed. It may be difficult to deal in the shares of property-based vehicles or to sell them at a reasonable price because the underlying property may not be readily saleable, thus creating liquidity risk.
Important Information
This information is not an offer, solicitation or recommendation to buy or sell any financial instrument or to adopt any invest- ment strategy. Information herein is believed to be reliable but we do not warrant its completeness or accuracy. Any references to securities, sectors, regions and/or countries are for illustrative purposes only.
Any data has been sourced by us and is provided without any warranties of any kind. It should be independently verified before further publication or use. Third party data is owned or licenced by the data provider and may not be reproduced, extracted or used for any other purpose without the data provider's consent. Neither we, nor the data provider, will have any liability in connection with the third party data. The material is not intended to provide, and should not be relied on for accounting, legal or tax advice. Reliance should not be placed on any views or information in the material when taking individual investment and/or strategic decisions.
Schroders has expressed its own views and opinions in this document and these may change. Past Performance is not a guide to future performance and may not be repeated. The value of investments and the income from them may go down as well as up and investors may not get back the amounts originally invested. Exchange rate changes may cause the value of any overseas investments to rise or fall.
Schroders will be a data controller in respect of your personal data. For information on how Schroders might process your personal data, please view our Privacy Policy available at www. schroders.com/en/privacy-policy or on request should you not have access to this webpage. For your security, communica- tions may be recorded or monitored.
Schroder Real Estate Investment Management Limited, 1 London Wall Place, London EC2Y 5AU. Registration No 1188240 England. Authorised and regulated by the Financial Conduct Authority
Websites
We are not responsible for the content of external sites