Europa Capital is a dedicated real estate investment manager focused on the European markets. We specialise in investment through both equity and debt strategies where we employ our real estate asset management skills and experience to maximise value in all property classes across Europe.
Since its formation in 1995, Europa Capital has collectively raised 13 real estate funds and committed to over 155 transactions totalling more than €12.9 billion across 21 European countries.
Europa Capital is a partnership majority owned by Mitsubishi Estate Co. Ltd, one of the world's largest real estate groups, which is a strategic investor alongside Management.
Sustainability
Europa Capital operates sustainable environmentally responsible policies and procedures, to minimise damage to the natural environment and is committed to reducing its carbon footprint. We are soon to launch our Net Zero Carbon policy which will look to exceed the deadline set in the Paris Agreement on being NZC by 2050. As part of this comprehensive strategy, we have set ambitious goals, with all buildings in Europa Capital's funds to be certified; transferred to electric energy systems and with Renewable Energy Guarantees of Origin in place throughout, including with occupiers.
Investment principles & strategy
CORE/CORE-PLUS FUNDS
Europa Diversified Income Fund (raising)
Europa Diversified Income Fund is focused on creating stable and diversified income through investing in logistics, residential and offices. The Fund will capitalise on the structural changes of innovation and urbanisation, targeting strong economies in Western Europe, with a focus on France, Germany, the Netherlands and Denmark.
Through favourable sector weightings and leveraging Europa Capital's value-add asset management skills, the Fund will aim to provide long-term outperformance of market benchmarks, for which ESG considerations are a key performance metric.
The current portfolio, totalling c. €442 million of GAV, comprises a mix of logistics, residential and office investments. The portfolio, which has outperformed its market indices to date, is 95% occupied and has recorded 100% rent collection in 2021, demonstrating its resilience during the COVID-19 pandemic.
In addition to the four newly developed residential buildings acquired in the Øresund region of Copenhagen, the Fund has recently completed the acquisition of 38 high quality residential units in Østerbro, at the heart of the city. This brings the Fund's residential exposure in Denmark to 216 units and over €125 million of GAV.
With accretive leverage, the Fund has capital to deploy for further acquisitions, to further diversify the portfolio. 65% of the fund income is from the logistics and living sectors, which remain the current focus of its investment strategy.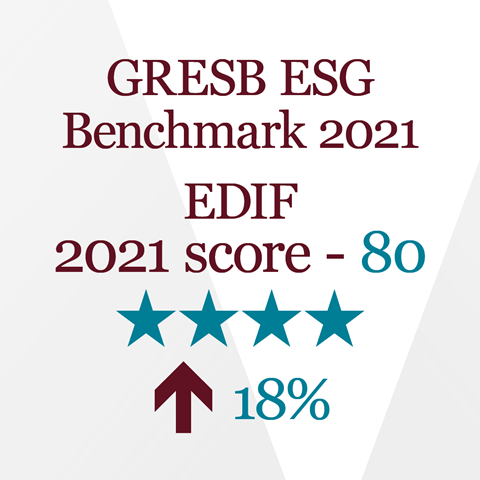 Other Specialist Funds
Europa Generation Student Fund (2018, £95m)
Europa Emerging Europe Fund (2007, €164m)
French Real Estate Opportunity Fund (1997, $200m)
VALUE ADD FUNDS
Pan-European Funds:
Europa Fund VI (2019, €596m)
Europa Fund V (2016, €716m incl. co-investment commitments)
Europa Fund IV (2012, €604m)
Europa Fund III (2007, €730m)
Europa Fund II (2004, €450m)
Europa Fund I (1999, €225m)
As a specialist value-add manager, we maintain strong proprietary deal flow through our regionally focused real estate investment teams and employ dedicated real estate professionals, with expertise in active asset management, refurbishment, change of use and development, to deliver investment performance through astute risk-based acquisition and active asset management strategies.
We identify asset-specific investment opportunities which have the potential for us to undertake asset improvement initiatives and to maximise rental growth opportunities and a summary of the value-add investment strategy is noted below:
Provide a balanced portfolio of investments, diversifying risk by sector and geography.
Focus on traditional sectors in key markets of France, Germany and the UK.
Target and reposition capital-starved and under-managed properties from a variety of sources such as maturing equity funds and disposals from debt and equity fund portfolios.
Target rental growth potential in "winning" cities across the region.
Employ moderate leverage to enhance equity returns, favouring assets with a strong income profile.
Target individual investments below the size sought by global funds but above the reach of local capital sources.
Seek opportunities for environmental and sustainable investing and improvement.
To date, Europa Fund VI portfolio comprises 13 investments across 7 countries (France, Germany, UK, Netherlands, Poland, Denmark and Hungary) in the sectors of industrial, residential and office.
Other Specialist Funds
Europa Generation Student Fund (2018, £95m)
Europa Emerging Europe Fund (2007, €164m)
French Real Estate Opportunity Fund (1997, $200m)
DEBT FUNDS
Europa Capital has an increasing specialism in senior and mezzanine debt origination in the UK through differentiated products.
Europa UK Debt III (2020)
Europa UK Debt II (2019)
Europa UK Debt (2017)
Europa Mezzanine (2013)
Junior Debt Mandate (2013)
UK Mezzanine Fund (1995)
In the UK over the past nine years, the team has developed a strong network of contacts across regional markets. Europa Capital has advanced loans against property valued at over £1.2 billion of which under 12% has been in London, illustrating Europa Capital's strategic regional focus.
Strategic corporate development
Europa Capital seeks to be a best-in-class real estate fund manager and a sustainability leader in institutional real estate and will continue to focus on realising superior risk-adjusted returns through investment in European property markets, adding value to real estate through active asset management, strategic change of use or development in property assets across Europe. Europa Capital will continue to co-invest alongside investors in future funds and products, and to look for ways to deliver innovative investment solutions to help our clients meet their investment objectives.