While digital technologies have been transforming how and where we work for some time now, the coronavirus has quickly shown us that the warning signs for pandemics like this and the slower burn of global warming were there for those who were paying attention. The question for the commercial property market is what more could landlords and corporate occupiers have been doing to accommodate the already increasing demands for remote working and connectivity before the virus struck?
The new age of business tech
The job churning that occurs as new technologies both create and deplete jobs was already a fact of life before the coronavirus crisis. Demand for data analysts and scientists, social media marketers and Internet of Things architects has been rising in recent years, while artificial Intelligence (AI) has been particularly fast at changing how and where people work. However, the coronavirus has shown us that this transformation is not so much about how humans are replaced by automation but more how we interact with it. AI communications tools have been crucial for companies during the lockdowns and those that were already wired up with robust online and connectivity capabilities are proving to be the ones most able to continue normal business as far as possible.
A study published only a few months ago, in January 2020, by US-based FlexJobs and Global Workplace Analytics highlighted the rising demand for videoconferencing technologies given the enormous increase of flexible working. Working from home (WFH) has not only become popular with more tech-savvy millennials and Gen-Z but also Generation Xers who have settled in suburbs because of more affordable house prices and Baby Boomers who are retiring later in life, for example. The study found that 74% of the business managers polled in the US said flex work was the new normal and that between 2005 and 2017 there had been a 159% increase in remote work. Latest statistics from the UK's Chartered Institute of Personnel and Development (CIPD) also show that flexible working in the UK's workforce has increased five-fold over the past two decades and that most employers believed it had increased productivity.
"Most of the discussions about remote work centre around the positive impact that workers and companies experience, but there are also several compelling broader economic, societal, and environmental benefits to this future of workplace trend," said Sara Sutton, founder and CEO of FlexJobs in a press release. "In fact, remote work helps support eight of the UN's Sustainable Development Goals. As more and more people join the remote workforce, its impact on people, communities, and the environment will only continue to increase." The coronavirus has certainly exacerbated the positive impact that remote working and less travel have on global warming.
While companies have been under greater pressure to invest in tech that enables productive remote working, landlords also were under increasing pressure to design more inspiring office spaces that accommodate it. Meeting rooms, in this respect, have become model examples of how offices are being transformed by new technologies to enhance customer and employee engagement with everything from sophisticated face-to-face videoconferencing and smart interactive whiteboards to cameras and microphones that automatically zoom in on people speaking from moveable seats and electrical desktops that also help with posture and wellbeing. One of our commercial property holdings in London was refurbished with an amphitheatre conducive for getting employees (and clients) to come together in a well-designed and aesthetically pleasing setting. Another of our London office assets in Farringdon won a Royal Institute of British Architects (RIBA) award for its glass-box meeting room that floats in a space above the ground floor. See photo below.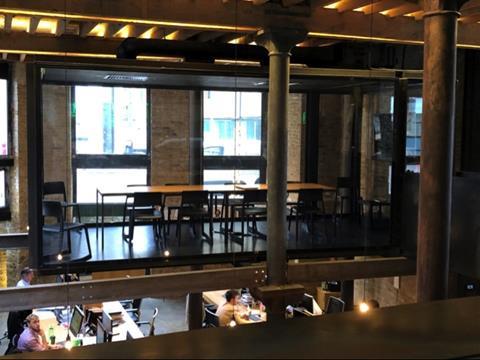 Interestingly, JLL, the world's second largest commercial real estate services firm, also released a report in February 2020 on how meeting rooms are being designed to better facilitate new ways of collaborating, for example, now with 5G, immersive technologies with VR headsets and holographic calls. The report stated: "Smart lighting and air-conditioning that automatically turn on when attendees enter help create a fluid experience, while reliable, high-speed Internet ensures cloud-based presentations don't drop out or waste valuable employee time." Georgina Dallas, a designer at Tétris, a JLL subsidiary, said: "How and where we work is changing but as long as there are offices, there will be meeting rooms. They'll just continue to adapt to new technology and the growing focus on providing a personalised workplace experience to facilitate groups of people getting together and talking – whether that's done in cyberspace or real life."
Megatrends already forcing change in the 2020s
When megatrends such as ageing populations and rapid urbanisation intersect with digitisation, the workforce not only becomes increasingly more diverse but in some ways (for example, for those with less technological skills) also further divided. Emerging technologies can help landlords and corporate occupiers meet the demands of a widening mix of workers by better connecting, including and informing them. Newer AI tools have made it easier to train workers of different skill bases, for example, and as the coronavirus crisis has shown automated warehouses have become vital in meeting the surging demand for online shopping.
This pandemic has certainly proved how the future of property will be focused more on multi-purpose spaces that adapt for the many different demographics and uses, for example, as we see hotels and sports arenas turned into hospitals or various factories being used to manufacture ventilators and distilleries into sanitising spray producers. While some of the newer designs have already been experimental with vertical communities that include indoor and outdoor agriculture as well as human-focused spaces that foster flexible working not only with high-speed Internet, but also social inclusion and cost-saving incentives in mind, the coronavirus is quickly showing how the most valuable workplace of the future will be unstructured, flexible, multi-disciplinary and multi-modal.
Occupiers are only going to have greater concerns about security and data privacy when conference calling and other information technologies involve the sharing of confidential information. Companies also need to ensure trust and transparency between employees who work remotely and will be looking for office space that (in terms of design and technology) enables this.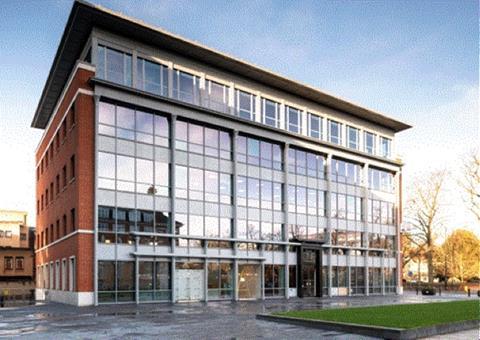 Wellbeing in or out of the office is also going to increasingly become a focus in property post-coronavirus. The above photo is of one of our office properties in Reading within our LF Canlife UK Property ACS, which we recently refurbished and as part of that installed an indoor air quality monitoring technology that tracks toxins and chemicals and warns occupiers the moment air quality becomes unhealthy. This is an example of how we are engaging with our tenants to provide them with a high-quality working environment while also being proactive about their wellbeing using modern technology.
The point is that while everything about how we build or utilise buildings and the spaces surrounding them was starting to change fundamentally before the coronavirus hit, whether companies or landlords like it or not, these changes will be accelerated, and technological advancements that are already rewiring the world around us will become even more critical. The real estate industry, like other sectors, will have to adapt and there will no doubt be winners and losers.
Important information
The value of investments may fall as well as rise and investors may not get back the amount invested.
The information contained in this document is provided for use by investment professionals and is not for onward distribution to, or to be relied upon by, retail investors. No guarantee, warranty or representation (express or implied) is given as to the document's accuracy or completeness. The views expressed in this document are those of the fund manager at the time of publication and should not be taken as advice, a forecast or a recommendation to buy or sell securities. These views are subject to change at any time without notice. This document is issued for information only by Canada Life Investments. This document does not constitute a direct offer to anyone, or a solicitation by anyone, to subscribe for shares or buy units in fund(s). Subscription for shares and buying units in the fund(s) must only be made on the basis of the latest Prospectus and the Key Investor Information Document (KIID) available at www.canadalifeinvestments.com
The LF Canlife UK Property ACS (ACS) is an Authorised Contractual Scheme and is suitable for institutional and professional investors. For more information, see the ACS prospectus available at www.canadalifeinvestments.com. Property held by the ACS may not be readily saleable. This means that investors in it may not always be able to realise their investments when they choose. In such cases the encashment of units in the ACS may be postponed by up to 6 months. The value of property is generally a matter of a valuer's opinion rather than fact. Costs of buying and selling real property are generally much higher than for other types of assets. Property investments may be subject to significantly wider price spreads than bonds and equities which could affect the valuation of the fund by up to 8.00%.
This document is issued for information only by Canada Life Investments. Please note that while Canada Life Asset Management and Canada Life Limited are regulated as stated below, property management and the provision of commercial mortgages are not regulated activities.
Canada Life Investments is the brand for investment management activities undertaken by Canada Life Asset Management Limited, Canada Life Limited and Canada Life European Real Estate Limited. Canada Life Asset Management Limited (no. 03846821), Canada Life Limited (no.00973271) and Canada Life European Real Estate Limited (no. 03846823) are all registered in England and the registered office for all three entities is Canada Life Place, Potters Bar, Hertfordshire EN6 5BA. Canada Life Asset Management is authorised and regulated by the Financial Conduct Authority. Canada Life Limited is authorised by the Prudential Regulation Authority and regulated by the Financial Conduct Authority and the Prudential Regulation Authority.
CLI01593 Expiry 28/02/2021